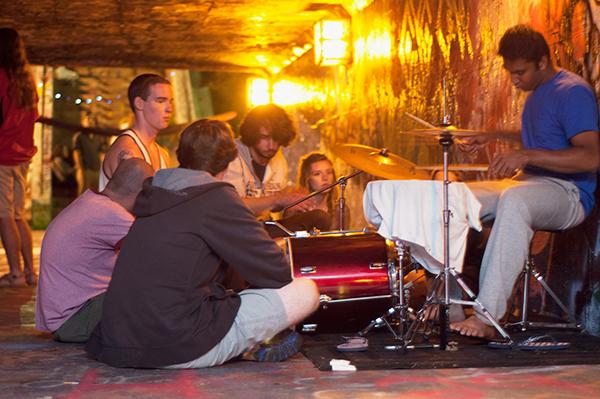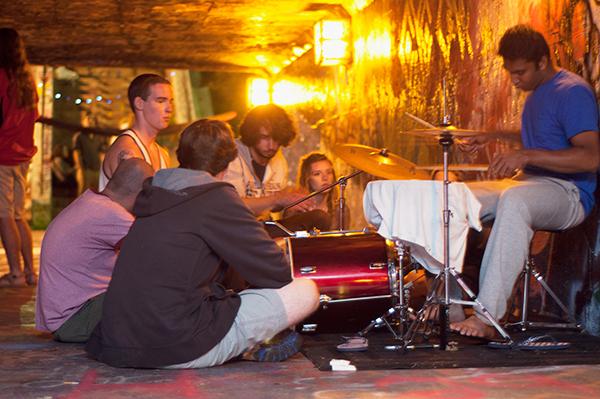 The impromptu gatherings have been attracting growing numbers of students.
If you've been out walking on campus on any given Tuesday night this semester, you've probably heard some mysterious singing and drumming coming from the Rivers Street tunnels.
It's part of what students are calling Tunnel Tuesday, a weekly, open musical jam session among friends and strangers on campus.
What began as a group of students playing instruments in the smoking areas on the west side of campus has quickly become its own production after the group moved to the tunnels for better acoustics and to avoid rain. Passers-by were interested in joining with their own instruments, and since that first session Aug. 27, the tunnels have become a popular hangout spot, with the original crowd attracting upward of 50 students on a good night.
"It's a thing because people are interested – it's a people-driven thing," Pranav Gogate, sophomore sustainable development major, said. "If people show up, then it happens. If they don't, it just kind of falls apart."
Gogate said the usual range of instruments includes many guitars, a few banjos, saxophones, trombones and clarinets.
"I think it's an amazing place to just come out and give whatever you've got," Caleb Stanley, freshman geology major, said. "There's so many amazing musicians here, and nobody cares about your skill or whatever so long as you can jump in and contribute and play. For musicians, I think that's healthy."
Stanley and freshman mathematics major Sam Lind created a Facebook group for regular attendees and made fliers to help publicize the event, but most attendees are freshmen living on the west side of campus who hear of the event by word of mouth.
The tunnels, because of their distance from both dorms and businesses, actually offer an environment more suited for music practice than most other venues available to freshmen.
"People want to play music, and you can't always jam out in the dorms without getting in trouble, so this is a nice way to come and relax and play music however you want to," Gogate said.
One of the co-founders of Tunnel Tuesday and freshman computer science major Dylan Perry noted that those who come out to the tunnels are usually not music majors.
"I'm just glad that me and my group of friends could start something that could bring so many people together," Perry said.
In addition to its musical value, the collective has served as a vital point of social interest for new students living on campus.
"It's really great to see people do the same thing and be in the same atmosphere, enjoying the same things as you do," Gogate said. "I know it's hard sometimes trying to find your own niche when you're in college, especially as a freshman."
The original group hopes to eventually make Tunnel Tuesday a school- and community-recognized organization, with hope for some funding to add accommodations like additional seating and trash and recycling to the tunnels.
Story: LOVEY COOPER, Senior A&E Reporter
Photo: KIM REYNOLDS, Intern Photographer