West heading in new direction after being redshirted last year
A year ago, Paul West was redshirted.
However, the redshirt junior goalkeeper, has made a significant leap forward this season for App State soccer, becoming the team's primary goalie and starting all seven of the team's games this season.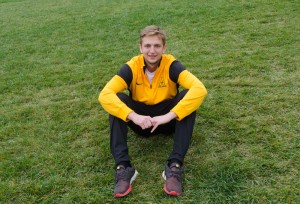 West made an appearance in one game in his freshman season with the Mountaineers, showing his potential by earning a shutout, blanking Catawba 3-0.
West started four games and appeared in five during his sophomore season and was redshirted during former goalkeeper Danny Free's final year on the team.
The time away gave West plenty of time to improve his game.
By redshirting, West is eligible to play two more years at Appalachian, a factor head coach Matt Nelson said played into the decision.
"He was going to have more impact with the team playing for two whole years instead of playing a few full games and then one whole year," Nelson said.
West said the year away from the field allowed him to build better chemistry with his teammates.
"I was driven by my commitment to my teammates," West said. "I really got to know how each player likes to play, and how I need to communicate to them most effectively during stressful situations.
Overall, my redshirt year really brought me closer to my teammates and helped us build chemistry."
Although West did not play in any games last year, he spent the entire season training with the team.
Nelson said West worked tirelessly despite knowing he would not be playing, and he expects West to play like a senior player this season and lead the team.
Free's graduation left the gate wide open for West, who has embraced the starting role for the Mountaineers, posting a 1.70 goals against average and a .676 save percentage.
"I think it's been tough for him because he hasn't played that much," Nelson said. "I think this season benefits him more because he's helping the team out by staying here for another two years."
West, a senior criminal justice major, said the two full seasons he can play with the Mountaineers gives his education plans flexibility.
"I'm not positive on when I am graduating yet," West said. "If I graduate in August after I do my internship, I will most likely apply for the MBA program here. My other option is to graduate in December after we finish the season."
Graduation, however, is in the future for West. His focus now is on the rest of the season.
"I have very high expectations for this season, and so does the rest of our team," West said. "We have a very talented group of guys and we definitely have the potential to win our conference as well as the tournament, which would give us a spot in the NCAA tournament."
Story: Jess Lyons, Senior Sports Reporter
Photo: Morgan Cook, Photo Editor