Dog lovers near and far gathered in Blowing Rock for the annual Winterfest event, the Winter Paws Dog Show, on Jan. 29. According to the event announcer Chris Bensen about 50 pups of all shapes, sizes and breeds lined up to compete for a variety of titles: Most Unique Looking Mix of Breeds, Best Wiggle Butt, Most Clever Dog Trick, Cutest Looking Dog in the World, Best Winter Fashion Wear and Most Crooked Smile.
This was the fifth annual dog show put on by the Watauga Humane Society. Watauga Humane Society's vice president Steve Duprey, said all of the proceeds from the dog show went to the Watauga Humane Society.
The variety of dogs was diverse, from a small French bulldog named Otis to two towering Shiloh shepherds named McKinley and Sundance Kid, it was a day for all dogs to compete and show what they were made of.
First up was the dog with the best wiggly butt. The first contestant blew the judges away right from the start.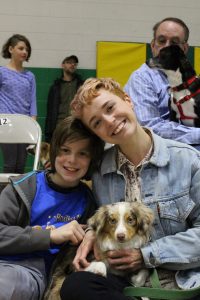 Eleven-month-old mini Australian Shepherd, Yuba, strode in with her mom and friend and wowed the judges with her wiggly butt.
"Yuba is named after the Yuba River in California," owner Christiana Phlox said. "It's a magical place, energetic and majestic, and so is Yuba."
Yuba's friend and special helper Owen has also dedicated a YouTube channel to her and her talents, ProjectYu. Yuba's moms run an Instagram account also in her name with the same username, ProjectYu, where they post fun pictures of Yuba's adventures.
Yuba's other mom, Kellee Morgade, is in the graphic design program at Appalachian State.
Dog owner and lover, Marcel Wiseman Valencia, came from Avery County and brought along her two purebred Pomeranians, 6-year-old Bairen's Bonnie Prince and 14-year-old Mon Coeur "Man of My Heart".
Valencia said she loves her dogs like they are her children and she cooks for them everyday.
Competing in their first ever dog show were two Siberian Huskies: eight-year-old, Gypsy and 12-year-old, Nirriti. Nirriti is a purebred and Gypsy is half-German Shepherd, half-Siberian Husky.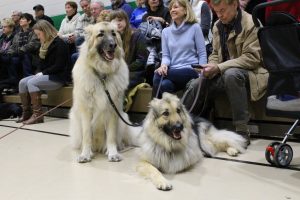 They both came from Salisbury with their moms, Maryja Mee and Tamara Sheffield. The duo was decked out in their coziest winter clothes competing in "Best Winter Fashion Wear."
The busiest dog of the day was a half-Pomeranian, half-long haired chihuahua named Minnie who came with her twin brother Mickey. The three-year-old pup competed in every category.
Minnie's family also brought along their one-year-old purebred border collie named Murphy. Murphy competed in four out of the six events and gave everyone a handshake.
"She's very smart,"  Murphy's owner, Sean, Ecker said. "She has everything down."
A two-year-old pekingese, Bella, and her owner Kim Brackett competed for Best Wiggle Butt and Best Winter Fashion Wear. Though they left without any blue ribbons, Bella's owner Kim said she was still a happy puppy.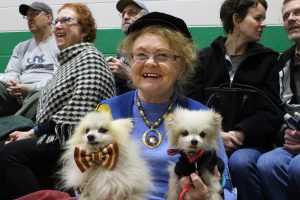 Mark Hiatt came with his two adorable dogs, 6-year-old Labradoodle with "a little extra poodle" as Hiatt described her named Lulu and 3-year-old mini Labradoodle named Layla. Lulu competed in best trick and Layla competed in Best Wiggly Butt.
"Lulu's a hugger," Hiat said. "She gets it from her dad."
Brownie, Chewy, Sprout and Grady were a quartet dog group competing for Best Winter Fashion Wear. Brownie is a three-legged 6-year-old purebred chocolate lab, Chewy is a 13-year-old terrier chihuahua mix, Sprout is a 2-year-old Russels Griffin and Grady is another three-legged terrier mix.
 Event co-chairs Steve Duprey and Cindy Bensen were very pleased and proud of all the dogs who came out and competed in the Winter Paws Dog Show and said they cannot wait for the 2018 dog show for even more furry friends to showcase their talents.
Duprey also encouraged everyone to come out and adopt an animal and give them a forever home. Animals like the handsome and lovable 8-year-old black lab mix named Quazar are eager to find loving families.
The Watauga Humane Society is located off of U.S. Highway 221 at 312 Paws Way. Duprey said they are always welcoming volunteers and would love for people to come by to adopt a furry friend.
Photos By: Rachael Graham, Staff Photographer