The 2018 App State women's soccer team began the season hot, already surpassing last year's win total.
After posting only four wins last year, the team is off to a 6-4-1 record and 2-0 start within the conference. Head coach Sarah Strickland weighed in on the fast start and what she thought was different than last year.
"I think this has always been a really good group. Last year we had a lot of injuries and significant players were out," Strickland said. "So the year before we won 10 games, the year before that we won 10 games, so it's not shocking. It was an unfortunate circumstance last year."
The fast start can be contributed to senior forward Kat Greer, who leads the Mountaineers with three goals this season. This weekend Greer had an especially strong showing posting her first ever multi-score game and receiving the Sun Belt Offensive Player of the Week honors.
The Mountaineers need Greer to keep up the outstanding play this weekend as they host fellow undefeated Sun Belt opponent Coastal Carolina.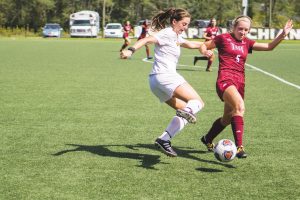 Redshirt junior defender Jessica Easley has also been a major contributor early in the season, hitting a midfield shot against conference opponent Troy and posting four points total over the weekend.
Easley said she can see changes in this year's team and why they are stronger than past years.
"This team has a uniqueness about it that we've never had before. We are super family, super tight. Everyone is dedicated. We are closer and have less drama than ever before," Easley said.
One common concern for the team, however, was their level of play at home against teams we should beat. Easley and coach Strickland commented on the issue and determined this could be the biggest weakness for the squad.
"If a team is playing worse than us we tend to get into their level of play, where if we can maintain our level of play we can out do anybody," Easley said.
The team has struggled to maintain a consistent performance. With a record floating around 500, they have struggled to maintain a winning streak.
"We need to take the home field advantage and make the most of it," Strickland said.
Two of the team's losses have been at home this year and have both resulted as shutouts, speaking to the frustration of Strickland.
The team also received some extra motivation for this week's game against Coastal. This week App State celebrated 50 years of women's athletics. Although the team is delaying the celebration until next week because of scheduling conflicts, it hasn't taken the atmosphere from the air. When asked about the motivation this brings to the team, Easley had plenty to say.
"To be a female athlete and hold that title is such a lifelong dream and accomplishment, and I'm so proud of all the women out there and the university for celebrating it," Easley said.
The team is proud to be representing the women alumnae who made it possible for them to be playing today and are grateful to the university for allowing them to celebrate this milestone.
The women will carry this pride along with the momentum from last weekend's winning into this weekend's contest against Coastal Carolina and improve on their already successful season.
Story By: Chase Frick, Sports Reporter
Photos By: Hayley Canal, Staff Photographer