Kicking off the Homecoming weekend, App State women's soccer dominated UL Lafayette (8-8-1, 4-4-1 Sun Belt) in a must-win game keeping their Sun Belt tournament hopes alive with a 2-0 win.
Outshooting the Ragin' Cajuns 19-4, the Mountaineers (8-7-2, 3-4-2 Sun Belt) won their second straight game and completed their third shutout of the season to put fate back in their own hands only needing a win over reigning conference champion South Alabama who knocked them out of the Sun Belt tournament last season, to clinch a tournament spot this season.
"We always try to just get relaxed in the locker room whether listening to music or mentally preparing before hand to help us get ready and I think we were all just calm and ready to go," junior forward Morgan Mosack said. "We tried not to think too much about the pressure."
Seeming like it would be another defensive, back and forth game with two shots apiece through the first 10 minutes, the Mountaineers would not allow ULL to take another shot the rest of the first half dominating possession of the ball.
"We talked a lot yesterday about their game plan and their style of play and we felt prepared and felt we knew what they were doing," senior forward Jenn Bass said. "Once we got comfortable and knew we were okay we just started drilling the ball down."
Getting three shots on goal through the first 30 minutes, senior forward Jane Cline scored her ninth goal of the season with an assist from Mosack to give App a 1-0 lead in the 36th minute.
"When I was driving with the ball I heard Jane call for the ball and she was in good position so I just went ahead for the pass and hoped she scored and she did," Mosack said. "It was a big moment and just for our friendship as well strengthening."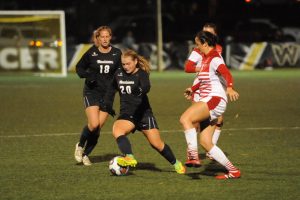 Entering halftime with a 1-0 lead and an 8-2 shot advantage over the Cajuns, App was ready to start the second half continuing where they left off in the first half dominating possession.
"It really helps us relax to control possession of the ball," Cline said. "I think it helps us all be more aware of what they are doing and get more opportunities."
Cline finished the night with eight shots and now has 78 shots on the season giving her the most shots in a season all-time in App State women's soccer history
Not allowing a shot for the first 32 minutes of the second half, App State kept all the opportunities, or what Bass described as "putting the ball down their throats."
"It lets them relax and move off the ball and not have to constantly be coming off counter spots," head coach Sarah Strickland said. "It is tough on your legs to keep staying in transition so just being able to relax helps but even though not all the opportunities worked out, it was just the belief of what we were doing and how we were doing it."
Bass went on to score her second goal of the season and gave App State a 2-0 cushion with an assist from junior defender Kelly Flanders in the 51st minute.
"There is no better feeling than scoring a goal and to make us feel more comfortable and solidify the win," Bass said. "We had it in the bag which was a great feeling."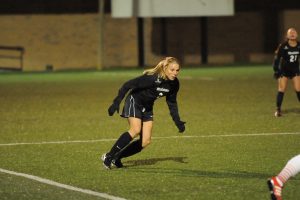 Fittingly, Cline and Bass, two key seniors for the Mountaineers, scored the game's two games in the first of their final two App State home games this weekend.
"It is still very surreal and hasn't hit me yet that this is my last home stand and being out there thinking that these are my last two games at home is emotional," Cline said. "But I try not to think about it too much and we are ready for South Alabama on Sunday."
App's six seniors including Bass and Cline will be honored on Sunday in the matchup they have been waiting for since they were eliminated by them last season: South Alabama.
"We just have to take the momentum and build off of it," Strickland said. "South Alabama is always a team we look forward to playing and match up well with. They have a conference championship on the line and we have seeding in the tournament on the line. It is going to be interesting but we are going to battle until the end and lay it on the line to really have a chance and opportunity."
If App State defeats South Alabama on Sunday at 1 p.m. they will automatically clinch a Sun Belt tournament birth. If they tie, they will need Troy to lose. If they lose, they will need Texas State to lose to clinch.
Story By: Jason Huber, Sports Editor