When App State men's tennis head coach Bob Lake moved into his office at Appalachian State, an ultimatum confronted him from the start. Face to face with the athletics director at the time, a simple conversation turned into a blueprint for his tennis program.
"Basically, when I got here, it was all Americans, and the athletic director at the time told me that if I wanted to win, then I was going to have to get some international kids," Lake said. "Without them, we can't do anything because the top Americans are going to get sucked up by the big schools."
Taking this advice in stride, Lake began to set up contacts abroad, especially in regions of Canada, South Africa and Australia. Creating pipelines, the Mountaineer head coach in his 17th season has built a network of foreign players.
Lake's roster consists of nine players this season, four of which come from outside of the United States. Australia in particular stands out, where one of Lake's most important assets is concluding his final season in Boone.
Senior Jack Maddocks, one of the three Australians on the team, grew up thousands of miles from his eventual college home. Getting older, Maddocks realized the opportunity that an American education and tennis career presented.
Entering his high school years, Maddocks began to see the positive aspects of playing tennis away from home. Playing in the Australian schools' championships, a former player of Lake's had taken notice of Maddocks, leading to emails between the current head coach and player.
"When I got to 15 or 16 years old, you hear about people who have came over and had such a good time, so that makes you want to find out about it and see if it's really for you," Maddocks said. "I'm really happy I made that decision, and it's probably one of the best I've ever made."
Lake's strategy again proved successful, relying on his former players to make connections with players that were once unreachable. While his strategy has seen continued success, Lake's ambition to recruit foreign players finds a defined balance.
Looking to split his team half and half, Lake understands that the App State program must develop players domestically as well. Gathering five players inside the United States, growth and leadership have become key components of any player he recruits.
Seniors in particular have added an extra dimension, and joining his Australian teammate Maddocks, senior Trey Morris has a completely different story to how he ended up in the High Country.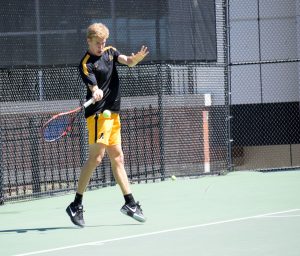 Originally from Colbert, Georgia, Morris had barely heard of App State, aside from the school's major football upset of Michigan in 2007. As his college decision came closer, Morris found out much more about his future university.
"I always wanted to play tennis in college starting back when I was nine years old," Morris said. "I had a coach who asked us to state our goals, and my original goal then was to play Division I tennis. As I started getting older, I looked into different schools and App became a really good option for me."
Starting off at Appalachian, Morris has elevated his play, pushing him up from sixth to third in the lineup. While his skills on the court have improved throughout his time at App State, more than tennis has made life in Boone memorable.
Gaining an experience unlike many of his fellow Mountaineer students, Morris has grown alongside a group of students that come from places unlike his own.
"It's awesome, and it's one of the coolest experiences for me just being able to have a big melting pot of players from all over the country and all over the world," Morris said. "It's been eye-opening seeing different cultures, and it's been a really good experience."
Essential to that experience, Maddocks has taken his time with his American teammates to find an outlet from being so far away from home. Only returning home each year in December, growing on and off the tennis court has eased adjustment to American life.
For the first time, Maddocks' parents visited Boone in September, which was also his mother's first ever trip to the U.S. Gaining an international experience was important, but without tennis, that reality may have been much different.
"Tennis is a sport that is played in almost every single country, and it's unique in a way," Maddocks said. "Growing up, you play against people from so many different countries and backgrounds, so you get used to it in tennis."
Developing better tennis players helps put wins on the stat sheet, but even with this, leadership comes directly from the ability to work with players from all across the world.
Losing three senior leaders from a team that finished 14-6 last season, Maddocks and Morris have had their names called to continue a proud tennis tradition.
"The seniors are the ones who normally get it done, and they grow quite a bit from being a freshman all the way through," Lake said. "I rely on the seniors in their last year to help me with everything, and these two have been good."
While both of these seniors see their App State careers coming to a close, their love for tennis has brought their unique backgrounds together.
Story By: Tyler Hotz, Senior Sports Reporter
Photos by: Lindsay Vaughn, Staff Photographer