Wrestling captures thrilling tiebreaker over Mocs
In a much anticipated match on senior day, fans stuck around after Sunday afternoon's duel against conference rival UT-Chattanooga to hear the final decision after a 16-16 draw at the end of regulation in Varsity Gym.
After 15 minutes of heavy anticipation while watching the officials review the rulebook, App State (12-2, 6-0 SoCon) got the their sixth conference win thanks to a criteria playoff to decide the winner against Chattanooga (6-9, 4-2 SoCon). The tiebreak came down to total team points, App State tallied 55 points in 10 total matches topping Chattanooga's 54.
Every season the UTC vs. App State wrestling match is the most anticipated one of the year for players, fans and coaches. Despite the hype, the Mountaineers tried to keep their composure and remain focus.
"You could feel a little different energy this week," Bentley said. "It's a rivalry week. There are some rivalries in college sports that naturally bring a certain kind of energy to the air and it's that way when we wrestle Chattanooga. Especially if both teams have a chance to win a conference title.
Extra bleachers were hauled into Varsity Gym with anticipation for a big crowd to watch the potential SoCon regular season championship and it was a good thing they did. Bentley credited the Mountaineer fans for contributing to the already electric atmosphere.  
"We had an awesome turnout today," Bentley said. "Bringing that many people in this gym brings an energy that makes it easy to get up for."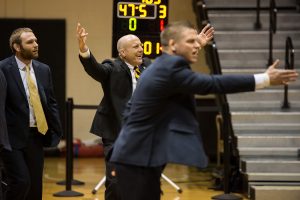 Perhaps feeding off the adrenaline of facing UTC on senior day, the hot start provided by the two seniors could have been the most important factor in the match, Bentley said.
"Our two senior's man, I can't say enough about the way they got us started," Bentley said. "They possibly had two of the best guys on that team and they both went out like warriors and put big points on the board."
Senior captain and No. 10 ranked Denzel Dejournette kicked off Sunday's action with a 10-4 win over Jared Johnson, a familiar conference foe who was currently ranked one spot ahead of Dejournette in the national polls at No. 9 in the heavyweight division.
"We always wrestle 2-3 times a year and it's always a really close match," Dejournette said. "He's a great competitor but this time I was feeling good and I was starting to get in the right mindset. I got my mojo back as I would like to say."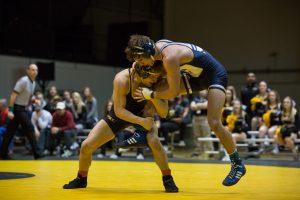 The only other senior in the Mountaineer lineup, Vito Pasone, followed up Dejournette's' win with a 15-4 major decision over UTC's Alonzo Allen to give the Mountaineers an early 7-0 lead.
"I mean we had a mission to go out and score out as many points as we can," Pasone said. "Coach Bentley has been saying all week score as many points as possible and we will be fun to watch. It turned out to be the deciding factor tonight. It's a heck of a way to end up senior night."
The Mocs gained some momentum when Chris Debien took down No. 21 Colby Smith at 133, followed by a Chase Zemenack victory over Irvin Enriquez in an 8-5 decision to narrow the team deficit to 7-6.
The Black and Gold responded with three straight victories from No. 15 Matt Zovistoski, freshman Gavin Londoff and Junior Forrest Przybysz to extend their lead to 16-6 with three matches remaining.
Nick Kee, No. 17, fell to Chattanooga's Sean Mappes in a 17-7 major decision after suffering a knee injury during the match. The major decision earned the Mocs four team points and narrowed the score to 16-10.
David Peters-Logue lost in a 9-4 decision against No. 19 Bryce Carr at 184, and Randall Diabe fell 5-1 in the final match of the night against UTC's Clay Dent knotting the team score at 16-16 for a draw, or so you would think.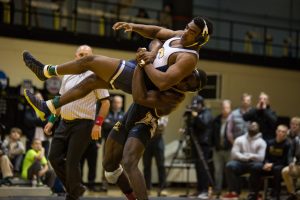 "I was in a situation like that early on in my coaching career against North Carolina and they didn't break the tie," Bentley said. "Back then they didn't break the tie, you just ended in a draw."
The officials went to the rule book for a criteria tiebreak, in which they tallied up the total points earned for each team throughout the 10 matches with the Apps earning 55 in opposed to the Mocs 54, bringing home the 2016-2017 SoCon title for the second year in a row.
"I'm glad we're in this position where it's kind of nerve wracking, that's what you live for," Bentley said. "That's what these guys are going to remember after their done with their wrestling career. They are always going to remember when we beat Chattanooga in criteria to seal the conference championship."
The Mountaineers look to close out their undefeated conference schedule when they take on Virginia Military Institute (1-5, SoCon) Wednesday night in Lexington, Virginia. With a win on Wednesday, App State will win the league outright. With a loss, the champion will have to be determined.
"We can feel good about ourselves tonight but we have to get right back on the cart to get ready to compete against VMI on Wednesday night," Bentley said.
Story By: John Robertson, Sports Reporter