Everyone knows about the success of the football program at Appalachian State, but there is another Mountaineer team that deserves just as much recognition for their dominance and prosperity: the wrestling team.
Head coach JohnMark Bentley is in his ninth season at the helm, and after picking up two convincing wins in their first match of the season on Nov. 11, holds a 81-55-1 career record. The Mountaineers defeated Bloomsburg by a final score of 28-7 and shut out Southern Conference opponent Davidson 45-0. Bentley holds his team to high standards and sets lofty goals for his guys.
"I mean obviously the goal is always for us to compete for conference championships, produce all-Americans and so that's what we're trying to do," Bentley said. 
Last season, Appalachian had a season for the record books and completed both of those goals. They started the season with wins over then-No. 15 Oregon State before knocking off then-No. 25 North Carolina. After starting 2-0 with wins over nationally ranked teams, the Mountaineers rattled off 10 wins in their next 12 matches, with the only two losses coming against top 10 ranked teams in N.C. State and Missouri. They finished with their highest SoCon conference win total in a season with 13 and the highest winning percentage (87 percent) in program history.
App State went on to claim the SoCon regular season championship while heavyweight Denzel Dejournette was named SoCon wrestler of the year for the second straight year. Dejournette went on to compete at the NCAA Championship where he placed 8th in the country and was named an all-American.
Although Dejournette graduated, the Mountaineers return a slew of successful and experienced wrestlers to go along with nine freshman newcomers. Gavin Londoff earned SoCon all-freshman team recognition, Matt Zovistoski won the SoCon 149-pound division, and both Irvin Enriquez and Forrest Przybysz claimed second place in the SoCon at their respective weight class. All four are back this year and will look to bring experience and leadership to the team.
Przybysz is the one of only two seniors on this year's roster, and is one of the biggest leaders on this year's squad.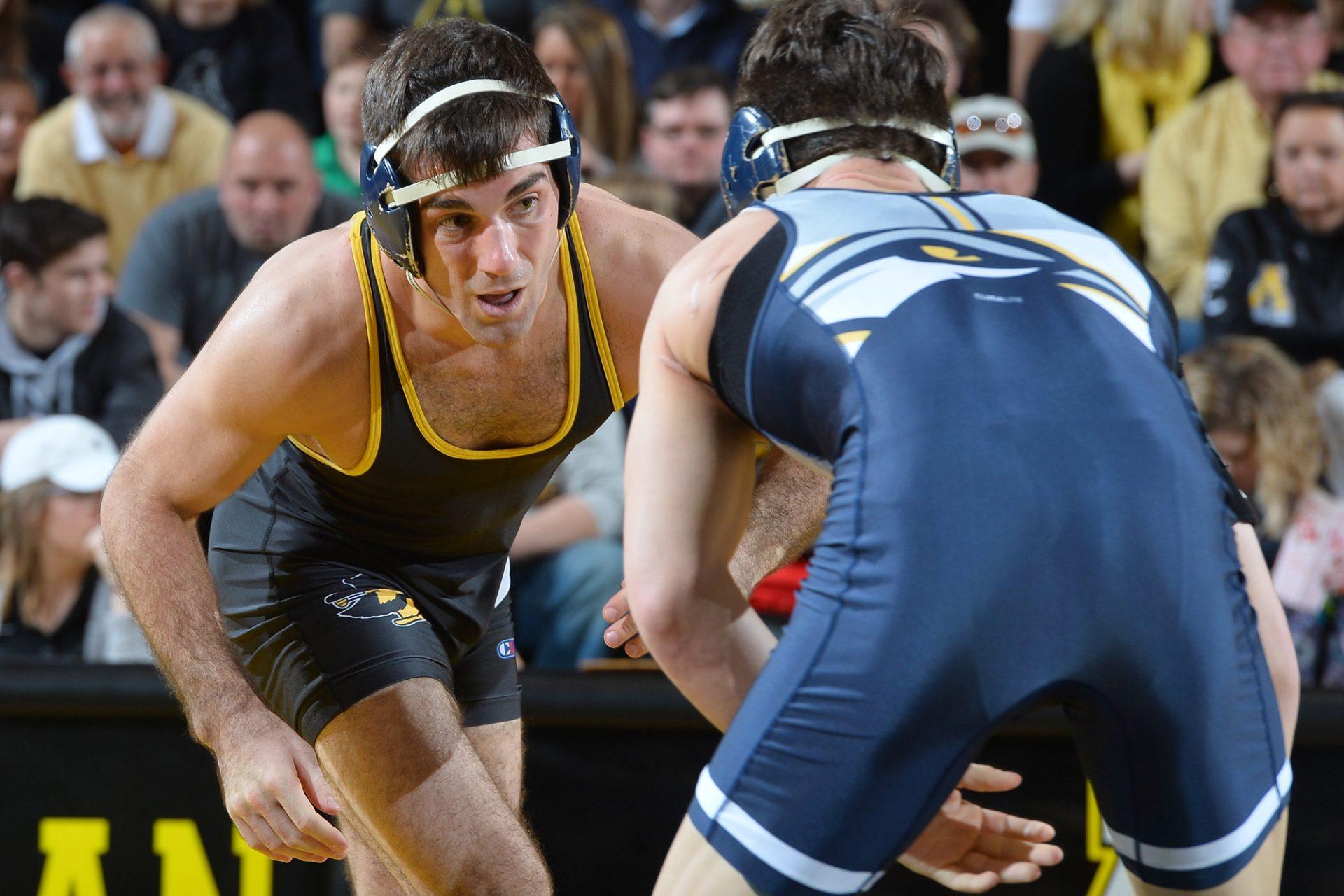 Bentley said he recognizes the importance of a guy that has been around the program for so long and been successful.
"He's been here for a long time and he's got a lot of experience. He's been to the national tournament, he knows what it takes and I think him sharing that kind of guidance with the younger guys helps them get an idea of where they need to be," Bentley said.
To be as successful as they have been in recent years, it will take the leadership of both the coach and the leadership of guys like Przybysz to come together and work as a unit. This is something Pryzbysz understands and strives to get across.
"I just try to take everything that coach Bentley says and trickle it down," Przybysz said. "It means a lot coming from coach Bentley, but it also has to come from the leaders on the team because sometimes people will shrug off coaches and say, 'Oh he's just saying that because he's the coach and he's got to,' but when it comes from both your coaches and from your leaders it really sinks in and makes a difference."
The Mountaineers have the veteran leadership that is so important to any team's success, but they also have a strong group of younger guys that should help the program continue to grow.
"I think our freshmen are competitive. We've got a lot of guys that can step in and help us right away and that's encouraging, we're gonna need it," Bentley said. "Anytime you lose four NCAA qualifiers and an all-American, you've got some work to do to replace those guys."
From a player's perspective, Przybysz is also happy with what he has seen out of the newcomers.
"We have a lot of guys that are embracing training hard. The last couple years it's been a great group of guys, but especially this year, this group works as hard or harder than any group of guys we ever had in the room," Przybysz said.
Another point to be talked about is the fact that App State yet again has another daunting schedule this year, jam-packed with Power-5 and nationally ranked opponents. The Mountaineers will travel to both Chapel Hill and and Norman for showdowns with the 22nd ranked North Carolina Tar Heels and 19th ranked Oklahoma Sooners. Two ACC opponents will also come to Boone for matches: No. 9 N.C. State as well as the Blue Devils of Duke University.
"I think our guys are used to it. They look at our schedule year in and year out and they expect to see that kind of schedule, so I don't think it intimidates them," Bentley said. "We expect to compete with those programs."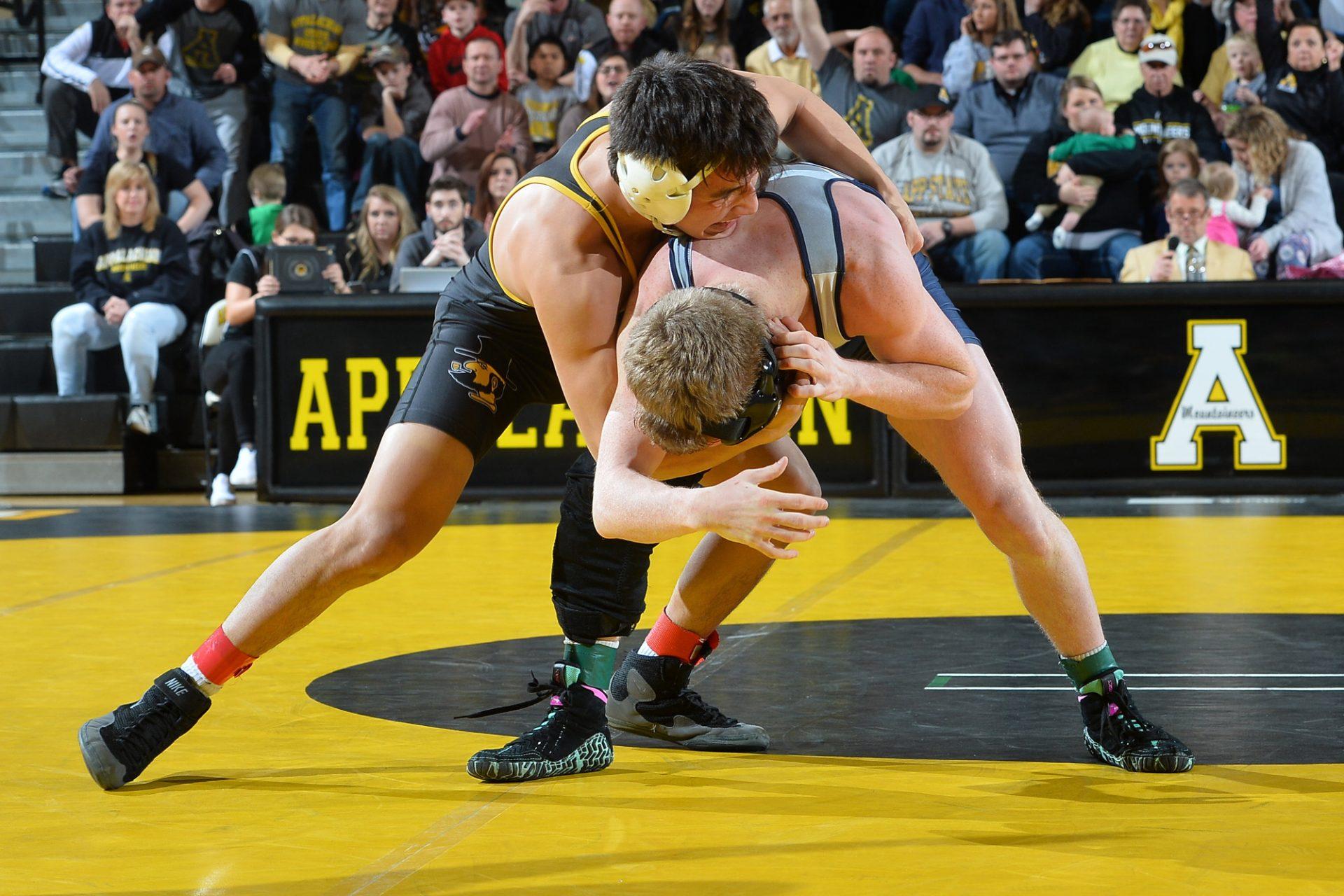 Przybysz looks at the tough schedule as a huge opportunity.
"I love it. I want our schedule to be as strong as possible," Przybysz said. "We get those tough matches in and we're battle trained for the postseason. The stronger the schedule the better. We're trying to be the best in the country so we have to wrestle the best in the country."
To be the best in the country, first, a team has to get through their conference. Coming off back to back SoCon titles, Bentley knows what it takes to get his group ready to compete for a third straight.
"We've gotta be consistent. We've gotta be consistent with our training, we've gotta be consistent with the way that we're doing all the things off the mat as well. Going to class, sleeping well, eating well," Bentley said. "If we're consistent with all those things, we're going to continue to develop and get better and hopefully put ourselves in a position at the end of the year to compete for a championship."
Even though Appalachian State isn't a Power-5 school, they consistently compete with some of the best teams in the country and send wrestlers to the National Championships year in and year out.
"It's kind of been our motto for the year: 'hard work wins titles.' So we're just trying to embrace the hard work and put in the hard work to win another title, to win another SoCon championship," Przybysz said.
Story by: Silas Albright, Sports Reporter