Neighborhood Yoga goes downtown
Neighborhood Yoga and Kindly Kitchen, a joint project three years in the making, finally opened in December.
Located in a renovated space above The Shoppes At Farmers Hardware on King Street, the century old building was brought up to code to house the project.
"Being on the top floor, with no exterior exits and not up to code, it took two structural engineers, and an architect and several subcontractors under that," Neighborhood Yoga owner Valerie Midgett said.
Midgett said they also had to update the plumbing, electrical and air conditioning systems of the space.
"It was a much bigger project than I ever anticipated going into it, but once I got so far into it there was like no going back, I could only push forward," Midgett said.
The space now has the well-worn brick walls of the old building and an open dining area adorned with Indian artwork to complement the antiqued building.
The yoga studio has an ornate ceiling with inset lights, a wall dominated by large windows that overlook King Street, old brick walls on either side and wood floors.
"When they come here and they just step in they're going to notice right away, it's very different," Midgett said. "It doesn't look like a gym, it doesn't even really look like a yoga studio. I've tried to make it look like you're almost stepping into a different place, a different world."
There is also a small retail space outside the studio.
Neighborhood Yoga has been in Boone for a decade, previously operating out of a studio on Shanti Way near the courthouse.
Midgett said that she felt it was time to move to the downtown community proper.
"[We were] outgrowing our space and our permit there, but also because I really want to be a part of the downtown community, it's the community and the town that I love and I want to see downtown thrive," Midgett said.
Kindly Kitchen is owned by Caleb and Megan Crowell, who both taught yoga under Midgett at the old location. Caleb Crowell said they knew Midgett was looking into a new studio and that there would be space for another project.
"Me and Meg both have experience in food," Crowell said. "We kind of worked in it longer than we did anything else."
Midgett said that she knew she couldn't handle food herself.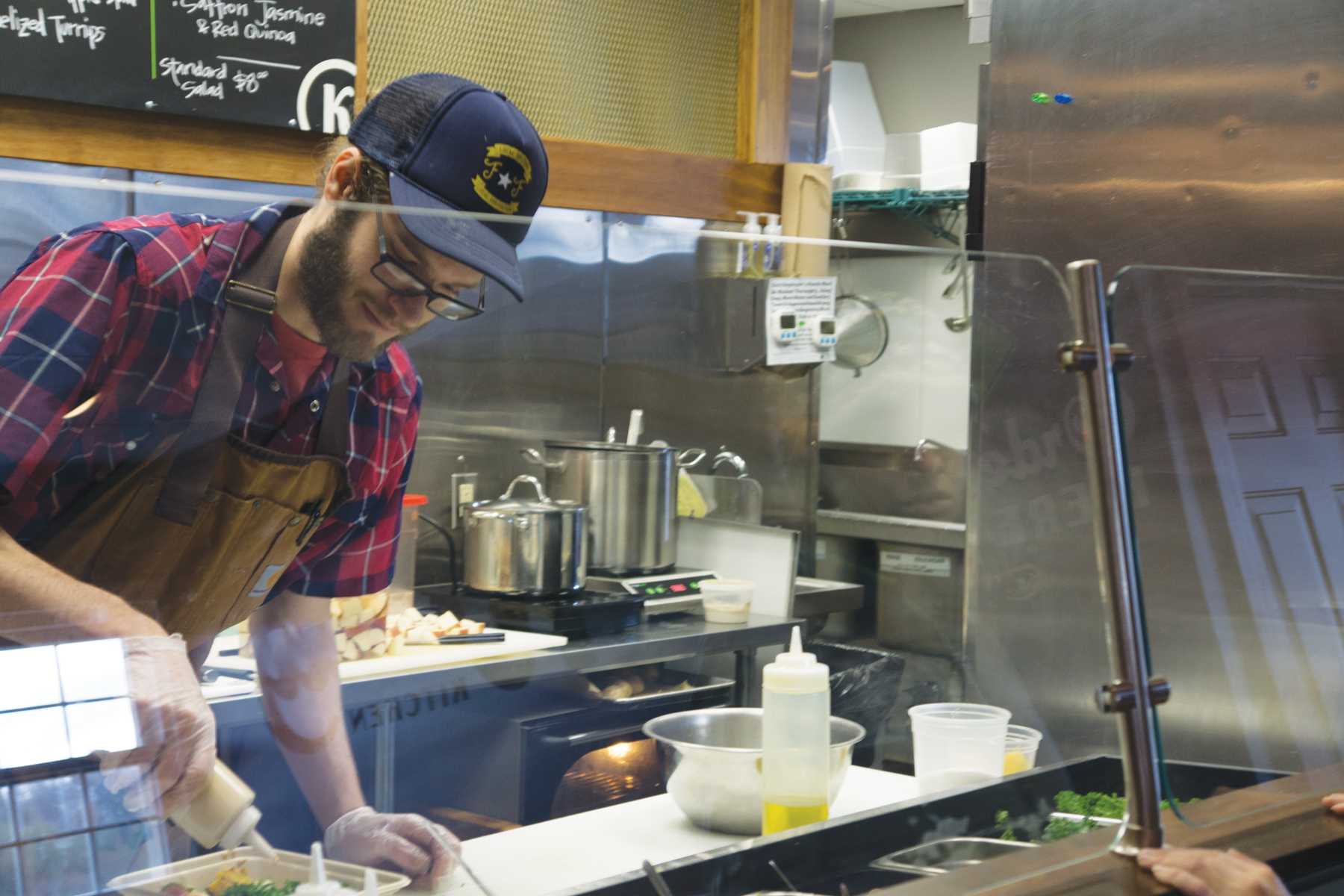 "It was probably our initial little bit of like, that karma, that selfless service of making something for someone, making this food," Crowell said. "It's an offering and it kind of always has been, I'd say probably anybody who works in the food industry would say that but they just don't know because the pay is not great and the hours are terrible."
Kindly Kitchen serves plant-based foods sourced from local farms and prepares food to order over the counter, offering milkshakes and bowls of local greens and grains with garnishes like flax chips and crispy mushrooms.
"The yoga diets for us as we became trained as yoga teachers, it's grounding, it's basic, it's fairly simple, and it's full of appreciation," Crowell said. "Our food has that in the connection to the grower, so we are sourcing from this region as closely as possible."
Crowell has another business called New Appalachia Foods that sources locally produced foods with the goal of spreading around the traditions and value of the region.
"I get to use as much local food as we can find," Crowell said. "It's way easier to cook fresh food that you're inspired by."
The space opened at the end of the fall semester, during finals and before the mass exodus of students from Boone for the holidays.
"I planned to open probably six to eight months earlier," Midgett said.
Midgett said it took longer than expected to open but the decision to open was made despite the inopportune timing.
"Here it was weeks before Christmas and we said 'We're going to do it, let's just get started, let's get our feet wet and then we'll catch our breath and regroup,'" she said.
Midgett said reception has exceeded her expectations and the yoga studio is offering more classes than were ever offered at the old location and the classes have had higher attendance.
"We had a real intimacy over in the neighborhood, but we're working still to recreate that intimacy hear even within this communal environment," Midgett said.
Crowell said that Kindly Kitchen plans to do farm-to-table dinner events in the future and Midgett is taking a group of 20 people to India to study Bhakti yoga and trek through the Himalayas.
Lindsay Carroll, a Neighborhood Yoga student of three years, said she started taking introductory yoga classes at Appalachian State but went to Neighborhood for a more in-depth experience.
"People are curious, they want to see what's up here," Carroll said. "I think there's rumors around town there's this new awesome place that is both a yoga studio and a shop and amazing food with Kindly Kitchen and people are curious and excited to come see it."
Story by: Carl Blankenship, News Editor