One restaurant in Valle Crucis is opening its doors to chefs in the High Country, allowing them to take over the kitchen, learn what it's like to own a restaurant and run the show for the evening.
Over Yonder, one of the only restaurants in Valle Crucis, is currently hosting the Rising Chefs of Appalachia Pop-Up Series as an opportunity for newer chefs to get experience and recognition, and for diners in the area to experience something different from the restaurant's traditional focus on hyper local, southern Appalachian-style food, owner Andy Long said.
Long created the Rising Chefs of Appalachia Pop-Up Series as a collaborative event with other chefs in Watauga County. He invites chefs to come into the restaurant, plan their own menu and serve as executive chef for the night. It's an educational opportunity and a chance for chefs to get exposure, Long said.
"It's hard when you're a young cook to get your name out there and to get experience, and sometimes there are really talented cooks and they're working at terrible restaurants and you never know about them," Long said.
A lot goes into the planning of an event like this, Long said. The guest chefs run every step of the evening, with a little guidance from Long if needed. They learn how to create a cohesive menu, market the event, network with other chefs and everything in between.
"It's just giving them our kitchen and saying 'You can do basically whatever you want' and so far everyone has stepped up and they're really eager and doing a really good job," Long said.
The first event of the series was on Feb. 1, with Thomas Butler taking over the kitchen. Butler works as a chef and kitchen manager at New Public House in Blowing Rock, and met Long when the two worked at Story Street Grill together.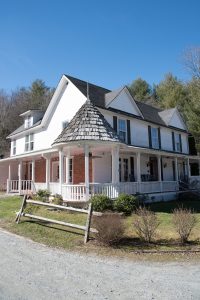 Butler's theme for the evening was gluten free, vegetarian dishes. Butler isn't a vegetarian, but said in the last two years he has become more health conscious, experimenting with meatless and gluten free dishes.
"This menu is the dishes I've been working on in the last year or two, stuff that I've been playing around with at home and I enjoy eating," Butler said. "The whole goal behind the menu was to show people, even meat eaters, that you can eat a whole meal without having to put bread or meat in our bodies."
The event helped Butler branch out, and gave him a glimpse into what pursuing a chef career entails, something he has dreamed about since he was 12 years old.
Christina Fasanello, a line cook at Over Yonder, hosted "Una Noche Espanola" at the second Rising Chefs event on Feb. 15. The menu was inspired by Fasanello's Dominican-Italian heritage, including dishes her mother made for her as a child.
"One in specific is boccalou, that I've been eating since I was a kid," Fasanello said. "I tried to recreate a dish that has just been a really big part of my life, my culture, and my identity, and I also just really like it."
Fasanello served smaller plates, or pinchos, as Long called them. The menu included some items unfamiliar to Over Yonder's Appalachian-style food, including baby octopus, oxtail and churros.
"I don't want to do the same stuff we do here. It's gotta be something different from what we do," Long said.
Fasanello said the event was a culmination of four menu drafts and a week of prep work, and helped her solidify her future business plans of opening her own tapas and cocktails restaurant.
"I think it's really cool that Andy and the rest of the Over Yonder staff is giving opportunities young chefs such as I to write menus, write prep lists and kind of do what they want to do and get some spotlight," Fasanello said.
Long said the reaction from diners has been good, and the series will continue to showcase the talents of Appalachia chefs roughly every two weeks as long as it generates interest.
The next Rising Chefs Pop-Up Series event will feature a Thai food menu hosted by Matt Rivers, a banquet chef at Chetola Resort in Blowing Rock. The date is to be decided.