Must-watch games
Sept. 9 at North Carolina 
The first game of a three-game series began in 2019, as the Mountaineers blocked a field goal to upset the Tar Heels in Kenan Stadium 34-31. The series remained on hiatus until 2022, when App State hosted North Carolina to kick off the season in a high-scoring 63-61 affair. A record breaking crowd of 40,168 watched as both teams combined for 1,216 total offensive yards. 
Once again, Heisman hopeful and top NFL Draft prospect Tar Heels quarterback Drake Maye will be on the opposing side. Maye dissected the Mountaineers defense for 352 passing yards and five total touchdowns. With North Carolina looking to capitalize on their last potential season with Maye, the Mountaineers will need to slow down the Tar Heels explosive offense, which saw Maye throw for 38 touchdowns in 2022. 
App State sold-out their away ticket allotment as the Sept. 9 matchup will determine the three-game series winner. 
Sept. 16 vs. East Carolina
The 91-year rivalry continues as East Carolina travels to a sold-out Kidd Brewer Stadium for the first time since 1979. Two years ago, the Mountaineers and Pirates kicked off the 2021 season at Bank of America Stadium in Charlotte. App State won the neutral site game 33-19, extending the Mountaineers record to 20-12 against the Pirates.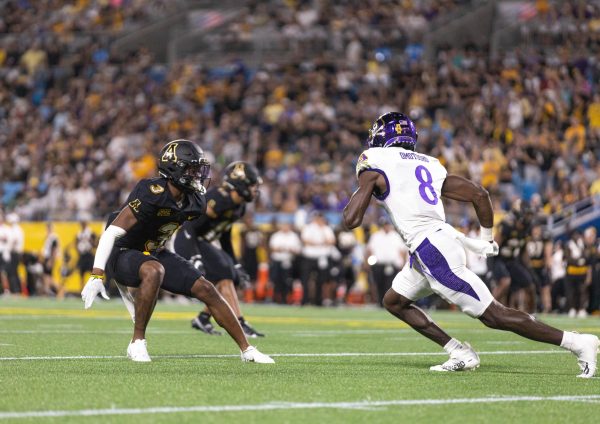 Unlike the 2021 matchup, both teams will have a new starting quarterback. Mountaineer quarterback Chase Brice and ECU quarterback Holton Ahlers both graduated in 2022. This will leave a prime opportunity for both teams to start the season off on the right foot, as both teams will have Power Five matchups before Sept. 16. 
The east-west rivalry will be an early non-conference test for the Mountaineers, as the Pirates held an 8-5 record in 2022. App State will also be removed from a trip to Chapel Hill the following week. 
 Oct. 10 vs. Coastal Carolina
Highlighting Sun Belt Conference play is a Tuesday night home matchup against Coastal Carolina on ESPN2. The last time the Chanticleers traveled to Kidd Brewer in 2021, it resulted in a 30-27 upset over No. 14 Coastal Carolina as former App State kicker Chandler Stanton nailed a last-second field goal. Mountaineer fans stormed the field as it was App State's first upset against a ranked opponent since No. 5 Michigan in 2007. 
In each of the last two seasons, the winner of this matchup has played in the Sun Belt Championship. In 2022, the Mountaineers came up short in Conway, South Carolina, losing 35-28. 
App State holds a record of 4-2 and remains 3-0 at home against the Chanticleers. In hopes of maintaining perfection at home and with a potential Sun Belt Championship bid on the line, the stakes loom large for the Mountaineers in their mid-week matchup.
Key players
Ryan Burger
Burger, a redshirt freshman from Myrtle Beach, South Carolina, is a favorite to take over the quarterback reins for this upcoming season. If so, Burger would be taking over after Chase Brice, who started the last two seasons for the Mountaineers in 2021 and 2022. 
Burger appeared in just one game last season against Robert Morris. Against the Colonials, he completed four of his six passes for 40 yards. Burger also had some action in the running game, rushing twice for 23 yards. 
"I thought Ryan Burger came in and moved the ball," said head coach Shawn Clark after their 42-3 victory over Robert Morris last season. "You can see he's a different player than Chase, he can really beat you with his face when he has to." 
Burger was a three-star prospect coming out of Myrtle Beach High School, and verbally committed to the Mountaineers April 2, 2021. 
Isaiah Helms
Helms, a fifth-year offensive lineman, is from West Caldwell High School in Lenoir, just 31 miles from Kidd Brewer Stadium. After high school, Helms was a two-year starter at Western Carolina before transferring to App State in 2021. Now, in his third season with the Mountaineers, he enters the season on the Preseason All-Sun Belt First-Team, joining teammate redshirt junior cornerback Milan Tucker on the first-team. 
Helms played in 25 games for the Mountaineers and started in all of his appearances so far, just missing one game in his App State career in 2021. 
In an offensive line that lost Anderson Hardy, Troy Everett and Cooper Hodges, Isaiah Helms looks to add a veteran presence to an offensive line that will do some reshuffling this season. Last season Helms played a majority of the season at right guard, but might see time at center. 
Nick Ross
Ross, a fifth-year senior safety from Marietta, Georgia, is a key-returner on the defensive side of the ball for the Mountaineers. 
Ross made his presence known for App State and opponents over the years, even since his true freshmen season in 2019. During that season, he had a 20-yard pick-six interception touchdown against South Carolina, a game the Mountaineers won 20-15.
Throughout his career, Ross has appeared in 52 games for the Mountaineers and started 15 of them. During that time, Ross totaled 151 tackles and two interceptions.
Ross had plenty of quality moments last season he looks to build on for the 2023 campaign. In App State's 2022 matchup against Troy, Ross posted a career-high in tackles with 12, along with grabbing Sun-Belt defensive player of the week honors. Ross also had 11 tackles against Old Dominion and an interception against Robert Morris. 
Top storylines entering the season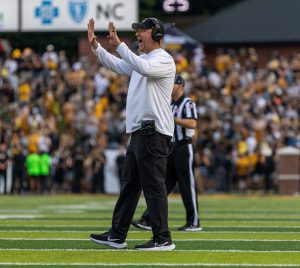 Is Head Coach Shawn Clark on the hot seat?
After an up-and-down 2022 season, the Mountaineers finished with a 6-6 record and were bowl ineligible for the first time since joining the Football Bowl Subdivision in 2015. Clark stated the harsh reality in his last post-game press conference.
"We have to do a total assessment of our program and see who we really are," Clark said.
Clark enters the 2023 season with an overall 26-13 record since replacing 2019 head coach Eli Drinkwitz. App State has yet to win a Sun Belt Championship during Clark's tenure, but has won two bowl games. 
After the 2021 season, Clark's contract was extended for two years until after the 2026 season. At the time, he had a 20-6 overall record and his .769 winner percentage was sixth among active FBS head coaches. 
The 1998 App State alum will enter uncharted territories in 2023 with a young defense and an unproven quarterback. If the Mountaineers were to have back-to-back seasons without a winning record, questions would arise about a potential change for the future. 
New faces from many places
The 2023 Mountaineers will feature a retooled group of players as 28 seniors graduated in 2022, and 14 former Mountaineers are in the transfer portal. The most significant transfer was outside linebacker Jalen McLeod, as he transferred to Auburn. McLeod was expected to fill the role of the recently drafted outside linebacker Nick Hampton. 
While the Mountaineers lost many key players, they've made up for it in the transfer portal with 15 incoming transfers and 19 enrolled recruits. Included in the transfers are eight players coming from Power Five programs. Four star receiver Grant Tucker, the highest recruit in program history, highlights the recruiting class. 
"We're very excited about the future of App State football," Clark said on signing day. "Today's signing class will help us compete for conference championships and bowl championships over the next four to five years. These are all outstanding young men who come from great families. They'll represent our program both on and off the field."