Acclaimed author, humorist Garrison Keillor visits, sings with Appalachian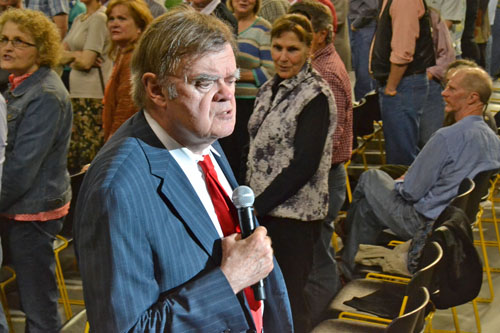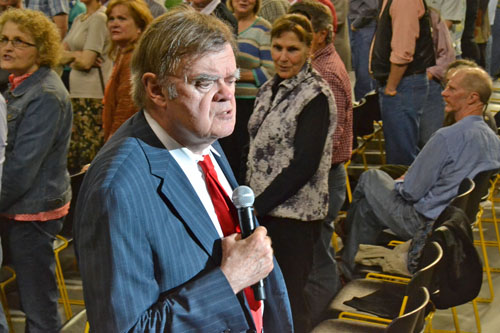 Author and humorist Garrison Keillor told stories from his life and performed songs at "An Evening with Garrison Keillor: A Brand New Retrospective" on Tuesday at the Holmes Convocation Center.
This was the final event of this year's Performing Arts Series.
The event, hosted in collaboration with the Appalachian Popular Programming Society's Heritage Council, began with a performance by the Mountain Home Bluegrass Boys, a bluegrass band that performs as a member of the non-profit organization Mountain Home Music.
Mountain Home Music founder and executive director Joe Shannon introduced the band and performed in two of their five songs, including one song dedicated to Boston.
After the band completed their five-song set, Joe Shannon came back onstage to introduce the second opening band, the Forget-Me-Nots.
The Forget-Me-Nots include band members Willa Finck, Maura Shawn Scanlin and Ledah Finck on violins, as well as David Finck on backup guitar.
The band played three songs, each of which was an original piece written by one of the band's violinists. After their set, they received a standing ovation from the crowd.
That's when Keillor took the stage.
Instead of introducing himself, Keillor began by leading the audience in singing the songs "America the Beautiful" and "Home on the Range."
"Isn't that a great song?" Keillor asked the audience between verses of "Home on the Range." "It's in praise of flat places."
After the song concluded, Keillor told stories and anecdotes from his own life, beginning with things he'd supposedly learned after turning 70 years old.
"A person ought to learn something by the age of 70, and I have learned a few things," Keillor said. "I have learned… acts have their consequences. Step on a crack, break your mother's back. Nobody knows why it happens, but it does."
Interspersed between his stories, Keillor broke into numerous other songs, some of which he'd written himself.
"Why a person lives to be the age of 70 is to become a repository of old jokes," Keillor said. "I guess that's why you've come here, is to see that."
Joining him on stage were pianists Richard Dworsky and Rob Fisher, as well as singer Christine DiGiallonardo, who Keillor claimed his daughter loved more than Lady Gaga.
During the course of the night, Keillor spoke often about his young daughter, whom Keillor had at the age of 55. He also recited poetry and sonnets and spoke about his past experiences as a young man, with an occasional reference to Lake Wobegon, Minn., the fictional town where the majority of Keillor's books are set and where Keillor also claims to be his hometown.
Instead of having the customary intermission, Keillor instead proposed a "standing intermission," where the remaining audience stood and sang songs while those who needed to get up and move around were allowed to.
Keillor concluded the event with a duet between DiGiallonardo and himself of the hymn "Come Thou Fount of Every Blessing," by Robert Robinson.
Story: R. SCOTT MORRIS, A&E Editor
Photo: MARK KENNA, Intern Photographer