App State alumna uses locally-sourced products and assistance to start macaron business
When App State alumna Nina Halas started her macaron company, Boone n' Batter, she had no professional baking experience whatsoever. Despite this lack of experience, she now runs an entire company from baking to packaging to selling to delivering, all by herself.
"I started baking in college after moving to an apartment as a stress relieving activity," Halas said. "But I'm a business student so I thought, I can probably make this profitable and give back to the High Country."
Her business, mostly an online service, sells primarily macarons of various flavors. Halas doesn't have a background in macarons, but was excited for the baking challenge.
"I was looking online at YouTube tutorials and saw one for macarons," Halas said. "The comments all said, 'This is so difficult and I don't think anyone can do this,' and I thought, 'That's nonsense.'
"I watched one tutorial and with beginner's luck I made the prettiest, perfect macaron. I did it again and it was horrible."
Part of the difficulty of baking macarons is that Halas had to adapt her baking habits to the weather, which can often affect how well a macaron will turn out.
"It's just science," Halas said.
Macarons are extremely sensitive to moisture, according to a Huffington Post article. If there's rain or moisture in the air when baking macarons,the egg white needed to make the meringue gets too moist and the macaron will fall apart.
Halas officially opened Boone n' Batter on Feb. 17, but worked for months beforehand to create the business.
After visiting the Transportation Insight Center for Entrepreneurship at the university, the center's managing director Erich Schlenker helped Halas make her business idea a reality.
"Nina came into the CFE with talent and passion, and that's the perfect combination for any successful entrepreneur." Schlenker said in an email. "Nina already knew that she wanted to open a Boone bakery and our CFE team simply coached her through some of logistics and guided her in the direction she was already headed."
From there, Halas went to Blue Ridge Women in Agriculture and got information about High Country Food Hub, an online marketplace that connects customers with freshly grown, local foods, according to the High Country Local First website.
"I make sure the fruits of the season coincide with my menu," Halas said. "That way I can keep things as local and fresh as possible."
It was through the High Country Food Hub marketplace that Halas made contacts at the King Street Market and was able to start selling her products over the summer to make a name for her business.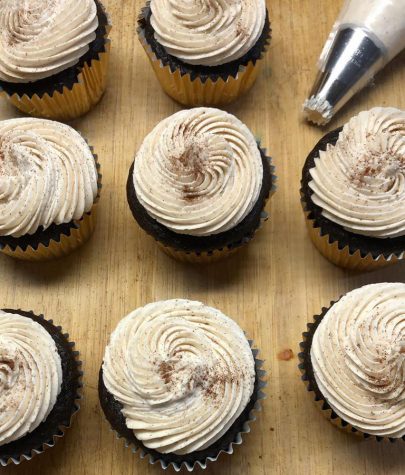 As part of a project for her entrepreneur class last semester, Halas also expanded her business and began selling a "Boonie Bundle" which includes cupcakes, brownies and two macarons, Halas said.
After balancing her life between being a student and a business owner, Halas still sees baking and putting together orders as a major stress reliever.
"It kind of becomes mindless once you do it so many times and you know the recipe," Halas said. "Now if my macarons don't come out good, it won't be mindless and it'll be stressful, but normally it does come out good and it gives me a break from school."
Halas graduated in December, but she plans to stay in Boone to continue her business part-time while working another full-time job.
"With Boone's market, I don't want a store-front because that'll cost me an arm and a leg, and I'm not financially stable enough to do that," Halas said. "I do want to keep my business online though and keep providing macarons to the High Country."
This is not the first time this student business model has been seen in Boone. The CFE works with approximately 200 students, alumni, faculty and community members each year, Schlenker said.
Appalachia Cookie Company was started by an Appalachian student who was seeking an alternative to the stereotypical pizza or sandwich delivery. He began working at home to create delicious cookies that he would later turn into a business, according to the company's website.
Other types of companies, like G7meDay5, a clothing company started by senior business management student Katie Dodge, have similar stories about students getting help from the entrepreneur center in Peacock Hall to start businesses and make money, Dodge said.
"Entrepreneurship is awesome if you can make it sustainable and profitable," Halas said.
To find out more information about Boone n' Batter or to order macarons, you can go to Boonenbatter.com.
Photos courtesy of Boone n'Batter
Featured photo caption: White chocolate ganache-filled macaroons are one of the many offerings from the Boone N' Batter dessert company. The company is owned and operated by recent App State graduate Nina Halas, who capitalized on her passion for baking and bachelor's degree in Business Management to start her own business. While the company primarily operates online at the moment, Halas is looking to officially enter the marketplace on February 15.