*Correction: For clarification, App State athletic's press release states:
"To provide the necessary funding and engagement to position our sports program for sustained excellence. A Mountaineer Impact was designed to provide a solid financial foundation for the Appalachian State Athletics program by raising commitments of $60 million over the next five years in private support to construct and enhance facilities, establish and endow scholarships and underwrite sport program needs."
Coming off of a football season that saw App State featured on national television a record eight times, the Mountaineer athletics program is looking to push the envelope to sustain success.
Following a comprehensive review, an App State press release noted that "needs of over $60 million have been identified." Moving forward, the plan's intention is to improve the lives of student-athletes at Appalachian.
"Our goal as an athletic department is to continue to elevate the App State brand and become an even greater source of pride and engagement for our university," athletics director Doug Gillin said in Thursday's press release. "To do so, we need to generate and develop a sustainable funding model."
Gillin said in Thursday's press release that the model has been identified as "A Mountaineer Impact, A Drive for Excellence," which looks to meet the needs of "academics, facilities, student-athlete scholarships, staff recruitment and retention, student-athlete development and operating budgets."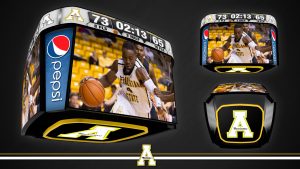 Kicking off this new campaign, a new video board for the Holmes Convocation Center and Kidd Brewer Stadium have been announced, both of which will be completed by the start of the 2017-18 seasons.
The football video board will be the largest of its kind in all of Group of Five football, and three times larger than the current board. Utilizing the same technology as boards at Duke, South Carolina and even the Carolina Panthers, the board will be approximately 2,500 square feet. In addition to the board, "The Rock" will be equipped with new ribbon displays and a new audio system combined with the video system.
At the Holmes Center, the long-awaited video board will make its debut. The center hung board will feature a convex curvature, and it will be just one of three schools in the country to receive this style. Daktronics has partnered with App State to complete the two projects.
Other projects are expected to be planned for softball, the track, field hockey, indoor tennis facility and the men and women's soccer complex in addition to Kidd Brewer Stadium, and the Holmes Center.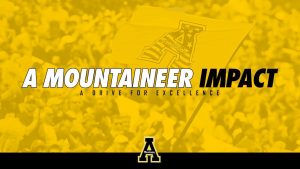 "These projects will play a key role in enhancing the gameday experience at our venues as well as raising the production level of all our university events in these venues," Gillin said.
Some priorities will include enhancements to the athletics center, scholarship support, sport program funding enhancements, competitive salaries and student-athletic experience enhancements. Another project is called the Millennial Campus Phase 1 Project that hopes to have a North End zone facility at Kidd Brewer.
Story By: Tyler Hotz, Sports Reporter