App State defeats Texas State in Kerns' 100th win
The Mountaineers defeated Texas State Thursday in their penultimate home game of the season at the Holmes Convocation Center, moving to 15-13 with an 82-75 win, the 100th of head coach Dustin Kerns' coaching career. 
App State developed an early 27-16 lead, but Texas State came back before the half with a 12-0 run. The Black and Gold went into halftime with a 33-31 lead.
Crafty 5-foot-9 Bobcats point guard Mason Harell found his range from three in the second half, making for a back and forth final 20 minutes between the two teams.
Fresh off becoming the 35th member of the 1,000-point club for the Mountaineers, senior forward Donovan Gregory's shot was falling in the second half. He was efficient with his mid-range jumper and was able to get to the free-throw line. Gregory made five free throws and finished with a team high 21 points.
With 3:40 left, junior guard Xavion Brown fouled out with the Mountaineers hanging on to a 67-63 lead.
Graduate transfer guard Tyree Boykin, who has been limited on minutes since returning from injury, subbed in for Brown.
In the final 3:40, Boykin got to the line 10 times, and he was a perfect 10-10, closing out the game for the Black and Gold. Boykin also hit a jump shot, bringing his total for the night to 12 points, all in the last four minutes.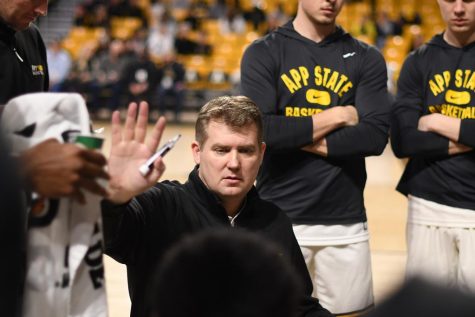 For a team shooting 68.3% from the foul line, those 10 free throws were huge to snuff out any hopes of a Texas State comeback.
"Xavion fouled out late," Boykin said. "I'm glad Coach believed in me and put me in … my confidence comes from these guys, they gave me all the confidence in the world."
App State ended up with four double-digit scorers, with junior forward CJ Huntley scoring 11 and sophomore guard Terence Harcum contributing 10.
App State's 82 points were good for its second highest conference scoring total this season, just behind the 84 points scored against Coastal Carolina. 
The Black and Gold shot 55.1% from the field, which was the highest percentage this year against a Sun Belt opponent. 
The win does a lot for App State's seeding as it approaches the Sun Belt Tournament with just three games remaining on the schedule. 
"It puts us in pretty good position with three to play to at least get a first-round bye," Kerns said. "Hard fought win. Us scoring 82 points was good, helps with momentum for sure."
With the win, Kerns earned his 100th victory in his coaching career. 
"It shows that I've had tremendous people around me," Kerns said. "Coaching staff and all the players; couldn't do it without them. Thanks to them and thanks to all our fans here who have willed us to a lot of wins."
The Mountaineers take the court again at home Saturday for Senior Night against Old Dominion at 4 p.m.