App State Fan Fest kicks off season for fall sports
Appalachian State Athletics kicked off the 2017-2018 season with their annual fall Fan Fest at Kidd Brewer Stadium on Aug. 20. Members of the community, fresh new faces to the university and fans of all ages came out to meet and get autographs from athletes on fall sport teams including football, volleyball, soccer, field hockey and cross country.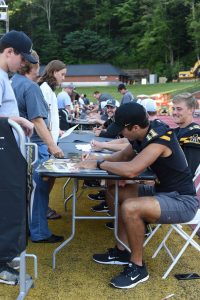 "It's awesome to get all the sports and all the fans out here, to get a little break from camp and to see all the fans' faces," senior football quarterback Taylor Lamb said. "You know what you're doing it for and the support we get from AppNation is incredible."
Lamb is heading into his final season at the helm of the Mountaineer offense. Their first opponent of the season is the No. 15 ranked Georgia Bulldogs just two weeks away on Sept. 2.
Last year, the Black and Gold won their first Sun Belt championship and second-consecutive Camellia bowl win. After an optimistic summer full of training, the squad hopes to do even more in Athens, Georgia.
The Mountaineer volleyball team was another one of the fall sports to bring out fans from the community as they look forward to a bounce back season.
"I just think it's a great opportunity for us to meet our fans and promote our program," sophomore outside hitter Emma Longley said. "We're excited to get everyone out there and supporting us and it's great to interact with everybody so when we see them at games, it's good to see familiar faces."
Head coach Matt Ginipro was alongside the team and was optimistic for the day and for the season as a whole.
"I like the fact that all the sports are here and we can get all these people involved," Ginipro said. "Our kids just love interacting with everybody and hopefully we get another fan in the stands because of it."
After falling short of expectations last year, the Mountaineer volleyball team is looking to bounce back continuing their preseason games against Missouri State on Friday in Holmes Convocation Center at noon.
Women's soccer managed to get away from the field for a few moments as well to greet fans as their season has already begun with a handful of games behind them.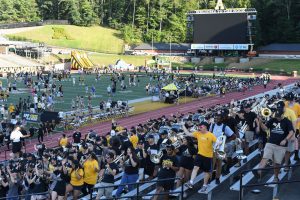 "It's really cool to see the town come out and all the fans from the school come out and meet everybody," junior midfielder Emmily Cowie said. "All the little girls and boys that come through the line that look up to you make everything worth it."
While many fans focused on football, Fan Fest gave an opportunity to all the fall sports to bring in more fans than in years past. The Marching Mountaineers put on a show for the community with the cheerleading team and dance team greeting everyone attending the evening event.
"You just feel a really positive energy and it starts off the season right," senior dance co-captain Makayleigh Smith said.
With classes now in full swing, the student-athletes are ready to represent their school's teams for the many fans that support them.
Story By: Noah Gerringer, Sports Reporter
Photos By: Halle Keighton, Photo Editor