App State graduate students: inside a small, hardworking community
Andrew Rice, Associate Enterprise Editor
April 14, 2022|157 Views
As of August 2020, graduate students at the university numbered 1,962 of 20,023 enrolled students or 9% of the overall student population, according to a report from Appalachian Today. 
According to the university website, there are more than 80 graduate degrees offered at the university. Degrees can range from programs of study like student affairs to pollinator health in the Department of Biology.
Grad student Lacey Ballard is completing her second year of her master's in student affairs administration after completing her undergraduate degree at East Carolina University. She plans to return to ECU and work as an administrator for Student Affairs after graduating in May. 
"ECU does not offer the program or assistantship that I am doing," Ballard said. "So I have really good benefits, and this is just a better spot for me."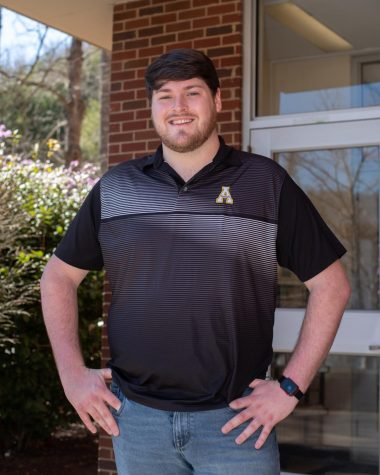 Ballard participates in an assistantship with University Housing, where she is the resident director of White Hall. Ballard said she has taken on more responsibilities at the university than she would have in other programs.
"To be a graduate assistant at ECU is just to be an RA with a few extra steps," Ballard said. "Whereas here, you get to be the residence director."
Ballard feels the program's cohort style has helped her meet fellow student affairs graduate students.
"You get to know everyone in your program at least on a base level," Ballard said. "And it just makes it easier to engage with your class because you're taking every class with the same group of people."
Increasing student accessibility with the housing department is something the university can improve, Ballard said. 
"If I wasn't a housing grad and didn't have housing, it would be tough for me," Ballard said.
However, Ballard believes the assistantship experience will help her stick out in her field of study. 
"Now, when I'm applying for jobs, I can say that I have two years of residence hall supervising experience," Ballard said.
Matthew Johnson graduated from the university with a bachelor's degree in cellular and molecular biology and is currently studying pollinator health as a grad student. Johnson is working on a project studying viruses among honeybees that infect native species.
Maryam Ahmed is a professor and chair member in the Department of Biology and helps students like Johnson get connected with research they are passionate about. Ahmed is studying how cancer cells and immune cells respond to particular viruses by increasing efficiency in development of certain viral treatments. 
"I previously helped Dr. Ahmed with a project that she was doing while in undergrad,"  Johnson said. "So I tried to tailor my current project to some of the virology work that she was already doing."
Johnson is completing his first year as a grad student and is a teaching assistant for introductory biology courses in order to fund his studies.
"The biology grad professors fight for funding as best they can," Johnson said. "But sometimes it can be difficult to get."
Johnson said he has a close relationship with many professors he works with and feels he has made valuable connections with them.
"The bio professors are insanely good at what they do," Johnson said. "They have to juggle so much, and I truly believe that they do everything with grace and are always willing to help me with the work I am doing."
Dalton Stroup graduated from the university in May with a degree in business administration in hospitality and tourism management. He is also pursuing his master's degree in student affairs administration.
Stroup had many reasons for choosing App State when pursuing his master's like proximity to family and cost. However, he said COVID-19 was his biggest concern.
"Being sent home my junior year, having a nearly completely virtual senior year, I felt like App still had plenty of things to teach me and ways to help me grow," Stroup said.
Stroup is a resident director for Bowie Hall, fulfilling his requirement for an assistantship as a grad student studying student affairs and administration. 
"I have been able to grow exponentially as a supervisor, advisor and person as well as learn from amazing staff members and undergraduate students," Stroup said.
Despite the growth he has experienced, Stroup wants to see a greater focus on students' holistic health and development. 
"In order to have the most educated and work-field ready graduating classes, professors and program heads need to remember that education is holistic and not just about assignments and exams," Stroup said.
Stroup said he believes the best way to focus on holistic health is by improving and increasing student resources, especially among student groups with marginalized identities. Stroup said many resources are catered toward undergraduate students when graduate students also need access to the same resources. 
 However, Stroup said he is grateful for the opportunities the university afforded him and the relationships he has built with professors and staff members. 
"I feel that I am seen as a professional in the Student Affairs division at App and that while I am still learning, Student Affairs staff treat me with respect and put their faith in me to perform well when it comes to supporting students, providing resources and planning programs," Stroup said.