App State bounced back to its winning ways with a 48-38 victory over Southern Miss Saturday on its annual Homecoming game.
"Happy Homecoming to all of App Nation," said head coach Shawn Clark. "Very proud of our team, and the way they continue to fight. All the credit goes to our players to find a way to win."
The Homecoming football game is an annual celebration that welcomes back App State alumni from all over the country. There are several events planned on campus, from the 'Neerly Naked Mile, to silent disco, the Homecoming parade and much more. The Homecoming football game wraps up a very special celebration. 
"There's a lot of pride here," Clark said. "That's what makes Appalachian State different. This is home, and when people come back to Boone, they come home." 
The Mountaineers started off what's been a season long trend: slow starts. The Golden Eagles marched down the field on their first offensive drive of the game, totaling 75 yards on five plays in two minutes and 21 seconds. Southern Miss wide receiver Latreal Jones came down with the receiving touchdown, and the Golden Eagles went up 7-0 early. 
The Mountaineers waited until their third offensive drive of the game to find the end zone. Shortly after junior wide receiver Kaedin Robinson came down with a 27-yard reception, junior running back Maquel Haywood found the end zone for the first time in his Mountaineer career on an 8-yard run to the left. 
The Golden Eagles and the Black and Gold went back-and-forth throughout the first half with Southern Miss taking a 24-14 lead heading into halftime. It was the most first-half points scored by the Golden Eagles since their season opener Sept. 2 against Alcorn State. 
"We didn't play a very good first half on both sides of the football," Clark said. "We came into halftime and said we're either gonna find a way or make a way. And, our players made a way today." 
A way was certainly found in the second half, with the Mountaineer defense holding the Southern Miss offense to 14 points and the Mountaineer offense scoring 34, the most points the Black and Gold have scored in any half this season.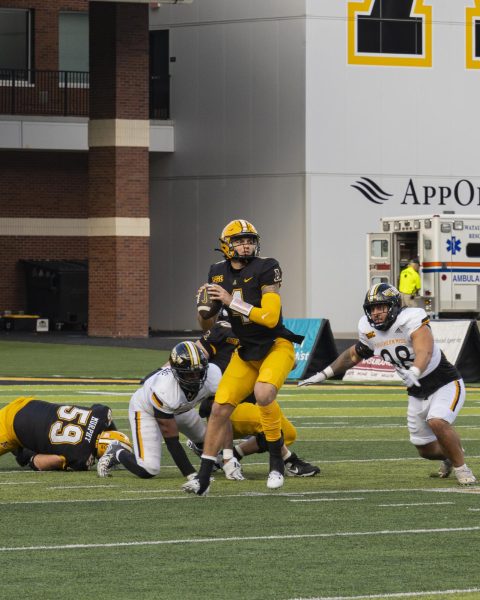 App State junior quarterback Joey Aguilar was a star for the Mountaineer offense once again with 23 completions, 391 yards and four passing touchdowns. One of those touchdowns was thrown to junior wide receiver Christan Horn late in the game to seal the win for the Mountaineers. 
"I see that one-on-one coverage backside and see Horn was having a day," Aguilar said. "So, just try and give him the opportunity to make a play and he did." 
Among the stars for App State includes Kanye Roberts, the redshirt freshman running back originally from Teachey, North Carolina. Roberts was responsible for the Mountaineers first lead of the game, as Roberts broke away for a 61-yard rush in the fourth quarter to make the score 42-38.
"They were telling me on the sidelines to be a little bit more patient, so that's what I did," Roberts said. "I stayed behind our guard and just waited for that open hole. As soon as I see the open hole, I just burst out and keep going." 
This win for App State improves their Sun Belt conference record to 2-2 on the season, and their overall record to 4-4. Southern Miss falls to 0-5 in conference play and 1-7 on the season.
App State will face off against Marshall Nov. 4 at 6 p.m., the first Saturday night game at Kidd Brewer since 2014, and first ever Saturday night game in November.