App State looks to junior defensive back for leadership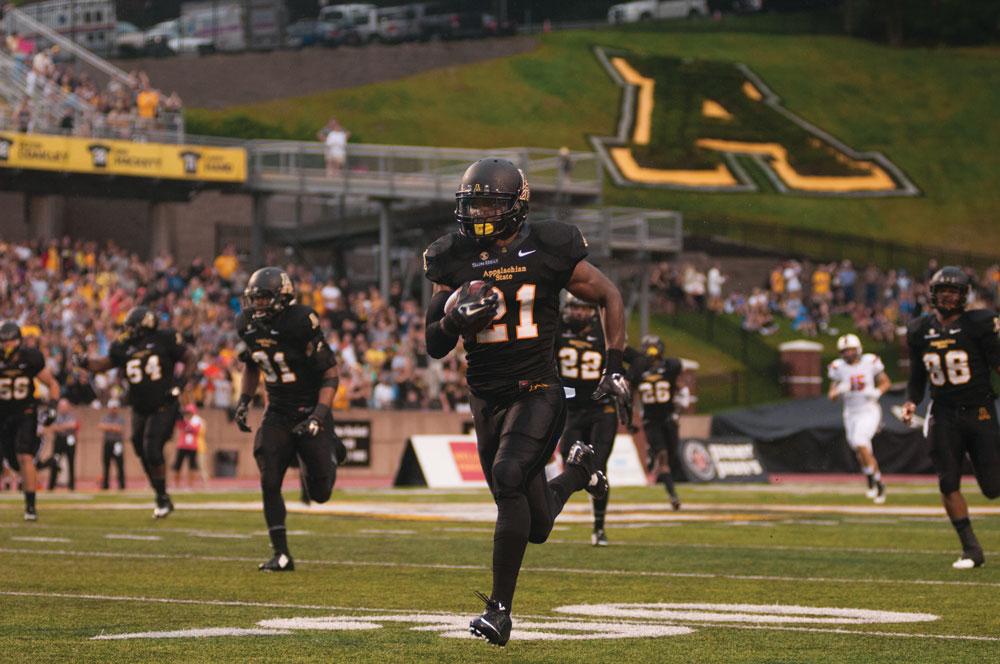 To motivate a team defensively at the start of a new season, there must be a cataylyst for the team around which to rally. For App State football this season, that player has been junior defensive back Doug Middleton.
Middleton recorded eight tackles and ended up being one of the few bright spots for the Mountaineers in the season-opening loss against Michigan on Aug. 30. In the week leading up to the 66-0 rout of Campbell in App State's home opener Sept. 6, Middleton was looking to improve from the loss to the Wolverines.
"I'm just going to focus on my technique and play faster for the game coming up this week," Middleton said prior to the game against Campbell. "[Against Michigan], I was a little hesitant even though I had eight tackles. It could have been a lot more if I played faster and more physical."
Middleton backed up his words against Campbell, recording six total tackles and a 53-yard interception return for a touchdown, which extended App State's second-quarter lead to 31-0.
The touchdown was the second of his career. The first came in 2011 during his freshman season with a 97-yard interception return against North Carolina A&T.
Middleton was named freshman All-American by College Sports Journal and placed on the freshman All-Southern Conference team, placing 11th in the Southern Conference with 2 interceptions during the 2011 season.
"He is an older guy who is very mature and smart in class and on the football field," secondary and defensive backs coach Scot Sloan said.  "He has got good leadership qualities, which leads to respect from the other players on here on the field. To be a leader you have to be able to handle the classroom, training room and being on the field. He has a good work ethic not only physically, but mentally as well."
Middleton is not a stranger to adversity. He started his sophomore season opener at East Carolina University, only to leave the game early after injuring his ankle, a season-ending injury. He
was granted a medical redshirt and continued his success last season moving back into the starting position playing both safety positions.
"We don't have many players the can play both safety positions because they are totally different things," head coach Scott Satterfield said. "That talks about a little bit about the mental part of the game for him. When you get a player that versatile it's hard to keep him off of the field."
Middleton's leadership extends into the classroom as a business management major. He has been on the dean's list, Appalachian athletics' academic honor roll and was a member of the Southern Conference's academic honor roll for the 2013 season.
Middleton's dedication in the classroom shows itself in the way he prepares for each game as well.
"He has got a class on Tuesday and Thursday so he misses our positional meeting," Sloan said. "He comes over on his own and meets with me one on one to go over what I'm going to go over in the meeting."
From last season to this season, Middleton has improved his gameplay and continues to improve on a weekly basis. The improvement was noticed by his coaches in the game against Campbell.
"I've gotten a lot faster than last year," Middleton said. "This summer, I hit the weight room hard with our new strength and conditioning staff and gained a few pounds."
The future appears bright for Middleton as he continues to don the black and gold for this season and the next as FBS play starts up. Opposing offenses will have to include him in their pregame strategies as they face the Mountaineers' defense.
"We hope he continues to get better and better," Satterfield said. "He has great speed and needs to improve on tackling. He lines on the right and is a great communicator out there. I think the more he plays the better he will get."
Story: Bryant Barbery, Intern Sports Reporter
Photo: Rachel Krauza, Senior Photographer