App State reaches radio deal
Appalachian State signed a radio contract with ESPN 730 AM based in Charlotte on Feb. 18.
The deal will bring Mountaineer sports to fans located in the Charlotte area. The contract will last for three years and will allow for the broadcast of App State sports in its first year in the Sun Belt Conference.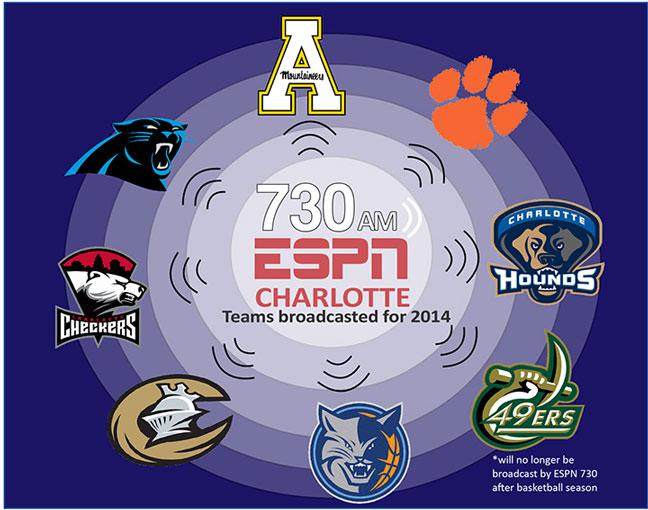 The deal is important for the university and for App State Athletics in the future, said David Jackson, App State associate athletic director and the voice of the Mountaineers.
"It is no secret that a lot of students come from the Charlotte area, and a lot of alumni live in that area," Jackson said. "It is the part of the state where we sell a lot of tickets and have a lot of game-day traction. It was important for us to establish that market. It is part of a broader picture."
The deal will broadcast all Mountaineer football and men's basketball games, as well as a minimum of five baseball games. Jackson said the deal is strictly for radio.
ESPN 730 is leaving its deal with UNC-Charlotte, where it previously covered the 49ers basketball and football.
The radio station will facilitate the Mountaineers' daily Around the Mountain radio show as well as Mountaineer Talk, where coaches will be interviewed and discuss the upcoming week's schedule with call-in questions from fans. Bottom Line College Gameday will also be broadcasted on football game days both at home and away.
"We told them we had previously been with them for four years, and when the contract comes open, we want a shot at it," Jackson said. "It's part of a larger opportunity for us to put a flag in downtown Charlotte."
App State has recently scheduled a home and away football series with the 49ers in the 2018 and 2019 seasons.
"Charlie Cobb will have a 30-minute show before every football game where we will be talking about trending topics in college football and their implications on Appalachian," Jackson said. "People will get the association, and that will hopefully help us to cultivate more fans and get more students to come here from that area."
Lanny Ford, general manager of ESPN 730, said he is excited about the opportunities of broadcasting App State athletics in Charlotte.
"We will be excited to have some Appalachian events hosted here in Charlotte that we could be part of," Ford said. "Any time Appalachian has an announcement that they want to make or promotion about things in Boone, we want to be the first one to get it out into the Charlotte market."
Story: Bryant Barberry, Intern Sports Reporter
Graphic: Megan Stemke, Senior Graphic Designer