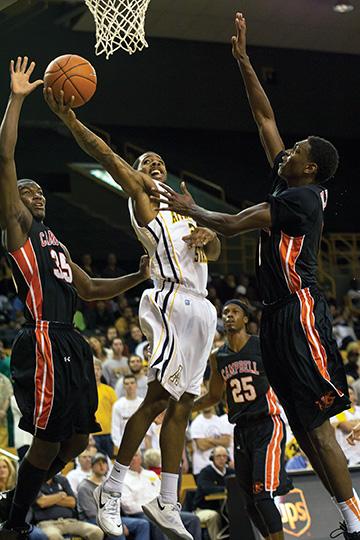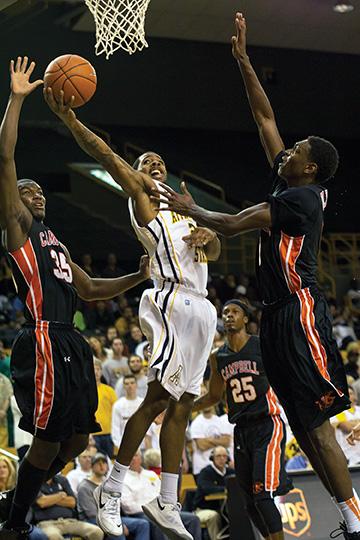 Appalachian State failed to complete a comeback victory in a 73-66 loss to Campbell University in Tuesday night's home opener.
The Fighting Camels (2-0) raced out to a 37-21 advantage at the half after connecting on 5 3-pointers.
The Mountaineers' (0-2) primary downfall was shooting, as the team was just 1 of 8 from the free throw line and 0 of 6 from three at halftime.
"We came out really dead in the first half," junior guard Mike Neal said. "We have to play harder than other teams, especially at home. Our main thing was, obviously, just hit free throws. We shot poorly from the line, we shot poorly from the three."
Neal led the Mountaineers with 20 points.
By the end of the game, App State finished just 9 of 22 from the charity stripe, leaving 13 points on the board.
"If we hit our free throws, we would have won the game," Neal said. "As bad as we shot from the 3-point line and as poorly as we played defense, we still would have won the basketball game."
The Mountaineers shot 26-62 from the field, good for 41.9 percent as Campbell finished 24-49 for 49 percent. After not making a single deep-ball in the first half, App State tallied 5 3-pointers on 19 attempts.
"When you talk about having a 16-point deficit, and cutting that to 6 or 7 with 15 minutes to go in the game, you're right where you want to be," head coach Jason Capel said. "I thought we played harder in the second half and that's not something I'm proud of, you got to play hard for 40 minutes."
Sophomore forward Michael Obacha led the Mountaineers in a 39-36 out-rebounding of the Camels that included 17 team offensive rebounds.
Obacha, out of Edo State, Nigeria, posted a career-high 15 rebounds.
"I tip my hat to Campbell, but in a game where you come back from such a large deficit that you put yourself in, and you leave 13 points on the board at the foul line is inexcusable," Capel said. "We will get better, and we will be ready for our next game."
App State is now 0-2 after two consecutive defeats to N.C. State (3-1) and Campbell. The team will travel to Ohio to take on the Cincinnati Bearcats (4-0) on Saturday. Tipoff is scheduled for 2 p.m.
Story: Nick Joyner, Sports Reporter
Photo: Paul Heckert, Senior Photographer