Appalachian State University football announced its first Division 1 FBS recruiting class Wednesday on National Signing Day.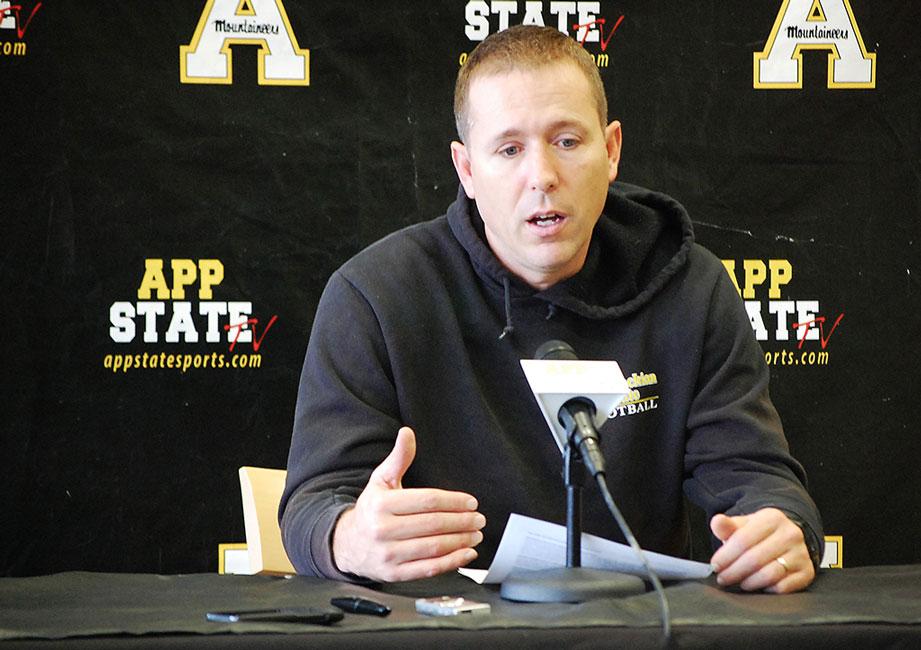 The class includes five players who are currently enrolled at App State and 22 players who signed National Letters of Intent to play for the Mountaineers in its inaugural Sun Belt Conference season.
The class consists of 12 players from Georgia, five from South Carolina, four from North Carolina, three from Florida and three from Tennessee.
"Our staff and everybody here at App State did an awesome job of recruiting these student athletes," head coach Scott Satterfield said. "They did an outstanding job battling a lot of bigger schools that we have to play against in this conference and other schools in our state."
Satterfield said recruiting at the FBS level for the first time proved to be a new challenge for his staff.
"High school guys that are playing football dream to play at the highest level they can possibly play at, so the FBS is where they want to be," Satterfield said. "That's going to get us in the door for a lot of these guys."
Satterfield said being involved with the prospects could help with the rigors of FBS recruiting.
"There were a lot of hours in the car and on the phone, but I think that's why it's so important early on to build relationships with these players," Satterfield said. "When the time comes that there's another, bigger school trying to entice them to go look at, those guys will still stay true to you."
Satterfield said wide receiver Shaedon Meadors from Duncan, S.C., went on a visit to Rutgers a week before he chose App State on Recruiting Day.
"It was a big need for us at wide receiver, we have to have that guy," Satterfield said.
The team addressed its needs for wide receivers by signing six wide receivers – the most recruits of any other position.
App State's other most-addressed positions were the offensive line, which saw four additions; the linebackers, which added three players; and the defensive line, which benefited from three signees.
Satterfield said the class consists of players he believes can make an immediate impact, particularly at wide receiver.
"I don't know who they'll be, but there will be somebody out of this list of six receivers who potentially could start for us, or at least have significant minutes in our very first game," Satterfield said. "We're not blowing smoke, you really have a great chance of coming in here and playing right away, depending on who comes in and works the hardest in camp."
Satterfield said he expects two or three defensive players who signed today to play in App State's first game, as well.
"We tell these guys to come in here as if they are coming in and playing right away and to have that mindset to come in and compete right off the bat," Satterfield said. "I think the class that we got is a solid class and there are guys that can come in and help us at some key spots."
The Mountaineers open up their first season in the Sun Belt on Aug. 30 when they face the Michigan Wolverines on the road.
The kickoff time will be announced at a later date.
Story: Cory Spiers, Sports editor
Photo: Cara Croom, Intern photographer