App State's budget for fiscal year 2018 is projected to see fee increases in both athletics and Health Services, continuing a six year upward trend for athletics.
If confirmed, the annual fees for athletics and Health Services would be increased $22 and $31 respectively. Athletics remains the highest fee for students at $755, according to budget reports.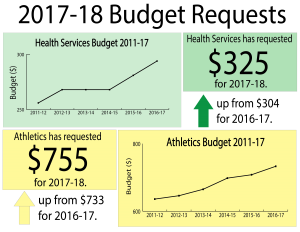 Vice chancellor for business affairs Paul Forte said that the athletic fee increases are due to additional athletic scholarships, counseling positions, salary increases and travel costs.
Future athletic fee increases will be dependent on the financial demands of the department, Forte said.
The original fee increase request from health services was $21, but this request was increased to $31 due to student input, Forte said.
"It's a delicate balance," Forte said. "We have a pretty democratic, let's say collaborative process with students."
According to the fee request form from Health Services, the justification for the request was to have at least three months of operating expenses.
"This fee will prevent us from having to reduce services in Health Services, the Counseling Center and Wellness and Prevention Services," the form said.
Despite the fee increase, Health Services will not have enough money for three months of operating expenses.
They will have just above two months of operating expenses with the $31 increase, Forte said.
SGA president Jalyn Howard said that he has concerns about the future of Health Services at App State.
"If our Health Services keeps functioning like this, it will not be viable within five to ten years," Howard said.
Forte said that the school is working to expand health services, citing the renovation of the Miles Annas Building as an example.
According to previous budget reports, the Health Services fee remained stagnant from fiscal years 2013 to 2015.
The budget will likely be finalized by August, Forte said.
Story by: Ben Sessoms, News Reporter