App State student designs fashionable game day wear
With countless clothing stores lining King Street, it's easy to feel as though the options for game day wear in Boone are countless. However, when senior management major Katie Dodge transferred to App State, she saw that the only options available in Boone to show school spirit were simple cotton T-shirts.
What started with Dodge driving up on weekends to watch her boyfriend, former App State football player Parker Collins, playing in Boone on the weekends, eventually turned into Dodge moving up to Boone to finish her business degree, while pursuing her hobby of designing unique game day wear.
"When I came up to watch Parker, I wanted to wear cute stuff, but I knew App only offered the plain cotton T-shirts for the most part," Dodge said.
While struggling to get a job in North Augusta, South Carolina, where those searching for jobs had to have special connections to get hired, Dodge said she decided to set her sights elsewhere and make a job for herself.
As a young child, Dodge reconstructed clothes with her sister as a hobby. With this skill set, Dodge decided that she could provide a solution for a need she had seen in Boone: a larger variety of App State clothing that was more fashionable.
"I started looking into what I had to do to get my retail license, how to file for a legal business, whether or not I needed a license, etc.," Dodge said.
Using her imagination as well as Pinterest and a variety of wholesale clothing websites as inspiration, Dodge created multiple styles of shirts for purchase.
Dodge created a website for her business, g7meday5.com, and made an announcement on Instagram that she would release all of her new clothing on her website July 16. On Aug. 13, Dodge released her new App State collection.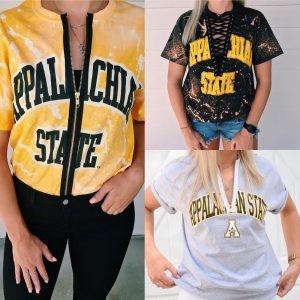 "Katie's stuff is super unique in comparison to what we have in Boone," Taylor Eckman Thomas, wife of App State football's offensive graduate assistant Pete Thomas, said. "She takes the standard style of T-shirts that people would have to wear to games but then makes it more fashionable."
Although most of the styles on Dodge's website are designed around the App State colors and logos, she also creates styles for other schools and sports teams.
"I provide my product for purchase based on what the buyer wants," Dodge said. "Someone tells me the shirt they want me to buy, I purchase it with their money, redesign it, charge an extra fee for reconstruction and return it."
This business model allows Dodge to create clothes for a variety of schools, teams, clubs, etc. 
App State still holds a special spot in Dodge's heart when it comes to her designs.
"I kind of want App State to have their own thing," Dodge said. "I feel like all of these other big schools have a bunch of cute stuff, so I'm really trying to focus in on App."
Dodge's business has taken off with constant requests for new orders.
"This business has really already done well," Collins said. "The product looks good, it's done the right way and all of the steps she's taken up to this point has really paid off."
Although she only started making plans for her business six weeks ago, Dodge is already thinking of the next steps to make her clothing appeal to more people.
Since Dodge is still in the first stages of her business, her variety of styles are still quite limited. One of the biggest requests in expansion so far has been adding more styles for plus-sized people.
"I'm not trying to hone in on one specific size with my clothes at all; I've just been trying to start smaller scale with my product," Dodge said. "I know what size I wear so I can take pictures and advertise right now, but I'm looking into getting more plus-sized items for people at App State."
Although the future of Dodge's company is still being decided, she has already received plenty of positive attention for the work she has done. 
"I've only known Katie for a short time, but her customer service has been great," Eckman Thomas said. "So far she's shipped the same day or the day after for all of the orders I've gotten from her and arrived at my house within two days."
Despite her successes, Dodge is struggling to get her message out there about the new clothes she has to offer.
"Marketing is very difficult because I don't have a storefront for people to see the shirts and try them on, so I have to slowly use social media, word of mouth and people posting stuff to get my business out there," Dodge said.
If you're interested in Dodge's game day wear fashion, you will soon be able to find her products at Appalachian Sportswear on King Street or go online to g7meday5.com.
Story by: Mariah Reneau, A&E Editor
Photos courtesy of Katie Dodge
Featured photo caption: Katie Doge, founder of G7AMEDAY5, posing with Parker Collins, former App State football player. Dodge said Collins was her inspiration to create her clothing brand that features customized App State spirit wear.