As the Mountaineer Volleyball team heads into the weekend, their final games lie ahead of them. The Sun Belt conference tournament is finally here, beginning with a match against Troy on Friday.
The Trojans, who App hasn't played since they began conference play in early September, will be coming off of a recent sweep against Arkansas-Little Rock (3-0). The Mountaineers, after losing two straight games to Arkansas State, lost to Little Rock in their final regular season game (3-1).  Despite these losses, App State received the No. 2 seed in the conference tournament after finishing 20-6 overall and 13-3 in Sun Belt regular season play.
In the last three games, the Mountaineers have tallied 45 errors, mostly consisting of first ball contact errors.  Before these games, it took the Mountaineers eight previous games to match the same amount.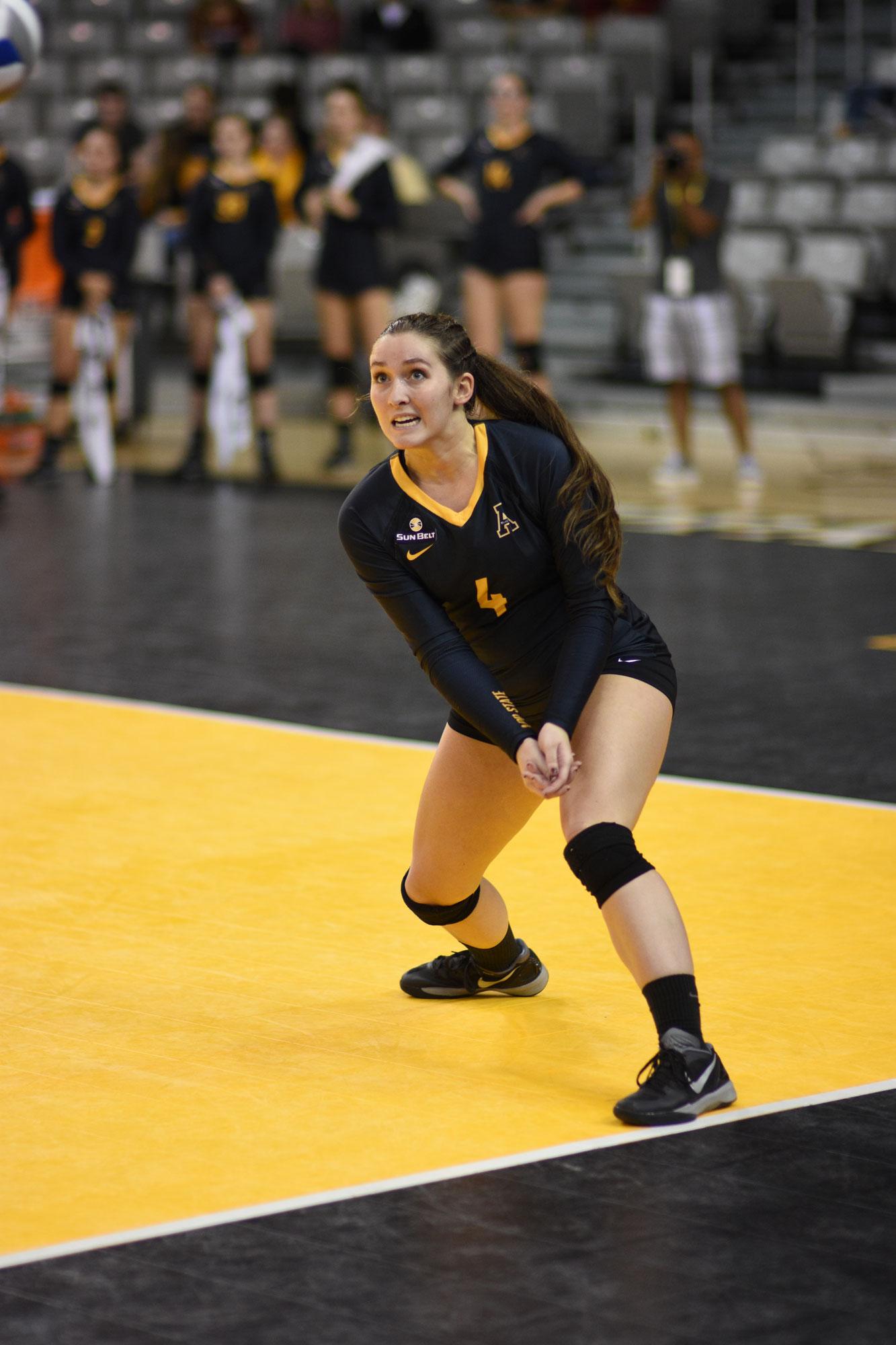 "You're just not going to win if you're making that many [errors]," head coach Matt Ginipro said.
After the first loss against Arkansas State, Ginipro said he knew it was first-ball contact and game plan errors, and was confident that they could be fixed.  The second match, which was home for the Red Wolves, was a different story.
"They played a pretty perfect match on their side of the net," Ginipro said.
Luckily for the Apps, the next time they would potentially face off against each other would be in the championship match on Sunday.
Right now, Troy is on the minds of these Mountaineers. Having not played Troy since September does worry Ginipro a bit, but if they can fix their mistakes ahead of time, he is confident with the matchups they have.
For the four seniors, however, fixing their mistakes isn't what they're most focused on. In fact, the group as a whole even feels like the errors and subsequent losses may have been a good thing.
"Knowing our own weaknesses before going into the tournament and being able to fix that is better than going in undefeated," standout setter Paige Brown said.
She went on to say that if a team starts to put pressure on them, they now know how to handle it and what to fix. Outside hitter Jess Keller even went as far as saying it doesn't worry her one bit.
"Our problem isn't getting out-killed by our opponents," Keller said. "It's our own mistakes and everything in our control. We can control the outcome of the game."
What these seniors are focused on the most is playing their hardest and leaving it all on the court. Each senior has their own personal goal for this weekend.
For outside hitters Keller and Emily Corrigan, it's hitting above .250 each game and just being themselves on the court. Libero Meghan Mahoney wants to play relaxed and "in the moment," and Brown wants to be that emotional backbone to help fuel the team.
They all mentioned things they need to improve, such as being ready for tips and making it harder for the other team versus for themselves.
Serving tougher, going after every ball on defense and putting up a bigger block are all aspects they believe they are capable of doing this weekend. Mahoney described it as going in with a chip on their shoulder to prove that they are the best team in the conference.
When it comes to coaching, it's a little different. Ginipro said he likes to think back to the saying, "What's your why?"
"My why is I want to see them holding the trophy on Sunday," Ginipro said.  He is extremely proud of this squad, especially these four seniors, who have played amazing considering they were initially recruited to play in the Southern Conference, he said.
A common mentality amongst this group is, as Ginipro described it, "getting back to being us."
Brown called it a state of "abnormality," while Corrigan said they needed to "Get back to being who we are."
Keller put it into perspective when she said it was 0-0 from this point on."Anything we've done in the past, good or bad, doesn't matter anymore."
Story by: Noah Gerringer, Sports Reporter