If someone were to walk across the stadium parking lot and happen to glance at Duck Pond Field, they might notice a group of students running around with PVC pipes between their legs, attempting to throw balls into hoops. If they look closer, however, they might see the resemblance to a game in the wizarding world of Harry Potter: Quidditch.
Although Quidditch may seem somewhat difficult to play without magic since it is usually played on flying brooms, this college sport is actually named "Muggle Quidditch." Students are not in the air, but there are many of the same principles of the enchanted game.
"One of the questions we get all the time is 'Do you fly?'" junior biology major and commissioner of the Appalachian State Apparators Riley Visser said. "I always say no, but some people jump really high."
Instead, students run around the field with rounded off PVC pipes between their legs and are penalized if the pipe is lost during the game.
"If the broom comes out from between your legs, you have to run back to your own side and tag into your hoops," Visser said.
The sport of Quidditch is played with six players on each side: two Chasers, two Beaters, one Keeper and one Seeker.
The Chasers' job is to get the "Quaffle," or a deflated volleyball, through one of the three hoops on the opposite end of the field.
The Beaters are the equivalent of a team's defense.
"The main goal of the Beaters is to hit the other team with dodgeballs to eliminate their chance of scoring and getting close to your hoops," Visser said.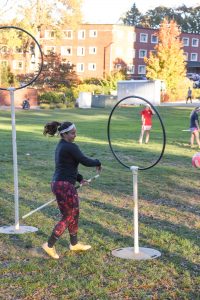 The Keeper tries to block the actual hoops themselves. They also, however, still have the ability to score on the other team's hoops.
"Chasers and Keepers are essentially the same thing except that Keepers can stick their hands through the hoop to block them," Visser said.
The Seeker's role is very different from the rest of the positions.
"The Seeker's objective is to catch the Snitch, similar to Harry Potter, except that the Snitch is a person with a tail," Visser said.
However, it is more than just trying to pull off a person's tail.
"The Snitch can pretty much do whatever they want to the Seeker," Visser said. "He can pull their brooms and then they have to go back to the hoops."
On top of all of the positions' assigned roles, there's also the fact that each of the positions can tackle since Quidditch is a full-contact sport.
"It's full tackle regardless of gender," Visser said. "You can get tackled, you can tackle."
This full-contact sport actually creates a lot of injuries since the only protective equipment worn is a mouth-guard.
In her three years playing Quidditch, Visser has broken both her foot and her kneecap.
"If you look at it in the movies there's no contact, but when you're watching it live action there is lot of tackling and everyone is getting physical," sophomore accounting major Andrew Howard said.
Overall, the game has many rules that makes it relatively tricky to play. Even more so than that, the game is extremely new, meaning that there are new rules every year.
"They change the rule book every single year depending on what happens the year prior," sophomore biochemistry major Josh Bartlett said.
This popular college sport has been in Boone since 2011, but is now officially an Appalachian State special interest club.
"In the past we still had a Quidditch club on campus, but it technically wasn't affiliated with the team in any way even though all of the members played on the team," Visser said. "This year because we did become Appalachian State Quidditch, the club and the team are officially together and the school officially recognizes the Appalachian State Apparators."
The team this year is quite young, however, with the oldest students being juniors.
"We had a lot of members graduate and with this last graduating class, we not only lost all of our previous seniors, but also our juniors because all of their friends graduated and they kind of moved on too," Visser said.
The team still practices every Tuesday and Thursday and plays as much as they possibly can to help the younger players learn.
"We've had teams contact us about playing Red Robins, which isn't exactly a tournament but you just play to gain experience," Visser said. "We contact teams we're on good terms with and just play."
The team also plays in official tournaments put on by various schools.
Quidditch does not really have a season. In fact, most players play it year-round, playing with the Apparators. In the summer, however, students will play in fantasy tournaments.
"Fantasy tournaments are where you don't sign up as a team, but you sign up as an individual player and you're placed on a team," Visser said.
Quidditch has actually become an international phenomenon on college campuses around the world.
"When I first joined Quidditch, I didn't realize that there was a national conference for it and that it's now international," Bartlett said.
Overall, Quidditch has a lot of appeal to college students for various reasons.
For one, Quidditch prides itself on being an extremely inclusive sport, especially when it comes to gender.
"You have seven people on the pitch and at least two people have to be of the non-majority gender," Bartlett said. "For example, you can have five guys, two girls or you can have four guys, two girls and one non-binary."
Another appeal is that Quidditch is a new sport, so everyone is on relatively similar skill levels.
"With Quidditch, most people start in college so I have the choice to play and everyone else is either starting out or only has two or three years of experience," Bartlett said.
Either way, the Appalachian State Apparators are extremely close friends who all share the love of this sport.
"They're my family," Howard said. "We're a community: we communicate together and we constantly just build bonds together."
Story By: Mariah Reneau, A&E Reporter
Photos By: Halle Keighton, Photo Editor