Appalachian alumnus bikes 4,000 miles to promote sustainability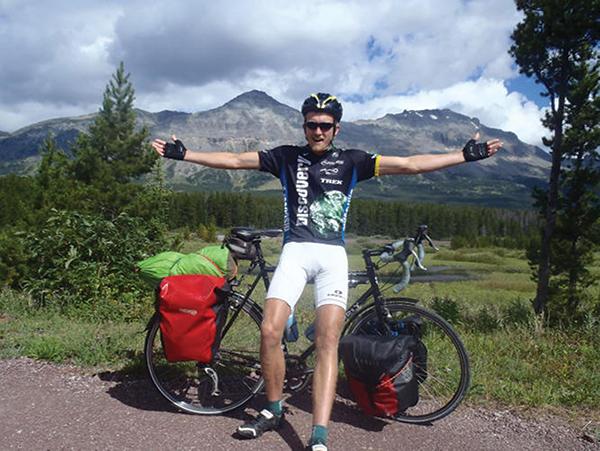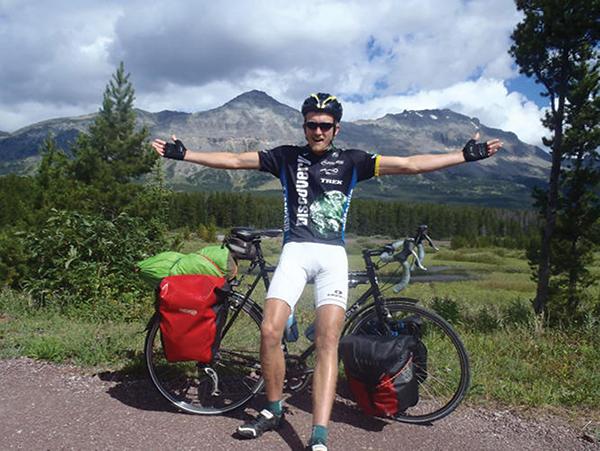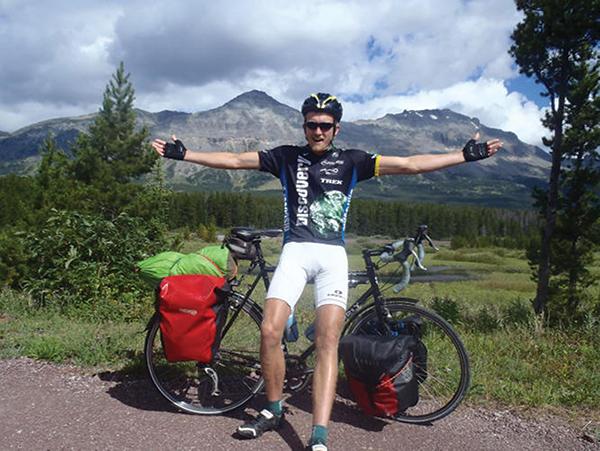 When Appalachian State University alumnus Michael O'Neal set out across the country on his bicycle in June, he planned to use his 4,000-mile trek to spread awareness for sustainability across the U.S.
Michael O'Neal embarked on the trip after graduating from Appalachian with a degree in sustainable development.
He said that although he planned to make an impact on others, what he didn't anticipate was that everyone he met along the way would make an impact on him.
Tom O'Neal, Michael's father, was a cyclist himself and served as his son's greatest mentor.
The two had spent a lot of time on their bikes together, including the completion of the Tour de France.
When Tom O'Neal met Kory Piorkowski at a seminar and learned of his plan to embark on this journey, which he called Spokes of Green, Tom O'Neal said he knew his son would be Piorkowski's perfect sidekick.
Tom O'Neal said that he quickly introduced Piorkowski and Michael and, despite being nervous about where his son would sleep and eat every night, encouraged him the whole way.
"I told him I thought it might be a neat way to celebrate life," he said.
Piorkowski and Michael O'Neal began their cross country trip in Bar Harbor, Maine, and made their way to Seattle in two months and two days with little down time.
Between cities, Spokes of Green visited community gardens, local bike shops and initiatives, as well as other community related organizations to see if there was any way they could help along the way.
"We helped to inspire… the people who we met in the towns as well as people following our trip on Facebook, our blog and the website," O'Neal said.
The duo was faced with physical and psychological strain when braving places like the mountains of Montana and the flats of North Dakota, Michael O'Neal said.
"This was the most physically tasking experience of my life, but all of the incredible people and generosity that was shown toward [Piorkowski] and I all across the U.S. made every grueling climb, hot temperatures, brutal winds and long days of riding for seven hours straight absolutely worth it," he said.
Michael O'Neal and Piorkowski said that, although the original goal of Spokes of Green was to inspire people to practice green living on a daily basis by making small changes such as riding a bike rather than driving, the project became much more than that.
Living under such extreme conditions gave Michael O'Neal a new perspective on everything, from basic necessities such as food and water, to the kindness of total strangers, he said.
Most nights, the two had no idea where they would be sleeping or eating. Luckily, they met people from coast-to-coast who were willing to help.
"Upon hearing what we were doing, people would always exhibit an attitude of respect and courtesy onto [Piorkowski] and I," Michael O'Neal said. "This trip strengthened my faith in humanity tenfold. We didn't encounter a single person in the 15 states that we travelled through that was mean or disrespectful toward [Piorkowski] or myself."
Piorkowski said the trip was "epic," and also shares Michael O'Neal's sentiments regarding the absolute kindness of every human being they encountered.
Piorkowski rode with a special purpose in mind.
"My mother passed away from breast cancer in 2009," he said. "I rode in her honor and I always wanted to do something positive and be more like her."
Although Spokes of Green was able to touch so many lives in such a short period of time, they aren't finished yet.
A documentary based on their journey is in the works and they hope to expand the project into "an organization that can make a lasting impact," Michael O'Neal said.
Piorkowski said he considers Michael O'Neal to be a close and personal friend, and considers Spokes of Green to be a journey that bonded the two together.
"I guess it's never really over, it's just on pause until we continue to climb new heights and push ourselves to the next big adventure," Piorkowski said.
Michael O'Neal said his plan is to continue to spread kindness and inspiration to everyone he encounters.
"People always say that you can do anything that you set your mind to," he said. "It isn't until you take this philosophy into action that you find out that it is true. I grew as a person due to this experience by having much more confidence in that I can actually accomplish anything I set my mind to and have a sustained focus on the task at hand."
Story: LANEY RUCKSTUHL, Intern News Reporter
Photo courtesy of Michael O'Neil