Appalachian alumnus opens successful wakeboarding park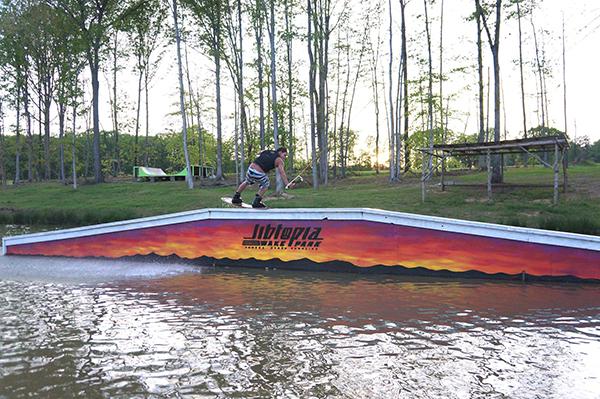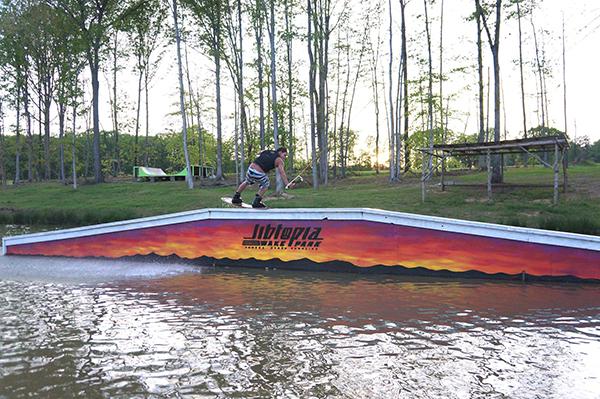 A wakeboarding park opened this summer by an Appalachian State University alumnus reached national and worldwide acclaim in the water sports community.
Clark Davis, a 2011 business management graduate, opened Jibtopia Wake Park in Semora on June 17. Alex Hamrick, his long-time friend of 11 years and current business partner, assisted Davis in opening the park.
In the three months that Jibtopia has been open, the wake park has received national and worldwide attention, including being selected as one of the top three wake parks in the world at the 2013 Wake Awards, according to the park's press release.
"We were blown away by all of the recognition so early on," Davis said. "We did not expect to hit the ground running so quickly, but things have gone well so far."
Other recognition includes being selected as the No. 1 most monumental influence in the wake boarding scene for 2013 by Alliance Wakeboard Magazine.
The idea for building a wake park became serious when Davis and Hamrick befriended Andy
Krichman, a landowner in the Semora area, Davis said.
"Krichman said that he owned some land that he wanted to build a lake on if someone approached him with the right offer," Davis said. "After hearing that opportunity, we never really looked back."
The construction process covered nearly two years, starting in April of 2011 and ending shortly before the opening of the park in June, Davis said.
"Krichman funded basically everything for us as well as keeping an open mind and trust in Clark and I to get the job done," Hamrick said.
Jibtopia offers three different runs that riders can attempt. The park uses three System 2.0 two-tower cables to give riders of all levels of experience an enjoyable ride. The System 2.0 cables provide the safest and most reliable ride that's offered, Davis said.
"With its three System 2.0 setups, two elevated start pools, unique rails, one crazy school bus and an awesome vibe, Jibtopia is another reason why the future of wake is bright," according to Alliance Wakeboard Magazine in the park's press release.
The wake park offers more than just wakeboarding. Other features include a campground for visitors, a mini pipe for skateboarding and a bar and grill, according to jibtopiawakepark.com.
"We have had groups travel from Canada, Germany, Florida as well as other places," Davis said. "The campsite gives them the opportunity to stay for as long as they would like, which makes it that much better."
Davis said that improvements and expansion would continue throughout the year and well
into the future.
"We will always be building new aspects onto the park to try and keep it fresh," Davis said.
"We want to be known as a unique park that makes it an awesome experience for riders. The addition of dirt bike trials is something that we want to look into as well."
Jibtopia will also be holding events and competitions throughout the fall, including the "Night of the Living Shred" Halloween wakeboard contest Oct. 25, according to the park's website.
"Clark Davis' entrepreneurial spirit is certainly typical of Appalachian alumni and really embodies what so many of our graduates take with them in the world upon leaving the university," said Patrick Setzer, executive director of Alumni Affairs. "It's neat to see something as creative and unique like the Jibtopia Wake Park become such a popular and successful business venture."
Story: GERRIT VAN GENDEREN, News Reporter
Photo courtesy of Cark Davis