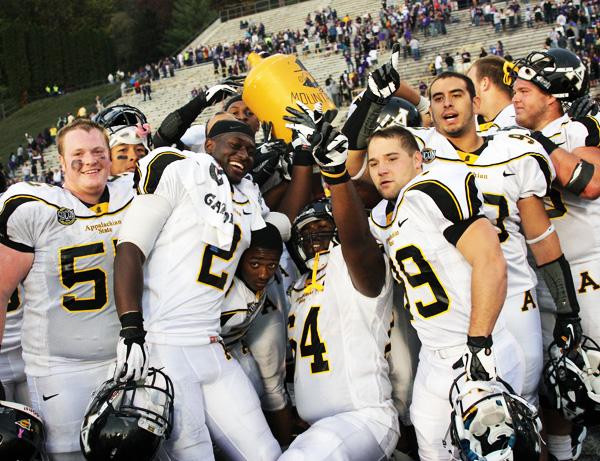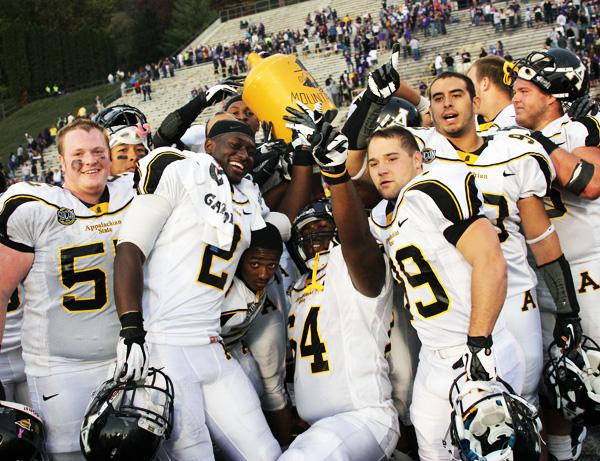 For the eighth time in a row, Appalachian was able to bring the Old Mountain Jug back to Boone following the defeat of Western Carolina, 38-27.
The victory was even more satisfying for Appalachian, seeing as WCU's head coach Mark Speir was a former Appalachian football coach.
"I wanted to beat them, there's no question about it," Speir said. "I want to beat them as long as we play them. You compete for three hours, but you can still have a lot of respect."
Toward the end of the first quarter, starting quarterback Jamal Jackson went down with a knee injury, forcing the coaches to call in his backup quarterback Logan Hallock.
Hallock had only seen the field for two snaps this season, but stepped in seamlessly and lead ASU to a big win against the rival Catamounts.
"Everything was moving fast for me," Hallock said. "Coach Moore and Coach Satterfield did a great job getting me prepared during the week watching film and getting me reps in practices. Then it's all about going out there and executing."
Hollack completed the first 20 passes of his career and two touchdown passes.
"I think I just go out there and put myself in the best position to contribute to the team," Hallock said. "It's something that you dream of, it's something that you see guys on Saturday do, and you want to be one of those guys."
Hallocks first career touchdown pass came in dramatic fashion. With five seconds left in the first half ,wide receiver Sean Price made an amazing play on the ball in the corner of the end zone and hauled it in for the score.
"I've been waiting for a ball like that all season; just a straight up, throw up, go get it, meet me in the corner," Price said. "The defender was 5 foot 9 inches so I was just like, 'my ball', and I just went up for it."
Senior running back Steven Miller made some history of his own with a career best 252 yard game.
In the third quarter Miller became the 12th running back in school history to eclipse 1,000 yards in a season.
"It's really a blessing," Miller said. "I give all the credit to my offensive line, they knew how much I needed but nobody was telling me how far I was from 1,000."
App will face Georgia Southern away Saturday.
Kick off is set for 2:00 p.m.
Story: JORDAN DAVIS, Sports Reporter
Photo: PAUL HECKERT, Senior Photographer