Appalachian State football showcases skills, progress at Spring Game
The Appalachian State offense narrowly edged the defense 75-74 in Friday's Spring Game.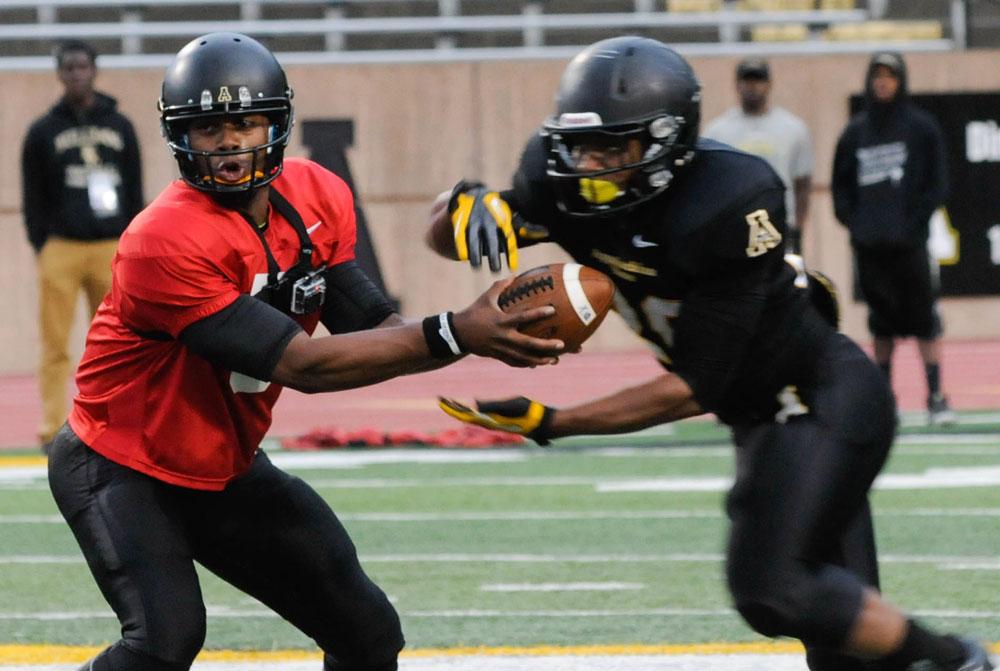 The game featured a different scoring system than is used in the regular season.
Under the special scoring, the offense was awarded points for first downs, gains of more than 15 yards, as well as touchdowns and field goals. The defense scored when they sacked the quarterback, caused a loss or a three-and-out.
The defense led for most of the game as the offense struggled to get going against the smothering defense. The offense found its groove when junior quarterback Kameron Bryant threw a 51-yard touchdown to junior wide receiver Simms McElfresh.
Sophomore running back Marcus Cox, who ran for 21 touchdowns last season, shined offensively, rushing for 121 yards on 15 carries.
"This spring is very important to us," Cox said. "We wanted to pick up where we finished off the season, and this spring, we wanted to work on the fundamentals."
On the day, the offense had seven plays that went for 15 yards or more.
Head coach Scott Satterfield said the spring game served as a good test for the defense as they look to improve for Sun Belt Conference competition next season.
"One thing that we are working on this year in the spring is tightening down our coverage and tightening down the linebackers," Satterfield said. "When you do that you will give up some big plays. Last year we were very passive and we stayed back. We gave up a lot of underneath plays."
Junior wide receiver Tacoi Sumler also impressed offensively as he caught four passes for 128 yards.
Sumler has battled knee injuries throughout his college career and said he felt good after the spring game.
"As soon as I got here, I played a couple of games, and then I had the knee injury," Sumler said. "Really, it gave me a drive, and right now I feel great and healthy."
For the defense, sophomore lineman Tyson Fernandez, who was listed as an offensive lineman last season before being shut down with a series of injuries, recorded 11 tackles, including one tackle for a loss and one sack in the scrimmage.
"I feel like this spring I grew a lot from the season only having a week to transition into the defensive role," Fernandez said.
Next season will mark the Mountaineers' first in FBS football as they make the move to the Sun Belt. The first game of the season is set for Aug. 30 when the Mountaineers travel to Ann Arbor, Mich., to take on the Wolverines.
Story: Katherine Glassman, Intern Sports Reporter 
Photo: Malik Rahili, Visual Managing Editor