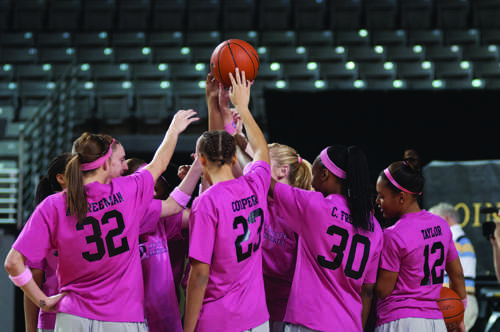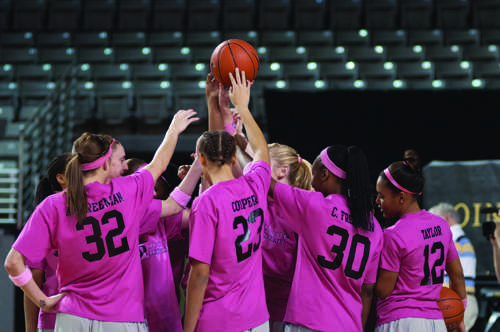 One of the most difficult things for college sports team is that every athlete leaves one way or another.
This year, women's basketball has felt that with the loss of four seniors heading into next season.
Starters Anna Freeman, Courtney Freeman, Raven Gary and Kelsey Sharkey are all graduating, meaning next year will look a lot different and a lot younger.
"It's inevitable, everybody graduates," head coach Darcie Vincent said. "But I think that you just keep recruiting and mentally getting these kids ready to realize that yes, 72 percent of our offense just graduated and I have to be honest, I don't think through the course of this season we had opportunities to showcase how good some of these freshman are. I think we saw a little bit of it toward the end of the season."
Vincent said that captain Anna Freeman will be tough to replace because she was versatile and could score from the outside or down low.
"She played 40 minutes of everything," Vincent said. "She wasn't just a one-dimensional player. That's going to be the hardest thing to replace."
Toward the end of last season, freshman Bria Huffman began to produce key minutes off the bench and even started in two games.
After only having three games of the prior 22 with 10-plus minutes, Huffman averaged more than 16.5 minutes a game over the final four games.
"She's definitely a scorer," Vincent said. "But she has to increase range and consistency and ball handling."
Next season, the Mountaineers will have four upperclassmen: Katie Mallow, Maryah Sydnor, Michelle Taylor and Jessica Barrios.
Sydnor, who was the second leading scorer with 14.8 points per game, said they will have to step up in the leadership role on and off the court.
"We are going to have to take over because those four seniors were a big part of our team; they all four started at least the majority of the season," Sydnor said. "We have to pick up everyone else to get to the level that the seniors practiced and played at."
Mallow said the biggest key for their leadership was the playing time they received as freshmen and sophomores.
"The people under us, the freshmen, they didn't get that much playing time this year," Mallow said. "So we just have to step up and be leaders so that we can provide our underclassmen with the same experience that we got, because we will definitely need their help."
Mallow's versatility in her scoring was what stood out for Vincent. Mallow was the team's fourth leading scorer, averaging 6.9 points per game last season and 26 3-pointers, second only to Anna Freeman (36).
"[This season], she scored in different ways," Vincent said. "I think her freshman year she would stand on the outside of the 3-point arc and she'd shoot. I think as a sophomore, she was given more responsibility and didn't get a lot of that until later in her freshman year. Next season we expect really big things from her as an all-around guard."
Despite the expectations for "big things," both Sydnor and Mallow said they've been ready.
"We have a leader system, and we were put in leader positions [last season]," Sydnor said. "I think coaches obviously knew that our four seniors would be graduating, so they needed somebody to fill that and feel comfortable in that shoe when they were gone. So we've been working on our leadership."
They even showed some moments of leadership last season.
"I think throughout the season we had moments of big leadership, and that's what they tried to tell us, 'Yeah, you have these seniors now but they're going to be gone and it's your team now,'" Mallow said.
Vincent is confident in her new leaders and thinks they'll do well.
"We could surprise a whole heck of a lot of people," Vincent said. "They've embraced that there's a tradition that they have to carry it forward."
Story: ANDREW CLAUSEN, Sports Editor
Photo: JUSTIN PERRY, Staff Photographer