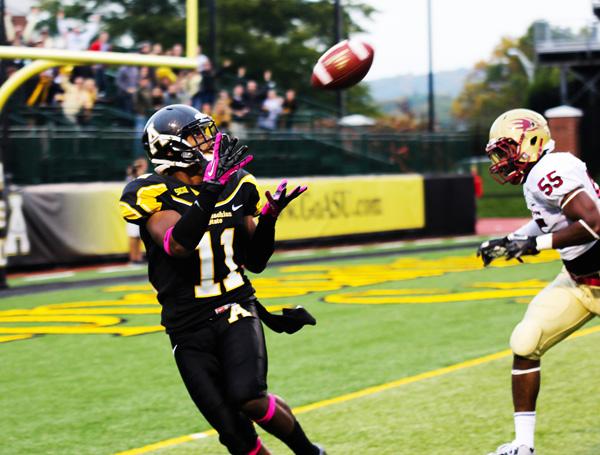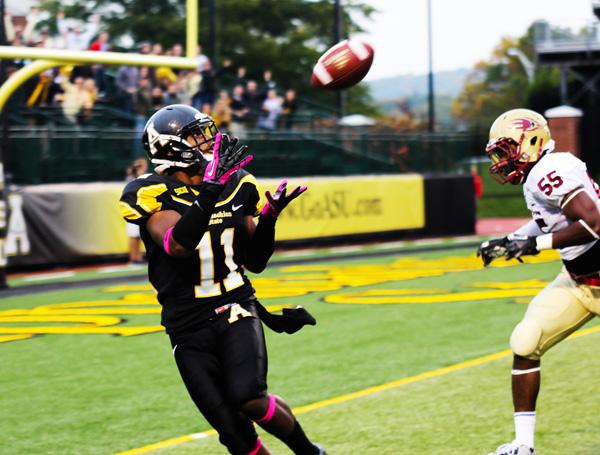 The Mountaineers pulled away in the final quarter of a back and forth game to defeat Elon for the 17th straight time.
The win also marks the 10th consecutive homecoming victory for the Apps.
"This is about like every game we've played with Elon," Head Coach Jerry Moore said. "You're not going to have easy games in this league, there's just too many good teams. But I think games like this will be good for us."
Momentum shifted in favor of the Mountaineers for good near the end of the 3rd quarter on an interception by corner back Demetrius McCray. The Phoenix were driving down the field to re take the lead after a Mountaineer score, but were halted on App's 12 yard line.
"We've worked on that play, we knew it was coming," McCray said. "Once the ball was in the air, I just intercepted it."
Elon's Thomas Wilson put up a career best 419 passing yards on App, but was picked off three times.
"They can catch them all over the field underneath us and it doesn't really bother me that much, Moore said."If we get good hits on them, it doesn't bother me a bit."
A defensive effort was needed, because the Mountaineers were sluggish offensively out of the gate.
App's first lead didn't come until the end of the first half thanks to a career high 54 yard touchdown grab by wide receiver Tony Washington.
"I had to settle in and make sure I was reading the right plays," Quarterback Jamal Jackson said. "But once we got into a rhythm we were good."
The running game was not as productive as normal, despite a career high 94 yards by Jackson. Running back Steven Miller could not find much room on the ground, but delivered big plays in the passing game, setting career highs with 97 yards and two touchdowns.
"I realized toward the second half that their corners were trying to play press, and he wasn't really that fast," Miller said. "I told Jamal make sure you look for me outside, I'm leaving him… and sure enough we made some things happen."
Even with a slow start Jackson recorded his 3rd career 300 yard game and jumped two spots on App's all time list to number nine, passing his now Offensive Coordinator Scott Satterfield.
The Mountaineers will travel to Samford for their second conference road game this Saturday.
Story: JORDAN DAVIS, Sports Reporter
Photo: PAUL HECKERT, Senior Photographer