Appalachian women's basketball team hopes to improve after loss, will look to 'amp it up' in preperation for the rest of the season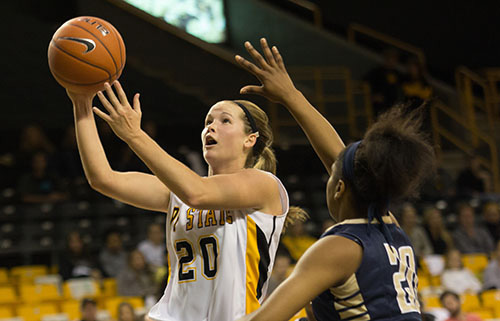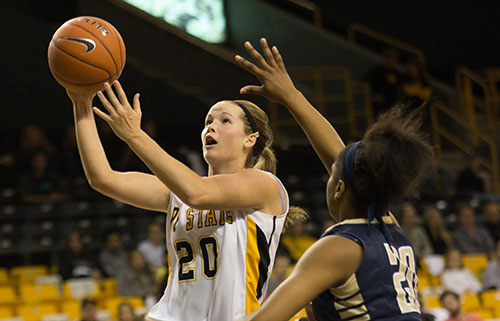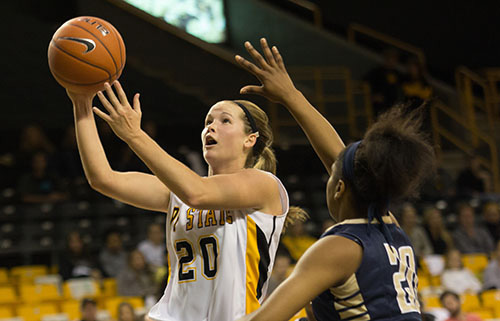 The Appalachian State women's basketball team fell to East Tennessee State University on Tuesday 72-81, bringing the Mountaineers record to 0-2.
App State played an intense action for action, game against the Buccaneers and tied the game up seven times and changed the lead five times throughout the game. Both teams had 11 steals each and 40 total rebounds each and had close numbers in turnovers (25-21), personal fouls (28-22) and 2-point baskets scored (27-25).
However, the players and their head coach, Darcie Vincent, were unhappy with the results of the game, overall.
"We obviously have a lot of turn overs, we're not crashing hard, we're not making good decisions on offense," junior forward Maryah Sydnor said. "We're having breakdowns on defense, pretty much any aspect of the game we need to improve on."
Overall, the Buccaneers (1-1) came out with a 51 percent shooting ratio on 2-point baskets, a 50 percent ratio on 3-point baskets and 66.7 percent on foul shots.
The Mountaineers kept close numbers in 2- and 3-point baskets with percentages of 45 and 47.4, but fell short in the percentage of foul shots made with 39.1 percent.
The Buccaneers not only had a higher shooting percentage of foul shots, but also earned 26 of their points from those shots where the Mountaineers only earned nine.
"We have to amp it up, there's nothing I can do about having freshman or sophomores and there's nothing I can do about having inexperienced players out on the court, it's just every day they have to magnify every practice," Vincent said.
The team gained five freshmen and one sophomore this season and started two freshman, Joi Jones and Bria Carter, and sophomore Farrahn Wood against ETSU, giving the team a different dynamic from last year.
Although Vincent believes in the skill set of the team, their overall performance as a team is something she said needs to improve.
"There's a thing about a concept of being a team, and right now we're not that," Vincent said. "So until we can get these kids to care about each other the way that Anne [Freeman] and Kelsey [Sharkey] played for each other and Courtney [Freeman] and Raven [Gary] played for each other then we're going to stay where we are and it won't matter what our skill set is."
Junior point guard Katie Mallow and Sydnor both agree that energy is typically the driving component behind the team's success and that energy lacked against ETSU.
"They're going to have to step up big time," Sydnor said. "We obviously have 2 freshman starters and 1 sophomore starter, so 3 people that haven't had that many minutes before so we have to expect a lot from them. We need them out there to just be big because we have to rely on them."
App State will take on Lees-McRae at home Friday. Tipoff is scheduled for 6 p.m.
Story: Jess Lyons, Sports Reporter
Photo: PAUL HECKERT, Senior Photographer