Appalachian State University's television station is in the process of getting a complete revamp and will be launched in March 2015.
Michael Fields, who is in charge of running and organizing AppCable, said Appalachian has had a television station in previous years despite not many people being aware of its existence.
"ASU has had one for a long time, it's just that no one knew about it," he said. "It was probably a good thing that they didn't because it wasn't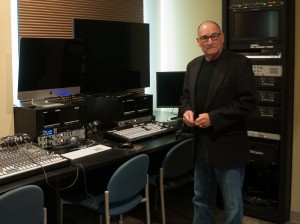 really a very prideful thing. We didn't program anything, it was classic art showcase, which is available to college stations and things."
Fields said AppCable is not only limited to local television, channel 23.3 on campus and 198 off campus, but should be available to be streamed worldwide come March.
Students will have the ability to be involved in nearly all of AppCable, including internships or volunteering in aspects such as video production, sound, lighting and editing.
"Students will be engaged in virtually every phase of the production," Fields said. "It won't be student-run in quite the same way as [campus radio station] WASU because it is two very different mediums. Television requires a much larger sort of team. Students will have a prominent behind-the-scenes role."
There are five shows already planned, that will form a 7 p.m. weeknight strip, Fields said.
Monday nights will air "Sports Bar" with Assistant Director of Athletics David Jackson as the host. Jackson will discuss sports topics with student panelists.
The auditions were held last Wednesday in The Rock Sports Bar & Grill for the students who will accompany Jackson.
"I know they were looking for people who inserted some confidence and ability on air, but had a broad enough range of things to speak knowledgeably and informatively about sports," Jackson said. "We wanted students who could adopt to an atmosphere of a multi-topic show."
Tuesday nights, Fields said the show, "Health Talk," will be hosted by Dr. Jay Noren, husband of Chancellor Sheri N. Everts. Noren will address the topics of health and wellness.
At 7 p.m. on Wednesdays, viewers can watch the show "Money Matters," which Fields said is yet to have a host, but will be about personal finance.
Noren will receive more air-time Thursdays at 7 p.m. with his secondary production, "AgeWise."
"That's a show about successful aging," Fields said. "What it's like to be a caregiver to an aging parent, some of the things that happen as you age, how to stay active, all of those things."
Fridays at the same time, a show will be aired titled, "The Academics," and will have a range of perspectives provided by various Appalachian scholars.
"They'll be talking about the week's current events, but not like a panel of journalists," Fields said. "Their perspective is to put the current events in some sort of historical and academically scholarly context."
There are additionally two shows planned for the weekend – "Religion in Life" and "The Media." Fields said "Religion in Life" is also yet to be cast, but will be "dealing with matters of religion, ethics, the Islamic experience [and] so forth."
"The Media" will include various professors and employees of the communication department, including Fields himself. Panelists will discuss topics such as the media's role in what is obligatory for the public to know.
Fields said the remaining airtime would be filled with student productions, as well as programs from NASA, a German and English language network and the National Science Foundation.
"I think it's a tremendous learning lab," Jackson said. "People like me who graduated 15 years ago didn't have this opportunity. There are some incredibly successful student-run, faculty-collaborated television stations out there, and to have that as a springboard into a career, that is a real tangible, learning lab for people to get valuable experience."
Fields said AppCable will not be like any other college's television station.
"It's going to be something else," he said. " What it really does, is it's not only the lab for our electronic media broadcasting students. They have not really had a stage, a platform, a screen on which they could apply the stuff they learned in the classroom – this is their lab."
Story: Nicole Caporaso, Senior News Reporter
Photo by Morgan Cook, Photo Editor