App's Dominating Offense Downs the Tigers
Saturday marked the home opener for the Mountaineers (1-1) as they faced the Savannah State Tigers (0-1), the oldest HBCU in the state of Georgia and a member of the Mid-Eastern Athletic Conference. App would end up dominating this game winning with a score of 54-7 moving to 65-20-2 in career home-openers
Quarterback Taylor Lamb would have a day full of highlights spreading it around the offense totaling five touchdowns in route to the victory.
"I thought our guys came in and executed almost flawlessly in the first half," head coach Scott Satterfield said. "It was almost a near-perfect first half for us really in all facets of the game."
Savannah State started the game receiving the ball and were immediately shut down on a third-and-out by App. The Mountaineers would go on to march down the field in 2:17 and score on a junior running back Jalin Moore two-yard rushing touchdown, after a facemask penalty helped them get closer to the goal line.
Their next two drives looked promising for Savannah State, with a solid rushing combination from quarterback TJ Bell and running back Uriah Oliver. Ultimately, those drives ended up being put to rest around the 50-yard line, and App forced them to punt both times.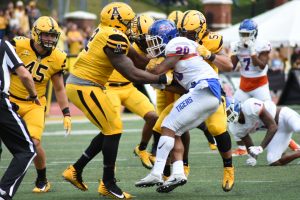 "There was a couple plays linebackers didn't go where they needed to," senior linebacker Eric Boggs said. "Other than that, they weren't real successful. We had to make a few adjustments but really just first [home] game jitters we settled in and started playing."
Lamb's field day led to posting a stat line that included 12-of-15 passing for 327 yards and a career high five touchdown passes which also tied the school record, Armanti Edwards (2008), Richie Williams (2004) and Pat Murphy (1967 and 68) hold the same record
"We had a great first half and the game plan really came together," Lamb said. "All was perfect in the first half on the offensive side of the ball."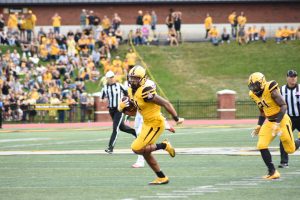 Tight ends received plenty of love in this game thanks to Lamb. They would combine for four catches and 163 yards and three touchdowns while he was quarterbacking the team. Also, his 68-yard touchdown pass to sophomore tight end Collin Reed was his longest pass of his career. Reed's dad was also a wide receiver in college and the NFL.
"He was at the game so he was excited about it," Reed said. "I have a way to go to beat his best one, he had 325 in a game so hopefully I could get there."
Halftime would end it for Lamb and the rest of the starters for App as he would trade in his helmet for a coaching hat. The starting defense, which forced six three-and-outs, posted a shutout in the first half while the starting offense dropped 45 points on the Tigers defense. The first time they scored 45 points in the first half since Campbell in 2014.
There were also two special acknowledgments this game, the 2007 National Championship team lead by Jerry Moore was recognized at mid-field in the second quarter, as well as the 2017 App State Hall-of-Fame inductees at halftime. Those included volleyball's Brittany Zahn Arnold (2005-2007), men's soccer's David Mor (1974-1975), football's Cedric Felton (1982-1986), wrestling's Bruce Schlegel (1967-1971) and men's basketball's James "Jim" Wilcox (1963-1966).
In the second half, there was much of the same from App State defensively. With their second and third-string guys in the game, the Tigers were still mostly shutdown. They missed a field goal early in the third quarter which thwarted their only scoring chance up to that point.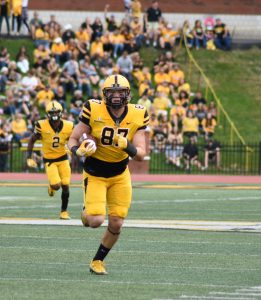 "Our defense continued to play really hard and played really well throughout the game so I'm proud of them for that," Satterfield said. "Defensively there were some young guys that made plays that will really help us down the line."
Offensively, true freshman quarterback Zac Thomas could not mimic his counterpart Lamb in production, only posting 3-5 passing for 13 yards in the third quarter. The OL started to break down as well not giving Thomas much time to push the ball down field as well as running holes for the redshirt freshman Marcus Williams. Although, he was able to scramble through the line for some good pickups in the quarter.
Savannah State scored their first and only touchdown in the fourth quarter off a fumble from backup App State running back De'Vonta Smith, that was picked up by a defensive lineman and ran back 46 yards by Stephen Dorsey for six.
The Tigers would not cross the goal line again this game as App's defense still posted a shutout.
In total, App State picked up 345 passing yards on 16 completions and five touchdowns. While the running game would go for 279 yards on 47 rushes and two touchdowns, Boggs would lead the way in tackles with six total and 0.5 tackles for loss.
App will go on the road for the second time this year and take on the Texas State Bobcats Sept. 16 at 7 p.m.. in San Marcos, Texas.
"You have to be really dialed in and clued in on what your team's going to be about," Satterfield said. "Your first couple games, everyone is trying to figure out their team. What is this team's chemistry going to be, what is their strength, what are their roles going to be?"
For Satterfield and the Mountaineers, next week will be their first conference game this season in the Sun Belt where they aim to land atop the field yet again.
Story By: Taylor Story, Sports Reporter
Photos By: Lindsay Vaughn, Senior Staff Photographer