ASU field hockey team loses offensive battle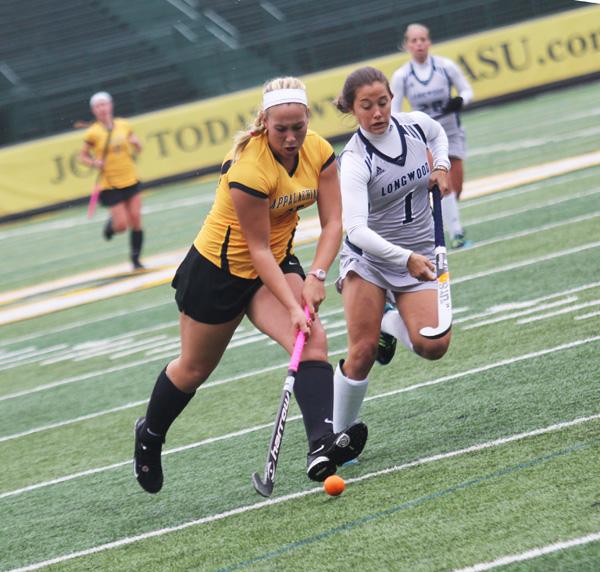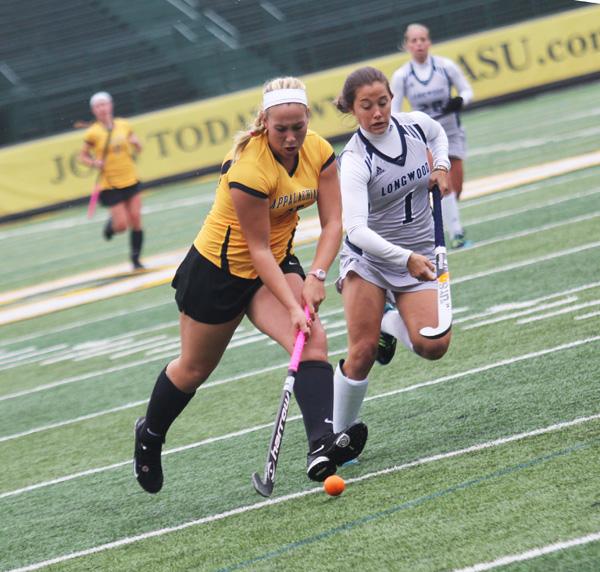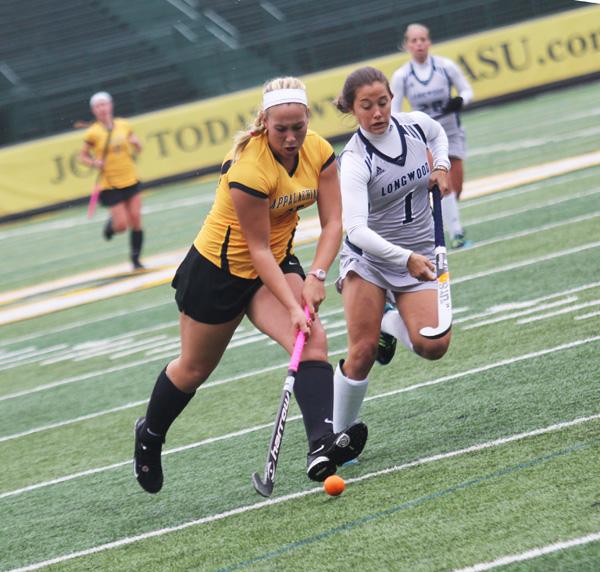 Appalachian State university field hockey fell to Longwood 5-4, in an offensive battle in its senior day match Sunday afternoon.
During the first half six goals were scored between the two teams.
"Overall, we were happy with the way the girls battled today," Assistant Coach Caitlin Counts said. "We corrected a lot of things we struggled with last week and stuck with our game plan."
The Lancers picked up a 1-0 lead 11 minutes into the game when Jessica Diaz went inside the circle to score her eighth goal of the season.
ASU freshman Lindsey Amador found the net for her first career goal as a Mountaineer when Casey Lammando shot a pass off a penalty corner, bringing the Apps closer to the Lancers.
"Scoring a goal really gave me confidence," Amador said. "In the past I have been struggling with staying composed and confident in the circle."
The exciting offensive game continued as the Lancers scored just two minutes later when Christina Verhulst found herself alone against the keeper, extending the lead to 3-1.
Appalachian State looked to score as they quickly got the ball up the field but was unable to capitalize on the momentum as a defender blocked Caroline Phillip's shot.
The Mountaineers continued to battle as Lammando netted her first goal of the afternoon with an assist from when Dana Wetmore.
Longwood's Hollie MacDonald put the Lancers up by two, making the score 4-2 at the end of the first half.
Despite being behind at halftime, the Mountaineers outshot the Lancers 7-6 and were able to draw five penalty corners against Longwood's one.
Lammando came out on fire during the second half and was able to light up the scoreboard first as she found the ball of a penalty corner. This marked her fourth goal of the season to bring the Apps within one
of the Lancers.
The Mountaineers found the net one last time as Lammando clinched her first career hat trick, when a player scores three goals in a single match, of the season.
"For her [Casey] to record her first career hat trick, especially when we needed it most, is a testament to her leadership and her skill," said Assistant Coach Caitlin Counts.
But her goal would not be enough for Appalachian State as they fell 5-4.
The Mountaineers look to pick up a victory when they travel to Oxford, Ohio on Friday, for a match against Miami.
The game starts at 5:30 p.m.
Story: KAITLYN THRUSTON, Senior Sports Reporter
Photo: PAUL HECKERT, Senior Photographer