ASU senior's exhibit draws inspiration from childhood
Senior studio art major Renee Cloud's exhibition "No One Sits Next to the Black Girl on the Bus" opened in the Looking Glass Gallery at the start of this semester. The mixed-media exhibition explores the artist's own personal experience with her race, family and upbringing. The artist is celebrating the body of work, which will be on display throughout the month, with a reception in the gallery this Friday at 7 p.m.
The Appalachian: What's your story, and how does this body of work represent it?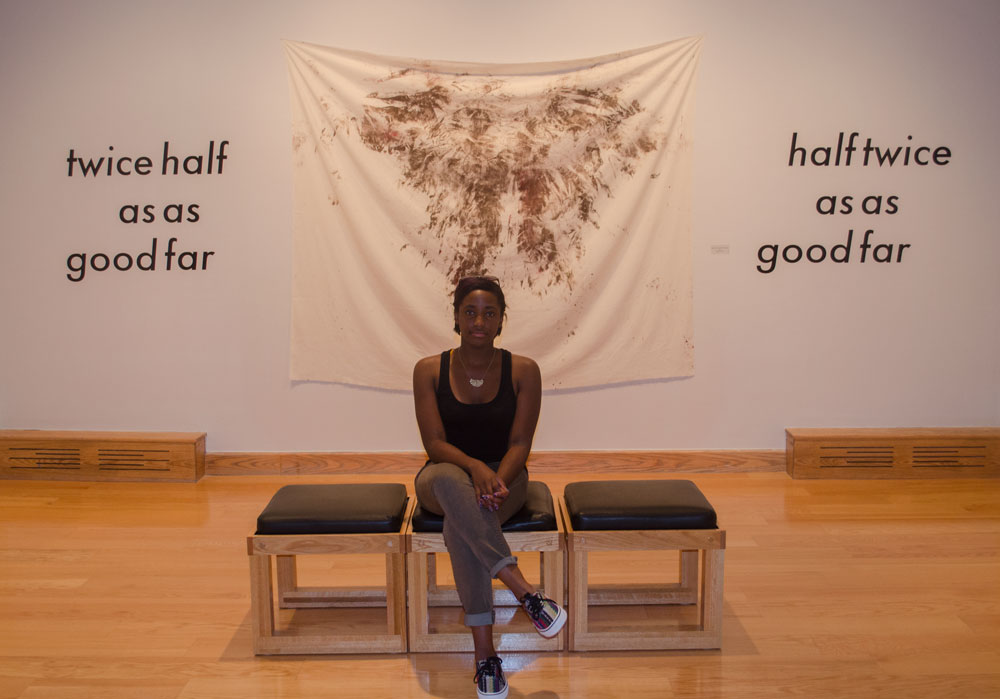 Renee Cloud: I grew up in a single-parent home. It was just me, my mom and my grandma. My mom did everything she possibly could to give me a leg up, so I went to a private school from pre-K to around third grade. I was one of four black kids there, so being a southern school, automatically the divide of race became very present. The kids there – kids are cruel, kids are just straight up mean – they did their best to make me feel like I was less than them because I looked different, and they didn't understand people who look different are still the same as you and that they're still people. I struggled the most with that in kindergarten, but my mom quickly nipped the bud in that. She told me 'You are who you are, and you should never be apologetic for it at any point in your life.'
I've been interested in the personal narrative for a while, and I've just started working on it the past couple of years. This show is a small culmination of my journey through my own personal narrative.
TA: How is this similar or different to other work you have done?
RC: I guess you could make the connection to politics. I've done a couple political pieces, like the one hanging in the hallway [of the Plemmons Student Union], the Death Row Quilt. I've tackled politics before, but I'm more interested in how all aspects of the human experience are relatable between people. I feel like telling my story and inviting people into my story allows them to feel like they can open up to someone else about their own story.
TA: What can you tell me about the combination of media that you use?
RC: When I transferred here from [Savannah College of Art and Design,] I got thrown into a fibers class. I was in the photography department at SCAD so that's where most of my experience was when I started exploring the world of fibers. It went into my arsenal of knowledge, how to work with fabrics, use it for whatever, but as time went on and the more time I spent here, I realized that I start with a concept and I realize how to meet that concept by whatever means necessary. If it's a photograph, it's a photograph. If it's a photo transfer, it's a photo transfer. If it's a quilted piece, it's a quilted piece. I learned how to make it happen with what I know.
TA: What can you tell me about the photographs that are in the gallery?
RC: They're all self-portraits, this whole thing is a giant self-portrait. When I was little I would go through our family albums a whole lot. I'm an only child, so there's millions of pictures of me because parents of only children feel like they have to document every single moment of their child's life, otherwise they won't remember it. I went through it last year, I looked at all the albums again and I just looked at all the pictures of just me and my mom, and never my dad. There's never any pictures of him anywhere, and I got kind of melancholy when I saw it. You get a little angsty, you feel a little abandoned, so those photographs are photocopies of the photographs, and I used those to make contact prints to make a negative, and I used that negative to make a positive.
What's displayed is the negatives underneath the positives, which is a way to say 'take the good with the bad.' The text is just me being melodramatic because that's how I felt when I first started working on it. It was a very melodramatic piece, but now it's just kind of hilarious, just how ridiculous the statement is. There's no easy way to say 'You've ruined my life and my love' – just shut up. It's silly now, I can laugh at it.
TA: What do you hope people take away from this project, then?
RC: That's the trouble with trying to tackle the personal narrative. You don't want to beat people over the head with your story, you always want to make sure you leave room for the viewer in it. I am perfectly okay with the viewer taking whatever they want from this. If it enriches their life in some aspect, I am okay with it. They don't really need to know the real story. The clues are there, it's up to them to make their own conclusion.
TA: What does your future in art look like?
RC: I started here in January 2012. I'm supposed to graduate next May, and my plan is to go find an artist's residency and go do that for a while, while I figure out which graduate school is the right fit for me, and then do the whole graduate school deal. Then, I don't know. I'd like to open a studio or profess at a college level, but making it to graduate school is enough for me right now.
TA: Does this body of work carry over into anything you would like to do in the future?
RC: The involvement of text, yes definitely. I've moved more toward text art just because there's power in the written word more so than the spoken word. It lingers longer in the brain, you remember it more readily, so a lot of my work has begun to encompass lots of text.
Story: Lovey Cooper, Senior A&E Reporter
Photo: Morgan Cook, Photo Editor