Though Boone has hosted both growing and well-known artists at local bars and at its own venue known as Legends, music fans often look to bigger cities to see their favorite bands.
With North Carolina's diverse venues scattered throughout the state, Appalachian State University students don't need to travel far from home to see great performers. These are some highlight venues across the region.
Ziggy's
Ziggy's is about an hour and a half away from Boone in Winston-Salem, making it a great venue for students looking to experience a wide range of genres from new and popular musicians while still being able to make it to class the next day.
Though it is a smaller venue, Ziggy's has had performances in the past from artists such as Dave Matthews Band, Hootie and the Blowfish, Phish and Kenny Chesney. Owner Jay Stephens said the venue follows the motto, "Roots, Rock, Reggae," and draws in large crowds with various music styles.
"We're not your standard nightclub that you pigeonhole into being a country bar or a rock bar – we have all styles of music," Stephens said. "We have everything from hip-hop to bluegrass and we've been doing that for 25 years so that's what makes us successful."
Thomas Wolfe Auditorium
Thomas Wolfe Auditorium is part of the U.S Cellular Center in Asheville, almost a two-hour drive from Appalachian. The auditorium was built to provide a space for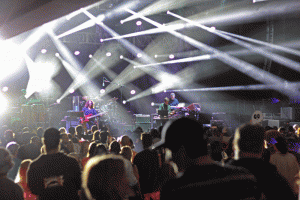 concerts, trade shows and other similar events.
It is a large venue, with a capacity of more than 2,000, which makes it a desirable spot for bigger performers such as The Avett Brothers and Elton John.
General manager Chris Corl said the auditorium has been successful due to people's interest in all genres.
"The people in town that come to shows here come to any and every different genre of music, where some towns are strictly country or strictly rock," Corl said. "It doesn't matter what genre you are here, people come and enjoy it."
The Orange Peel
The Orange Peel is another one of Asheville's prime destinations for concerts and events. It is a smaller venue but is able to draw audience members in with its dance floor, loft area, two bars and high-quality sound system that aren't typical for a place of its size. The Orange Peel is nationally recognized, having been mentioned in prominent publications such as GQ and Rolling Stone. This venue is also two hours away from Boone and hopes to draw in audiences from colleges nearby.
"We love getting all of the regional college music fans in the house," said Robb McMann, social media administrator at The Peel. "Almost every show I meet fans from Boone, East Tennessee, and South Carolina and beyond. The college music scene is what keeps the music industry going and thriving, so keep it up."
The venue has hosted popular artists such as Jack White and the White Stripes and in the future looks forward to performances by The Dirty Heads, O.A.R. and American Idol winner Caleb Johnson, a local to the area.
The Fillmore Charlotte
Inspired by the famous Fillmore venue in San Francisco, The Fillmore Charlotte is part of the North Carolina Music Factory located in the downtown Charlotte area. The venue is a two-hour drive from Boone and has been a host to musicians and performers such as Modest Mouse, Weezer and Nick Swardson.
Later this month and into December, The Fillmore Charlotte will present the Kat Country Jam, which includes popular country artists Hunter Hayes and Montgomery Gentry. The venue will also have performances from Anberlin, Relient K, Hoodie Allen and French Montana.
Red Hat Amphitheatre
Constructed in June 2010, the Red Hat Amphitheatre was created to provide a concert venue in the heart of downtown Raleigh. It is a three-hour drive away from Boone, but the venue makes up for the distance traveled with its impressive size and ability to host acclaimed musicians. This venue has 6,000 seats and in the last year has been the host to 35 shows and 115,000 audience members. Taylor Traversari, the venue's manager said Red Hat tries to provide artists that reach a wide range of genres but has had great success with their indie and pop shows.
Lorde, Ray LaMontague, John Legend, The Fray and Vampire Weekend are just a handful of the notable artists who have appeared at Red Hat.
The regional concert venues in Boone's neighboring cities provide an easy fix for music fans at Appalachian. With multiple venues only a short drive away, there is nothing stopping students from seeing the performers they love.
Story: Aleah Warner, Intern A&E Reporter
Photo: Meredith Warfield, A&E Editor