Athletes suspended following violations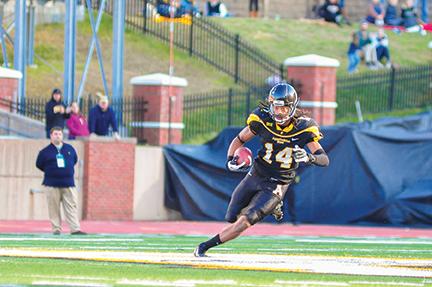 Two football players were suspended Thursday afternoon after the arrest of one Sunday prior, according to a press release from the Appalachian State University Athletics Department and Boone Police Department records.
Kalik Barnes, a junior marketing major and reserve quarterback, was suspended indefinitely for an undiclosed violation of NCAA rules, according the release.
Sean Price, a sophomore communications studies major and wide receiver, was suspended for an undetermined number of games for violating team rules. He was arrested Sunday, Aug. 18 for being intoxicated and disruptive outside of Char Restaurant and Bar, according to the arrest report.
Price was asked to leave the establishment by Boone Police and a bouncer. Once removed from the bar, Price began "yelling and taunting all the officers on scene," according to the report.
Price was given "numerous opportunities to leave the area but he would not do so in a peaceful manner," according to the report.
Price, 20, was arrested and found to have a blood alcohol content of .12 at the jail. He was also issued a citation for underage consumption of alcohol, according to the report.
Price was held on a $1,000 secured bond and his trial date is set for Sept. 19.
"I'd like to say 'I'm sorry' to my teammates and coaches, [Appalachian State Chancellor] Dr. [Kenneth] Peacock and the campus and local communities for the ill-advised decisions that I made that led to my suspension," Price said in the statement from athletics. "My actions were ill-advised and immature and don't reflect how I want to represent my team and my school. I hope to have the opportunity to return to the field and represent Appalachian State in a positive way."
He is still able to practice with the team during his suspension.
Price led the Mountaineers in receiving last year with 81 catches for 1,196 yards and eight touchdowns. He averaged 119.6 yards per game.
Barnes was suspended for the 2012 season for violating team rules, but was able to still stay on scholarship.
Barnes played one game in 2011 and had five rushing attempts for 29 yards.
Head coach Scott Satterfield said he holds the team to high standards, since they are representatives of both Appalachian and the community.
"The decisions that Kalik and Sean made did not meet those standards and, therefore, there are consequences," Satterfield said in a statement. "Sean's suspension comes with a number of conditions that have to be met, not the least of which is re-earning the trust of the university, the community and his coaches and teammates. We hope that he will meet these conditions and be able to return to the field at some point in the future."
Story: CHELSEY FISHER, Senior News Reporter and ANDREW CLAUSEN, Sports Editor
Photo: JUSTIN PERRY, Photo Editor