Athletics recognizes 50 years of women's sports
With the addition of the field hockey team in 1968, 2018 marks the 50th year of women's sports at App State.
Since then, nine other women's sports have been added to the App State family, including volleyball, golf, soccer and basketball. Today, nearly 200 varsity female athletes represent the university. Women's sports have excelled for the black and gold during this time, contributing 62 regular season conference championships and 13 conference tournament championships. Track and field has been particularly dominant, winning 35 regular season titles in indoor and outdoor since 1987, according to App State Athletics.
App State Athletics honored several former female athletes during a special weekend-long celebration between Sept. 21-23, including hosting a dinner, on-field recognition of over 250 former female athletes at the home football game against Gardner-Webb and a special ribbon-cutting ceremony to open up the new Brandon and Erica M. Adcock Field Hockey Complex at the home field hockey game on Sunday.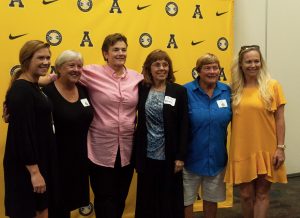 The Trailblazers Dinner was held in Roess Dining Hall on Sept. 21 and hosted by App State alumna and ESPN radio host Molly Cotten. More than 160 women were in attendance at the event where inaugural field hockey head coach Jan Watson spoke. Several former Mountaineers were honored at the event, including Watson; Janet Gordon Hall, the first triple sport hall of fame inductee (tennis, volleyball, basketball); Melissa Morrison, App State's first Olympian; and Linda Robinson, the first female athletic director at App State and former women's head basketball coach.
In an interview with App State Sports discussing field hockey's inaugural season, Watson talked about having a budget of just $1,200 with no scholarships but not letting these obstacles deter her players.
"I had some of the hardest working young ladies I've ever seen," Watson said. "They worked so hard, and they'd come to practice and give it everything they had."
Over 100 field hockey alumnae were also honored at halftime of the field hockey game against Louisville and had the chance to address the current team at practice. Current field hockey player, junior midfielder/defender Ali Williams said she was thrilled at the chance to meet some former players.
"At practice we got to talk to some of the girls who were on the first team here ever," Williams said. "They were talking about how different it was and how field hockey got established here. So it's just really cool seeing their perspective."
Fourth-year head coach Meghan Dawson said she is also proud of the field hockey team's history.
"It was amazing seeing all of those alumnae and they just really care so I think that's a really good growth for our program," Dawson said.
Redshirt junior defender Jessica Easley of the women's soccer team said she was happy the university recognized the accomplishments of women athletes.
"To be a female athlete and hold that title is just such a lifelong dream and such an accomplishment," Easley said. "I'm just proud of all the women and especially the university for celebrating it."
The university is not just celebrating women's sports but is progressing them, starting with the opening of the Brandon and Erica M. Adcock Field Hockey Complex. Although field hockey is the oldest women's sport, this is the first time that the team has had a facility entirely their own.
"We started out with literally nothing," Williams said. "It's really great to have a place we can put all of our stuff. It sounds so simple just being able to come to practice and be able to just go out here and be ready. Before, we would sit in our cars because we didn't have a place to sit. I think it's made a huge difference in our attitude."
Women's sports have come a long way in 50 years, but there is still progress to be made. Athletic director Doug Gillin finished the festivities at the Trailblazers Dinner with a quote that captured it all.
"We've come a long way, and we still have a long way to go," Gillin said.
Story By: Brooks Maynard, Sports Editor
Photos By: Lynette Files, Staff Photographer