Audience plays a role in theatre department's "Much Ado About Nothing"
For two weeks, the I.G. Greer Studio Theatre was transformed into an intimate Italian restaurant occupied by a cast of lively characters and an engaged audience. This 1950s trattoria was the setting for the Appalachian State Department of Theatre and Dance's performance of William Shakespeare's comedy "Much Ado About Nothing."
"Much Ado" takes place in Messina, Sicily. Two soldiers, Benedick and Claudio, returned from war and developed relationships with two cousins, Hero and Beatrice. Hero and Claudio immediately fell in love, but a meddlesome character caused Claudio to believe that Hero was unfaithful. During these events, the bickering Beatrice and Benedick were tricked into proclaiming their love for each other. The show concluded with Claudio realizing that Hero was innocent, resulting in their marriage followed by the marriage of Beatrice and Benedick.
Directed by Derek Gagnier, an associate professor of theatre, the show featured a cast of 23 students from every class enrolled at Appalachian State. In his director's note, Gagnier explained, "William Shakespeare's 1599 play, 'Much Ado About Nothing,' is very much about what people perceive when they are in love. In this play, signals from lovers, either through behavior or outward appearance, are often misread or misunderstood."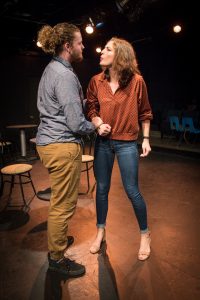 The Season Selection Committee, which is responsible for devising a schedule of performances for the academic year, chose "Much Ado" out of five Shakespeare plays that Gagnier submitted.
"I thought it was a hilarious play and it was one Shakespeare play that I had never worked on, so I was excited to see what we could do with it," Gagnier said.
In an effort to make the production more immediate to both the cast and the audience, Gagnier focused heavily on the interaction between the two groups. During the performances, cast members ran through the aisles, talked to playgoers and even sat among the audience itself.
"I loved the audience interaction," Noah Wyche, a freshman theatre education major who portrayed Benedick, said. "The opportunity to interact with audience members and to see how they respond when spoken to directly by a character was very interesting. It builds a very personal experience for them too, I feel."
Interaction by the cast was not the only aspect that Gagnier used to involve the audience. Gagnier placed a modern twist on "Much Ado" by transporting it from the 17th century into the post-war era.
"I chose the 1950s because the music, costumes, et cetera would make the show fun and more accessible to the audience," Gagnier said. The performance featured songs such as Dean Martin's "That's Amore" and showcased lots of red lipstick, Oxford shoes and bright patterns.
Despite its modernized setting, the production retained its original Shakespearean language. Junior theatre performance major Sabrina Palazzo, who played Beatrice, commented on her experience with the dated dialogue.
"This was my first time being in a Shakespeare production," Palazzo said. "The language was definitely harder to understand, but once I did my research and understood all the meanings, it was easy to get into the groove and figure out how I wanted to deliver them."
Beatrice and Benedick's relationship in the play inspired real-life romance between the students who portrayed them, Wyche and Palazzo.
"Well, it's my first role in college as a freshman and I ended up meeting my beautiful girlfriend," Wyche said. "So it ended as a pretty important show for me."
The nine performances of "Much Ado About Nothing," which ran from Oct. 25-29 and from Nov. 1-4, were sold out, with around 720 tickets purchased in total.
Story by: Olivia Reich, Intern A&E Reporter
Photos courtesy of Lynn Willis
Featured image: Actors from the Appalachian Department of Theatre and Dance in rehearsal for the Shakespeare comedy "Much Ado About Nothing." The performances were in I.G. Greer Studio Theatre from Oct. 25 to Nov. 4.