The bands of Hayes School of Music
Musicians come from different backgrounds, whether they have been singing with a guitar their whole life, they stumbled onto music or they have been classically trained throughout their education.
Several musicians throughout the Hayes School of Music have reached out into the community, where they perform with rock, indie and ska bands. Sophomore music education major Logan Smith is one such person.
Smith plays saxophone with the ska band Vanilla Envelope, where he performs at venues like Black Cat and Third Place locally, and has also just recently been on an East Coast tour with the band.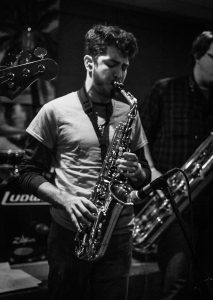 When he is not on stage rocking out with his fellow band mates, Smith is in a practice room or a concert hall playing classical saxophone or working towards getting his jazz certificate.
Luckily, since he plays the same instrument in both settings, Smith said he only sees "minor differences."
Smith said that he does see a huge benefit from being classically trained while also playing with Vanilla Envelope.
"We're all music majors we have a higher level of thinking when it comes to writing songs," Smith said. "We throw in all of these stupid little things that only music majors or people that play instruments would understand like crazy time signatures and stupid stuff."
His classical training has also improved because of Vanilla Envelope.
"I'm getting a taste of every kind of [music] concentration," Smith said. "That really helps me as a music person to really know what every kind of concentration goes through."
Smith will play with his band Vanilla Envelope at Galileo's on April 10 at 7 p.m.
Junior music industry majors Taylor Wafford and Hinton Edgerton play with the indie folk band The Blue Wild.
Wafford's experiences are quite different in the two different music settings, especially when it comes to writing music.
"I write better when I'm not thinking about music theory, but it's there anyways. It's embedded in my brain and I can't get it out," Wafford said.
Wafford also plays guitar in the band, which causes her to have to change the way she performs.
"[It's hard] Having to reorient your body [while playing guitar] when you're so used to being able to perform free and supporting your voice. It's all just very different," Wafford said.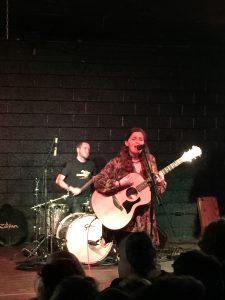 What she sees the most beneficial in what she's been able to take from The Blue Wild to her classical studies is the emotional connection with music.
"Having a different setting to perform songs that I am emotionally connected to and practicing stage presence really transfers into my classical studies," Wafford said.
Edgerton's primary instrument in the music school is trombone, but he plays a variety of other instruments as well.
In The Blue Wild, Edgerton plays Mandolin, fiddle and electric guitar, which are all very different from his classical studies.
"It's cool to have different outlets. The reason I play so many instruments is because I get bored so easily," Edgerton said.
Even though his experiences in each musical outlet are so different, Edgerton still feels like he's benefited from the experience as a whole.
"It's helped me define musicality in general," Edgerton said. "My whole [classical] upbringing has culminated into what we're doing right now which is pretty cool."
Though they play different instruments, Wafford and Edgerton find it extremely valuable to be in a band outside of school.
Being in a band not associated with college is a way to relax and avoid getting burned out, Wafford said. When many music majors spend five or six hours a day practicing, she said having a different mode of expression helps keep creative energy alive and prevents a disconnect from local culture.
"In my opinion, being a great musician is a delicate balance of having the left-brained side of music, which is like reading music, music theory and good technique, and having the right brained side of music by expressing emotions and feelings through the art," Edgerton said. "Performing outside of school helps you reach both sides."
As music industry majors, both Edgerton and Wafford benefit by being able to meet all of the local musicians as well as learning marketing and recording techniques.
The two will be playing next at Boone Blossom April 21-23 and at Village Vision on May 6.
Freshman music industry major Nate Anderson is just starting to get involved with the music scene with his band Evan Button and the Tribe. He said he also sees a lot of benefits to being in a band.
"It's a great performance experience as a musician and I feel like it's really broadened my abilities as a trumpet player," Anderson said. "I feel like it's motivated me a lot to improve my playing and improv abilities on both of the main instruments I'm playing."
Playing with Evan Button and the Tribe has also caused Anderson to change how he sees his career going.
"I could definitely see myself performing as a live musician after college," Anderson said.
Because he's just starting out, Anderson and his band also use other Hayes School students as role models for being bands outside of school.
"I heard bands like Vanilla Envelope [and] Arson Daily and I was like 'That could be me one day. I could be playing shows around town,'" Anderson said. "I took them as some inspiration and definitely wanted to be in a band."
Story by: Mariah Reneau, A&E Reporter
Photos by: Halle Keighton, Photo Editor and courtesies