Battle for the Belt
The App State football team is still working hardmonths after the season's exciting conclusion in a 31-29 Camellia Bowl victory.
After a 45-yard fumble recovery by Ohio against the Mountaineers in the third quarter, App State could have accepted their fate as a strong regular season Sun Belt foe, but not bowl champions.
All of that changed when junior tight-end Barrett Burns caught a 17-yard touchdown pass from sophomore quarterback Taylor Lamb to make the score 24-14. Sophomore defensive back Latrell Gibbs intercepted an Ohio pass the following possession to give the Mountaineers great field position and senior running back, Marcus Cox, the team's leading rusher, wasted no time with a 26-yard scoring run to make the score 24-21 with 13:10 left on the clock. Burns added another touchdown reception later in the fourth quarter that saw App State regain the lead after trailing by 17, before ultimately winning the contest on a last second 23-yard field goal, 31-29.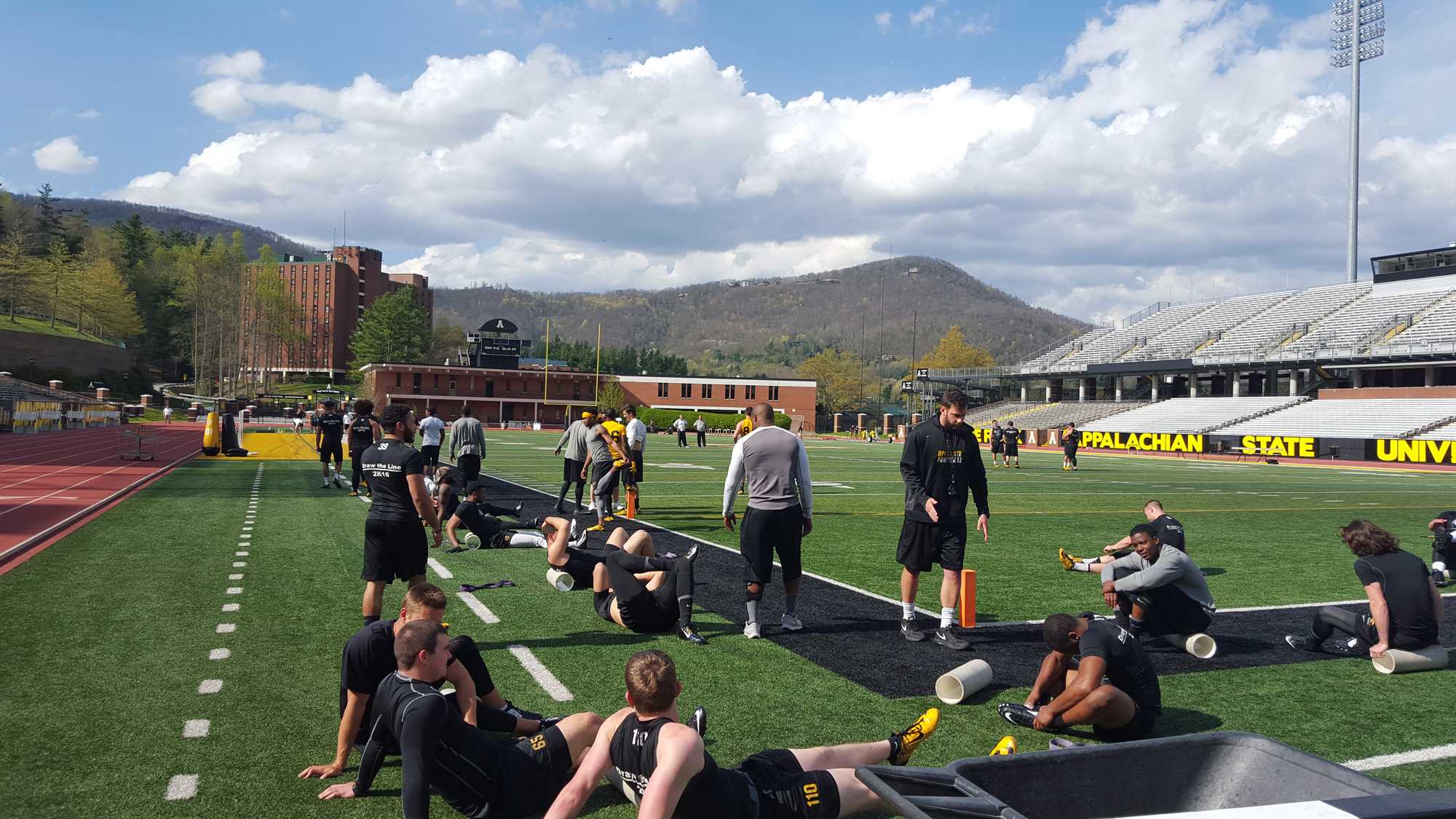 Just because the season's over doesn't mean the competition is gone. Duplicating a post-season game jam-packed with intensity and emotions is impossible, but that doesn't mean the coaching staff can't spice things up a bit in the off-season. Appalachian State's coaching staff selected eight team captains, who each picked co-captains to help them lead their respective teams in an off-season strength and conditioning program.
Battle for the Belt is an intrasquad competition pitting the eight teams against each other and awarding points for offseason and conditioning program, performance in the classroom, service to the classroom and all-around character.
It just so happens that Burns and Cox, the two who were on the receiving end of three crucial touchdowns in that remarkable Camellia Bowl comeback, are atop the standings nearly five weeks into the Battle for the Belt competition.
"A couple captains, about eight of us, drafted an entire team. It's a team of about nine or ten from our entire roster," Burns said. "We compete in lifting, on Tuesdays we come out here [to the field] and do a team competition. One team will battle another specific team for that day, and get points [based] off of that."
The competition created by the Battle for the Belt is helping each player individually by pitting them against a teammate on another team who is trying to show why they should be fighting for a starting spot next fall. All of the extra workouts, study sessions and even community service displays the resolute attitude and commitment to the football program. That helps the players prepare for the grind of an intense and long season, well before summer and fall camp.
"This is the second year we've done this, and I really like it a lot," Burns said. "I think it kind of gets people more into the off-season, instead of just waking up and coming in to workout versus, you know, having a competition where there are prizes at the end. That helps out a lot. It definitely translates later on; it's keeping us competitive after the season ends. Keeping the competition there keeps us ready and on our feet."
After three consecutive years of over 1,200 rushing yards, Cox has established himself as one of the Sun Belt's best players. Heading into last season, Cox was tabbed as a preseason Doak Walker candidate, an award presented to college football's top running back.
Marcus' team of ten has sat atop the standings for most of the Battle for the Belt thus far.
"In the weight room we're getting points, out here in team competitions we are either winning or within a couple points of the team we've faced that week," Cox said. "We're staying out of trouble. At the beginning we had a couple guys get in trouble, but since then we've got it together and now are earning the points that we need to earn."
All of the work and effort put into becoming better student athletes and football players will be tested early. App State opens next season at Neyland Stadium, home of the Tennessee Volunteers. More important will be the team's ability to improve week in and week out before the Sun Belt regular season starts Oct. 1, home to the Georgia State Panthers.
The Battle for the Belt is important to all of the players and coaching staff. It represents all of the hard work necessary to becoming a top-tier football program. this is the second consecutive season in which the competition has fueled off-season workouts. After a successful 11-2 season, including a Camellia Bowl win, it is safe to say the competition paid off.
"We started this last year, and I think you can see that we came together as a team over the off-season last year," Cox said. "I feel like this competition brings us together and gets the best out of everybody, because everyone wants to win at the end of the day. This competition helps us push ourselves, each day."
As of April 27, Cox's team (3,658 points) holds a narrow lead over second place Burn's team (3,651 points). Defensive lineman Nate Norwood captains the team currently in third place, with 3,392 points.
Story by: Nick Joyner, Senior Sports Reporter