It can be difficult to enjoy Boone's local restaurants and still have money for other basic necessities of life on a college student's decidedly limited budget. To drink and eat out in the area without taking too much of a hit with your funds, you need to know a few tricks of the trade. Deals are everywhere – if you know where to look. The following list gives a few of the best money-saving specials in Boone.
Monday: 45 cent wings at The Rock Sports Bar and Grill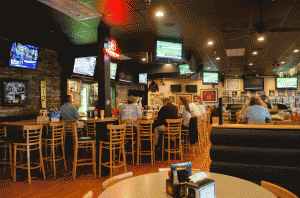 Start your week off right with 45 cent wings and 55 cent boneless wings at The Rock Sports Bar and Grill every Monday from 4 p.m. until close. Located on Watauga Village Drive, The Rock serves all your favorite bar food including nachos, pub chips, wings, burgers and more. Nothing takes the sting out of a Monday like treating yourself to deliciously affordable wings in a multitude of flavors ranging from mild and barbecue to wilder flavours such as pineapple mango, hot jamaican and thai curry. If you've had a particularly rough Monday, you can also comfort yourself with $4 house vodka drinks and $1.50 Fatty Natty bottles.
Tuesday: Bottles of house wine 50 percent off at Cafe Portofino
Every Tuesday at Cafe Portofino, there is a special to indulge the classy yet fiscally responsible "wine-o." Instead of drinking from a cheap double bottle on your couch, you can enjoy a fine bottle of house wine for about $10 in a 100 year-old building on Rivers Street. Portofino offers customers both indoor seating and seating in the large outdoor dining area. The house wines include a cabernet sauvignon and a pinot noir.
Wednesday: $2 tacos at TApp Room
TApp Room, a restaurant and bar located on Blowing Rock Road across from Holmes Convocation Center, has money-saving deals on food and drinks every day, but perhaps its most popular special is the Wednesday $2 tacos. For the price of doing a load of laundry, you can buy a soft shell chicken or barbecue taco. You can enjoy the tasty tacos while people-watching from the TApp Room porch or while drinking one of the $3 rotating draft beer specials. The draft specials change every day and can be found on the TApp Room's Facebook or Twitter pages.
Thursday: $2 beers at Basil's Fresh Pasta and Deli
Every Thursday at Basil's Fresh Pasta and Deli you can buy $2 beers or a glass of house wine for $2.50. In addition to the regularly rotating draft beers available, you can also choose from a large selection of beers from the case, which include King Don's Pumpkin Ale, UnderDog Atlantic Lager, Thunderstruck Coffee Porter and Terrapin Recreation Ale. Waitress Sam Sherman said Thursday nights are by far Basil's busiest night and the restaurant becomes relatively packed.
Friday: $2 off quesadillas and $1.75 chips and salsa at The Town Tavern of Boone
After a long week, a carefree Friday night at the bars might sound perfect. However, if you still want to have money for breakfast the next morning, spending all your money on overpriced food and drinks is not an option. Luckily, each week, The Town Tavern of Boone on Faculty Street hosts "Fiesta Fridays," where you can get a savory chicken or pork quesadilla for only $5.75, down $2 from the usual price, and chips and salsa for just $1.75. After you get some food in your system, you can also enjoy $2.50 Corona bottles, $4 margaritas and karaoke from 11 p.m. to closing.
Saturday and Sunday: Lunch buffet at Mint
For those who prefer to sleep through breakfast on the weekends, there is a special that can satisfy your mid-afternoon hunger.  Every Saturday and Sunday from 12-3 p.m., you can enjoy a quality lunch buffet special at Mint for only $12. Mint, a local Indian cuisine restaurant located at 203 Boone Heights Drive, serves Indian food such as chicken, lamb, fish or goat usually accompanied by rice or naan. The Saturday and Sunday lunch buffet allows customers to chow down to their hearts' content while enjoying the leisurely atmosphere, cultural influences and bottomless mimosas.
Story: Liz Flamming, Intern A&E Reporter
Photo: Morgan Cook, Photo Editor