The best defense is a good offense
After playing three years on defense for the App State soccer team, senior captain Jordan Melia made the switch to offense for his last season in a Mountaineer uniform.
Melia is not your typical App State student athlete. After growing up in England, he moved to Boone his freshman year of college to play soccer, leaving his family behind to begin his journey at App State.
It was English assistant coach Chris Whalley who helped Melia land an opportunity to play soccer in Boone. Whalley and Melia had some of the same soccer connections in Manchester, England, which helped the two connect with one another and begin the recruiting process.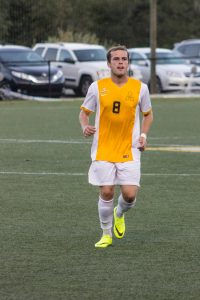 "Chris knew the guy that I was trying to come over through, so I got recommended and things worked out and I ended up coming to App State," Melia said.
Melia has been a huge defensive presence for the Mountaineers since he arrived as a freshman. In his first two seasons, Melia made an appearance in 23 games and made 17 starts. During his junior season, he started all of his career-high 18 games and helped lead the defense to five shutout victories.
As soon as 16 year coaching veteran Jason O'Keefe arrived to take over the head coaching job at App State, however, Melia was moved to the offensive side of the ball.
"I watched video, spoke to other coaches, and once I got here and saw his attributes I knew he could help us a great deal up the field," O'Keefe said. "I knew he was a leader amongst the team, we needed that leadership on offense."
Melia was able to test his offensive ability during the spring, using the offseason as a trial period for his new position.
"It's been difficult sometimes but soccer is soccer. If you can play you can do a job at any position you play," Melia said. "It's different because I'm used to seeing everything in front of me. It's little adjustments, but I'm slowly getting there."
Even though he has spent all of his time in the backfield, Melia managed to put one shot in the back of the net during the course of his first three seasons. The Mountaineers have only played eight games this season and Melia has already been able to score twice.
"It's a different feeling," Melia said. "I've never really scored many goals to be honest, but it is a good feeling."
Making transitions on the soccer field is tough, but it's something that O'Keefe is asking from all of his players.
"I'm asking everyone to do different things and that's a challenge, but I think it's going to help us grow and make them better in the long run," O'Keefe said.
Melia has handled the move to offense very well, O'Keefe said. His determined work ethic, resiliency and mind for the sport of soccer has aided him in making a smooth transition in something that most would find as extremely difficult.
With O'Keefe's 16 years of coaching experience, he brings with him a unique coaching philosophy focused on helping these young men grow not only as soccer players, but in all areas of life.
"Getting results in college soccer is hard, but it's preparing you for life," O'Keefe said. "The challenges faced during this time period help these young men grow and be more prepared for the future."
Through all of the on-field success for Melia, it's been the brotherhood shared amongst the team that has been the most rewarding experience for him during his time in Boone. He has been able to develop lifelong relationships with his teammates and coaches.
"Just a chance to be on the team has been the highlight of my soccer career so far. These guys are genuinely like my brothers," Melia said. "I came over on my own even though all of my family is still back home. This is my family away from family."
Story By: John Robertson, Sports Reporter