Best of Boone 2023: Best of Food
Pruett Norris, Briley Turpin, Erin Smith, Will Hofmann, Ella McIntosh, Jenna Guzman, Emily Escobedo Ramirez, Kaitlyn Potochnik, Brionna Dallara, William Becker, Mia Seligman, Gabrielle Troutman, Abby Buckner, Bella Lantz, El Shedrick, Hollie Moore, Amena Matcheswala, Jade Ogle, and Ella Wilson
April 5, 2023
Best Sandwich: Stick Boy Kitchen
By Pruett Norris
From the steamy sourdough savor of the Soo Cheesy to the hummus and veggie goodness of The Chick Pea, all the way to the hardy bacon-draped chicken of the Kluckin' Kop, there's a sandwich for everyone at Stick Boy Kitchen. That's why the people of Boone have given the local bakery's restaurant branch the venerable title of Best Sandwich in Best of Boone 2023.
Lisa Pearce, general manager of Stick Boy Kitchen, has a theory for what keeps customers coming back for Stick Boy's sandwiches. 
"I think everyone knows that Stick Boy has everything made from scratch," she said. "Just with raw ingredients. We take that bread at the bakery, we slice all our meat and cheese, we make all our condiments."
Pearce is modest about how Stick Boy maintains their steady stream of customers. 
"It's nothing incredibly unique," Pearce said. "But it's the quality of the food and the service of it and the atmosphere. And that's, I'm sure, collectively what made it the best."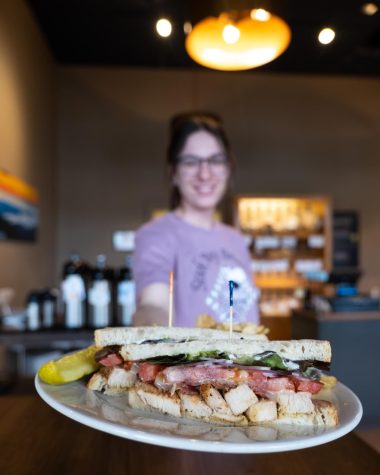 The atmosphere of Stick Boy Kitchen is certainly an important part of the equation. Not only are the sandwiches delicious, but service is fast, friendly and prompt. The open floor layout of the restaurant is colorful and airy, with staff members who smile as brightly as the hues of their Stick Boy T-shirts. 
When asked how the Stick Boy staff maintains such positive attitudes, Pearce shared "the whole model behind it is for everyone to be involved, to provide a service kind of like the Golden Rule: providing a service you would want to receive." 
Stick Boy Kitchen's secrets to staff success, to Pearce, are as simple as "treating your people well, being involved, being good listeners and helping the business grow with people you're employing." It's no wonder Stick Boy's sandwiches are Boone's best when the staff is giving their best crafting them.
Speaking of sandwich craft, another part of the Stick Boy experience is the menu's options for a variety of diets. 
"I like offering a vegetarian sandwich that's outside of the basic lettuce, tomato, onion, cucumbers sort of situation," Pearce said. "So we tried to create at least one hot and one cold vegetarian sandwich for that."
While all of Stick Boy Kitchen's sandwiches will share the Best Sandwich in Boone accolade, Pearce does have a favorite. 
"It depends on the day," she said. "The one I came up with when we originally started was the Hearty Arty."
Stick Boy Kitchen is open Monday through Friday from 7 a.m.-6:30 p.m., and on Saturdays from 7 a.m.-5:30 p.m. The Hearty Arty and its accompanying award-winning sandwiches can be previewed on the online kitchen menu.
Best Pizza: Lost Province
By Briley Turpin
Nestled quietly away from the hustle and bustle of King Street is Lost Province Brewing Co. Specializing in wood-fired pizza and craft beers, Lost Province is a farm-to-table restaurant and brewing company that has been a Boone staple since 2014, said Director of Communication Megan Mason.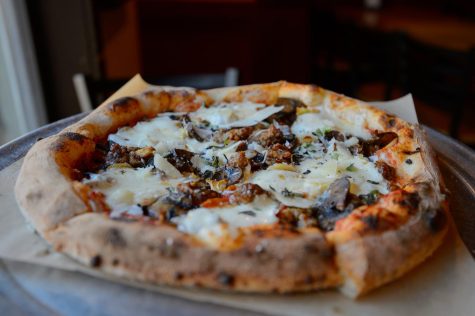 Located in a two-story brick building behind the Mast General Store, Lost Province has a traditional pub vibe. The main dining room holds several tables, a bar and the backdrop is a wall of beer taps. 
The dining room has a cozy feel and the warmth emanating from the large, circular wood fired pizza oven can be felt throughout the room. The upper level of the restaurant has more seats overlooking the lower dining room. There is also a patio to the side of the building that is open for indoor-outdoor seating year round. 
Lynne Mason and Andy Mason opened the restaurant in Boone after years of practicing home-brewing beer, according to the Lost Province website. Since opening nine years ago, Lost Province has continued to entertain the community of Boone and has even expanded into new locations, Megan Mason said. 
"I think the most exciting thing we've done over the past couple of years is expand and open Lost Province at Hardin Creek," she said. "It's primarily a production facility and tap room that houses our sales and distribution team."
Boone has long been home to the Mason family, she said, and the support they've found here is what has kept them in the community for nearly ten years now. 
"The Boone business community itself is extremely supportive of one another, and from what I hear, that isn't always the case in other communities," Megan Mason said. 
In addition to support from other Boone businesses, Megan Mason said, is the support from the community of Boone as a whole. 
"We're grateful for the business to business support here, and just grateful for the overall community support. Whether that's from locals who've been here for many years, or students who are only here for four years, all of y'all make Boone the special place that it is, so thank you for the support over the years," she said. 
The restaurant has a rotating seasonal menu, traditional pub food and their main staple: 13 different wood-fired pizzas with the opportunity to build-your-own pizza. 
In addition to plenty of food, Lost Province offers visitors a rotating beer menu consisting of dozens of draft beers brewed in house. 
Lost Province is located at 130 N. Depot St. and is open Sunday to Wednesday from 11:30 a.m.-9 p.m. and Thursday to Saturday from 11:30 a.m.-10 p.m.
Best Burger: Come Back Shack
By Erin Smith
Defending its legendary title, Come Back Shack remains victorious and won Best Burger for the fourth year in a row. This family-owned and operated fast food restaurant has overtaken the Boone community with its delicious classics since it first opened almost 12 years ago. 
Whether you wait in the double wrap-around drive-thru line or eat inside, you will receive your food in a timely manner, fresh and piping hot with a smile. This fast-paced environment offers a delicious experience that puts it on the map as Boone's go-to burger joint for locals and visitors alike.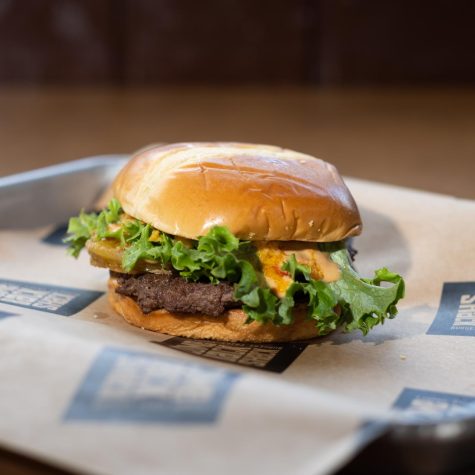 Ricky Cecil, manager at Come Back Shack for over five years, said there is "never a dull moment here," and emphasized that "everyone in our community is so fun to work with." 
From their hand-breaded chicken tenders, hand-cut fries and hand-spun milkshakes, Come Back Shack has earned its moniker among locals, tourists and App State students.
Another prominent feature at Come Back Shack is their all-beef burgers. Sourced from a local farm and made fresh daily, this "fresh, never frozen" philosophy is the key to their delicious food. 
Although, what makes this the best burger in Boone is their house-made Come Back Shack sauce, which is a fan favorite of customers and employees. This legendary sauce is made in-house every day and puts the perfect spin on their already juicy and delicious burgers. But that is not all Come Back Shack has to offer; the sense of community this fast paced and family owned meeting spot has brought to its workers and customers is irreplaceable. 
"What I liked most about working here is that it is a family owned business and if I need to talk to someone I can go directly to the guy who owns it, their door has always been open to hear me out and help. This is for anyone from our management to our newest hire," Cecil said. Come Back Shack is open every day from 10:30 a.m-9 p.m.
Best BBQ: The Pedalin' Pig
By Will Hofmann
"BBQ. Ribs. Brisket." The large black sign outside of this Boone staple is simple, yet elegant. On the inside of the restaurant, the soft lights and open space allows customers to settle in, grab a beer and devour some classic, Carolina-style barbecue. 
While pigs cannot ride a bike, the brisket offering, pig roasting and local hotspot, The Pedalin' Pig, flies right into its fourth year of winning Boone's best BBQ.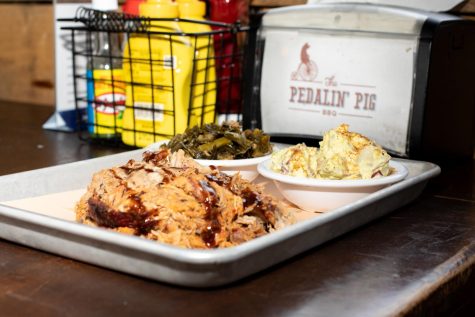 General Manager Blake Bostain attributes the rock-solid support for The Pig to bringing new talent on board. 
"This year, we've got some new changes. Some new talent that's been able to join our company," Bostain said. "So we're really kind of doing an overhaul on a lot of our recipes. And so just letting the community know that, you know, we're super appreciative of the support."
Alongside modifying recipes and expanding outreach to the community, talent is one of the things both locals and students have brought to the restaurant in the past year. Every Wednesday, The Pedalin' Pig holds a bluegrass night, where local musicians can come perform their own renditions of their favorite bluegrass songs or hear a band perform them. 
"We're starting to see Appalachian studies students come out and be a part of something that's really kind of paying off in respect to the traditions musically of this area," Bostain said. 
Moreover, the community has come out to support and continue their love for the Boone barbecue restaurant. Many customers return after their first visit, and Bostain knows that many come to share a beer, have a sandwich or take a moment away from work. 
"It's really a family vibe," Bostain said. "We've got a good set of them. A lot of local trades-folks, some professors and some students that really have kind of bonded across different paths in life at the restaurant." 
For Bostain, the restaurant is based in the community, where customers and co-workers are as familiar to each other as family. 
"I could probably name 40 by name that come and spend every day with us to some capacity," Bostain said. "Whether that's winding down after work to have a beer and a sandwich, or if it's just coming in to grab a bite in the middle of the work day."
Even as the restaurant has remained on-top of the Boone barbecue scene for the past several years, Bostain wants to let everyone know: more is still to come.
"You know, we're not done progressing," Bostain said. "We're excited to grow as this town grows, and really, hopefully be kind of a staple for Carolina barbecue."
Best Wings: Rivers Street Ale House
By Ella McIntosh
Ever since its grand opening in 2015, the citizens of Boone have enjoyed rockin' live music, rambunctious nightlife and delicious wings at Rivers Street Ale House. For the second year in a row, this beloved restaurant and bar has won Best Wings in Boone.
Ale House offers 16 mouthwatering wing flavors either bone-in or boneless and serves them in a variety of sizes depending on how hungry you are. Servings of eight, 12, 16, 24, 48 or 96 wings are available. A few of their wing flavors include Bourbon Glazed, Carolina Reaper and Cajun Dry Rub.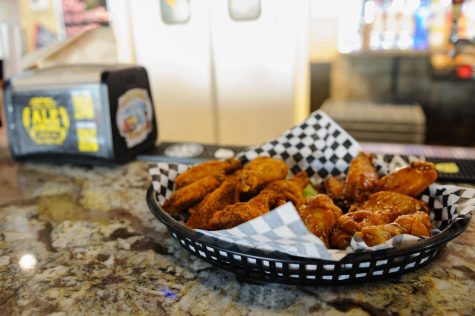 Co-owner Jeff Lamont's personal favorite combination is an order of the mango Habanero wings with an 828 draft beer from Appalachian Mountain Brewery to wash it down. 
Lamont is a self-proclaimed "Boone-rang-er." Much like a boomerang, 20 years after graduating from App State in the class of '91, he traveled right back to Boone with his wife to start planting roots. These roots grew into money trees for Lamont in the form of three successful restaurants across the High Country. These restaurants are Town Tavern locations in Blowing Rock and Morganton as well as, of course, Boone's Rivers Street Ale House.
Lamont met his co-owner and friend Justin Davis in 2011 at a tailgate party across the street from Walker Hall, where they had parked a minibus to celebrate one of App State's home football games. Soon after, they became business partners and the rest was history.
Their award-winning wings aren't the only thing Ale House is well-known for. Special daily events are hosted inside the restaurant. Particularly popular is their Wing Thursday, where DJ Trilogy plays a set and boneless wings are just 45 cents each and bone-in wings are 75 cents each starting at 4 p.m.
"It's kind of cliche, but we like to call it our 'Ale Home,'" Lamont said. "Our student staff members usually like to stay with us right up until they graduate, sometimes longer."
The restaurant and bar's other fun-filled events include Monday Night Football, Tuesday Night Trivia, Wednesday Night Music Bingo and Friday Night Live Music and Karaoke. More information about these events can be found on Ale House's Instagram.
"We like to keep up an entertaining atmosphere," Lamont said.
Best Breakfast: Troy's 105 Diner
By Jenna Guzman
From the checkered floors and neon lights, to the steel exterior of the diner and the old-school music playing from within, walking into Troy's 105 Diner is like walking into a time machine and finding yourself in the '50s. 
Troy's 105 Diner is a '50s themed diner which offers breakfast, lunch, dinner and a feeling of nostalgia for all ages.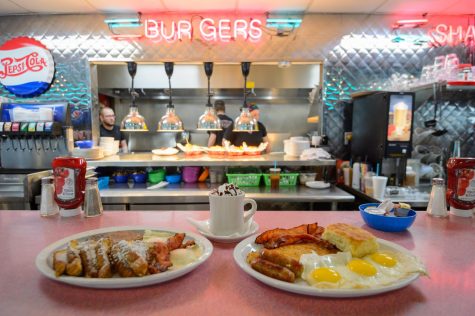 When one enters through the big steel doors and sees the array of vintage decor and posters on the walls in addition to smelling the aroma of freshly cooked food, curiosity and hunger may grow. But when one leaves Troy's, they leave with a full stomach and a love for the olden days. 
"The experience is everything," said part-owner Conner Snyder. "That's what you do when you walk in this place. It's just incredible."
Troy's 105 Diner is this year's Best Breakfast winner.
Given their all-day breakfast menu, one can take a seat at the bar or in the bright red cushioned booths and try out some of their breakfast staples, fulfilling every craving.
Do you have a sweet tooth first thing in the morning? Then you can go to Troy's to satisfy it. From pancakes to the "killer" French toast to waffles Snyder said, you can start the day sweet by having one of the sugary specialties such as the Mama Lulu or Flo's Frenchie. 
If you are wanting something more on the savory side, Troy's has a variety of options to fulfill that craving such as bacon, eggs, biscuits, hashbrowns and more.
Snyder recommends customers order the Big Daddy; a plate of eggs, bacon, sausage, grits or hashbrowns and bread because "it's a little bit of everything." 
No matter what the breakfast order, any food item can be paired with a classic diner coffee or milkshake. In addition, if one is not full from the meals, a dessert such as the cobbler or the pie is only waiting to be served to the table. 
Built in the '90s, Troy's has been serving the Boone community for decades. 
"We just love our community, that's for sure," Snyder said.
The majority of the customers who eat at the restaurant are regulars, Snyder said.
"I see the same person three times a day," he said. 
Snyder said he hopes people who enter the restaurant leave with good memories of their time at the diner.
"That's what we're all about, just having good times here," Snyder said. 
Best Mexican-Inspired Restaurant: Los Arcoiris
By Emily Escobedo Ramirez
The sound of eccentric Latin music runs through the establishment. The colorful paintings on the wall beckon you to sit down and relax. The hostess welcomes and leads you to your table, where you're presented with a menu filled with delicious meals and beverages. Welcome to Los Arcoiris.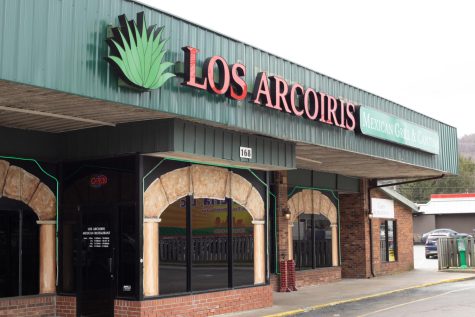 Established in 1991, Los Arcoiris has been a local staple for Mexican-inspired cuisine in the community. After bouncing from multiple locations in Boone, it currently resides at Boone Heights, where its popularity has continuously grown. Despite having lots of options for Mexican cuisine here in Boone, there are many reasons why one should love Los Arcoiris. 
One reason is its authenticity and the environment that it provides, specifically in regard to its Latin American roots. 
"We keep the essence of Mexican culture and hold onto it to remain authentic," said Alfredo Alvarez, owner of Los Arcoiris. 
With wall paintings of Frida Kahlo, the decorative art of papel picado floating in the air and the artwork on its chairs, the homage to Mexico's traditions is beautiful to see. Eating authentic Mexican food that's affordable on a college budget is a great way of supporting this Mexican-inspired establishment. 
An important aspect of Los Arcoiris is its family-run atmosphere. 
"We are a family-owned restaurant; our family is important to who we are," Alvarez said. Family is an important component of the restaurant and one that they are incredibly proud of. Stationed near the entrance, one can see family and restaurant photos that showcase this. 
Los Arcoiris expands their definition of family to include the surrounding community. 
"App State students and Boone residents are a part of our family, and we welcome them. We have seen alumni grow older and visit us, and remember our presence, and it's precious to see our impact," Alvarez said. 
With the kindness and love they have for the community, it's hard to not feel welcomed at Los Arcoiris. 
The last major reason for its popularity? The love and support from the App State community. 
"Students and alumni are our biggest customers. They motivate us and are the main reason we are still in business," Alvarez said. 
Both academics and athletics at App State are beacons that bring people to Los Arcoiris. When you enter, you'll see many posters highlighting the soccer and football teams; you may even catch a glimpse of a prominent community figure. 
"Jerry Moore comes by often, he's one of our fans," Alvarez said."We hope to keep serving the Boone community and that they love Los Arcoiris for many more years to come." 
The ambience, kindness and speedy service that Los Arcoiris offers are just a few reasons to visit and enjoy the food. Ranging from tortas and tacos to arroz con pollo and carnitas, there's a variety of food waiting for everyone. Its doors are open to all that come, so next time you need a place to eat, look no further, and buen provecho.
Best Sweets: Appalachia Cookie Company
By Kaitlyn Potochnik & Brionna Dallara
Chocolate chip, snickerdoodle, peanut butter and oatmeal raisin. What more could you ask for in a cookie? Maybe cheesecake, s'mores or maple bacon bourbon?
Appalachia Cookie Company, the 2023 winner of Best Sweets in Boone, has all of that and more, all to satisfy your sweet tooth.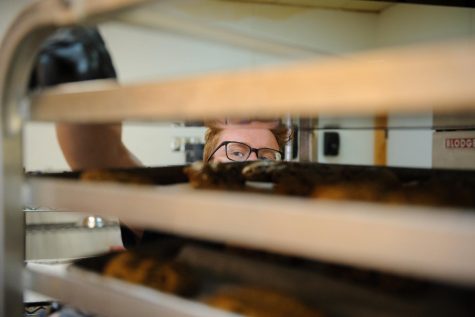 This local business was founded in 2012 by former App State student David Holloman. According to their website, Holloman "saw a need for an alternative to the traditional late night pizza and sandwiches."
Holloman's dreams came into fruition when he opened Appalachia Cookie Co. in 2012 and continues to blossom in Boone where the demand for its fresh batches is still prominent. 
Each cookie is baked from scratch using fresh ingredients. They even offer gluten and dairy-free cookies, such as the brownie cookie and the Yosef cookie.
"It's really interesting to see how our boss will like even tweak the smallest things in our recipes to make it perfect," Megan Seger, senior nutrition major and employee said. 
Fresh cookies can be purchased as singles, half dozens, dozens or in bulk for any amount over 50.
Fellow Appalachia Cookie Co. employee and sustainable technology major Adam Galbraith said that their many flavors is what draws people to the shop and that there is a new flavor every month or so. 
The shop currently has their seasonal Irish Cream for St. Patrick's Day and just in time for spring, a new Daisy cookie, named after Holloman's daughter, that he told staff is "sweet and sour just like her." 
All cookies are available for purchase at the storefront or can be delivered throughout Boone. Shipping orders are also available for purchase and can be shipped nationwide.
Customers can purchase assorted packages of the cookies starting at $15.99 for half a dozen and $28.99 for a dozen. Single-flavor packages start at $13.99 for a half dozen and $25.99 for a dozen. Larger bundles are also available.
However, Holloman's community contributions don't just stop at curing local sweet tooths, they also lend to local nonprofit organizations. 
"He donates a lot to nonprofits, like if we have extra cookies he'll send them over to Hunger and Health," Seger said. 
In fact, Appalachia Cookie Company has partnered with the Hunger and Health Coalition to feed families across the community by creating the 30 Thirty Project, which, according to their website, is an "easy avenue for our customers to give back to the local community." Individuals who subscribe to be a part of the project will pay $35 to provide a local family with 30 pounds of food every month and receive one dozen cookies of their choosing to their doorstep on the first Monday of every month.
Appalachia Cookie Co.'s current hours are from 11 a.m.-10 p.m. Sunday through Thursday and 10 a.m.-11 p.m. Friday and Saturday.
Best Vegetarian Option: Coyote Kitchen
By William Becker
Adorned with local art, multicolored walls in shades of orange, red, yellow and blue decorate the interior. Seated around the restaurant or at the cozily lit bar, customers chat over Caribbean-inspired meals as soulful music plays softly in the background. Outside, colorful lights are strung across the ceiling of the patio amid ceiling fans and heaters to ensure comfort in every season.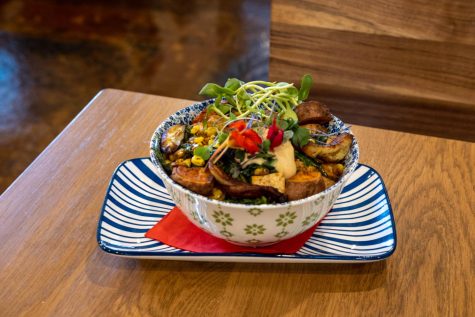 This is Coyote Kitchen, a local restaurant specializing in "southwest Caribbean soul food," according to their website. Kitchen manager James LaBarbara said the restaurant has existed for approximately 20 years and has gone through several owners. It is currently owned by Lost Province Brewing Co.
"There's not really any Caribbean scene in Boone or anything, you know?" LaBarbara said. "The vision is to have something new and exciting that is kind of one-of-a-kind in town, you know, kind of like a spotlight."
LaBarbara said Coyote Kitchen provides numerous vegetarian and vegan options, especially considering the limited options available in the High Country for those seeking that type of meal.
"I think it's really important that everybody gets a chance to enjoy food," LaBarbara said. "It's a collaborative effort. Food brings people together, so you don't really want to single people out."
While Coyote Kitchen's vegetarian and vegan options are designed to be accommodating to those with dietary preferences or needs, they are also intended to be enjoyable for all customers.
"If you can make a really good vegetarian dish, that meat eater is going to eat it as well because it's delicious," LaBarbara said. 
LaBarbara said Coyote Kitchen's staff want "to make a sense of community and bring people together over the food." They uphold this by creating meals that are accommodating to dietary restrictions without being "so out in your face" about their vegetarian or vegan status. These include The Isabella, a burrito made with grilled tempeh as a base, and the Terra Cotta, a boat made with "red eye rub tofu" as a base, as well as numerous other options. 
"It's just really good food cooked simply," LaBarbara said.
The restaurant's menu has recently been redesigned, incorporating new starters, salads and sauces. LaBarbara said these additions will make it "a little bit more traditional in a sense."
"The idea was just to bring the vision a little bit more true to its theme of Southwest and Caribbean food," LaBarbara said. "So I think we did a really good job with that, bringing in the sopes, some elote hushpuppies, yuca fries."
LaBarbara said the restaurant's staff is very grateful to have a special place in the Boone community and to have been recognized for their vegetarian offerings.
"We're really honored to be part of the community and I'm really happy that this, that so many people have found this place to be the best vegetarian option in Boone, you know," LaBarbara said. "Like, it's really high praise."
Best Asian-Inspired Cuisine: CoBo Sushi
By Mia Seligman
Founded in May 2013, CoBo Sushi provides a welcome blend of Japanese sushi and non-traditional, contemporary menu items. 
Voted Best of Boone for Asian-inspired cuisine, CoBo has become a hotspot for students and residents alike. Located on Howard street, CoBo brings a fusion of Japanese-style food and American comfort food to Boone.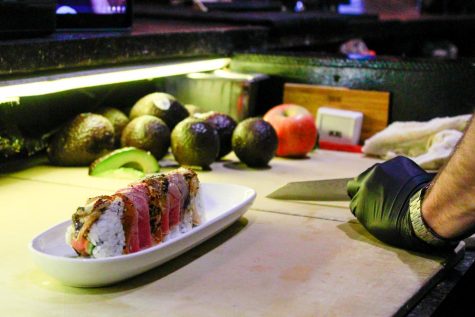 When App State graduate Joseph Miller returned from living in Steamboat Springs, Colorado, he felt the need to do something different with his life. He decided to open a restaurant to bring what he had learned in Colorado back to Boone and he founded CoBo Sushi.
In an interview with The Appalachian, Miller shared that the name comes from a combination of Colorado and Boone, saying it took "roughly 50 times to get right." 
Many diners compliment the interior decorations, often commenting on the "upscale decor," Miller said. Some features that contribute to this atmosphere are the heavy wood and raw stone, which Miller chose intentionally to mimic the Blue Ridge Mountains. 
"The first thing people tell us is that when you step in you feel like you've left Boone, even though you're still in it," Miller said.
Miller wanted to create a sense of home in his restaurant inspired by traditional Japanese themes and cuisine. Sushi, hibachi and teriyaki dishes are offered as well. 
One of the most popular items is the Appalachian Roll, a tempura-batter fried roll consisting of salmon, kani kama, cream cheese, avocado, nitzume and spicy aioli. CoBo is also home to the famed Yosef roll, which has tuna, panko shrimp, crab mix, avocado, nitzume and spicy aioli. 
In addition to owning CoBo, Joseph Miller also co-owns Black Cat Burrito with his father Wayne Miller. 
"Nothing was wrong with Black Cat the way it was before," Wayne Miller said in an interview with The Appalachian. "When we bought it we just wanted to go in there and refurbish it, clean it up a bit, but still give people what they expected, which was good fresh food that was made only when someone ordered it." 
The father-son team aimed to keep their food businesses community-oriented and driven, while also staying competitive with other businesses in the area. 
"All of us are helping to grow the community," Joseph Miller said in regard to other Boone businesses and restaurants. "As competitive as restaurants can be, we are all trying to build this community competitively together."
Best Off-Campus Coffee: Espresso News
By Gabrielle Troutman
Worn wooden floors, gently groaning steps and bustling tight spaces — Espresso News. Out of the nine years of Best of Boone, ENews has won Best Off-Campus Coffee six times.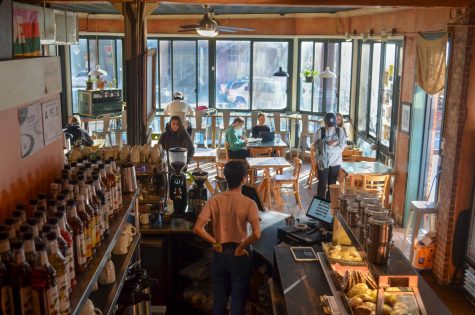 The shop is tucked into the back of King Street with an old European feel that has been drawing in gusts of wind, regulars and downtown walkers for nearly 30 years. Those who decide to pop in should file in behind the line on the left and make sure to leave to the right with barista favorites: honey cinnamon latte topped with foam art or, for warmer weather, in-house Yerba Mate with a splash of simple syrup, orange juice, lime and mint. 
Manager Kathleen Petermann says the shop prides itself on not doing "anything too crazy" because they love offering a "consistent, delicious product" and being "a staple of many regulars' every day routine." 
"You'll find professors, students, business professionals and tourists all enjoying a cup of coffee and a pastry, and you're sure to see someone you know," Petermann said. 
Due to the small space, the in-house roastery is often going three to five times a week, Petermann said. ENews sources beans from several different countries, but they always try to have some from Colombia, Sumatra and Brazil for the regulars' favorite dark roasts along with attempting to prioritize Fair Trade and organic coffee whenever they're able, Petermann said. ENews also features the traditional espresso and coffee setup, seasonal drinks, a variety of cold and frozen drinks, plus beer and wine. 
Along with the drinks, baked goods and soups are made daily in-house by the three rotating bakers throughout the week. Though the flavors change, ENews always offers muffins, scones, coffee cake, cookies and "fan-favorite" vegan banana bread, Petermann said. The soup offerings vary day-to-day, but are sure to be a hit each time. 
If you pop in for the first time, be sure to try the signature chai latte. Dirty chai, iced or hot, adds a shot of espresso to what Petermann says is "the most popular drink by far" at ENews. 
"But you also can't go wrong with any of our specials or flavored lattes," Petermann said.  
While waiting on your refreshing drink, you can meet the proclaimed "music nerd" baristas on staff or listen to their eclectic tunes playing throughout the building while trying to snag the last pastry in the glass case to the left. Be sure to grab a holographic sticker or tiger merch on your way out to remember Boone's best coffee.
"We have something for everyone," Petermann said.
Best Smoothie: Cascade Cafe's Blended
By Abby Buckner
Mixing its way to the top of the Best On-Campus Smoothie category this year is Blended, Cascades Cafe's resident smoothie bar. Nestled into the corner of the cafe in Plemmons Student Union, Blended has no shortage of loyal and thirsty smoothie lovers waiting for a flavorful and revitalizing beverage.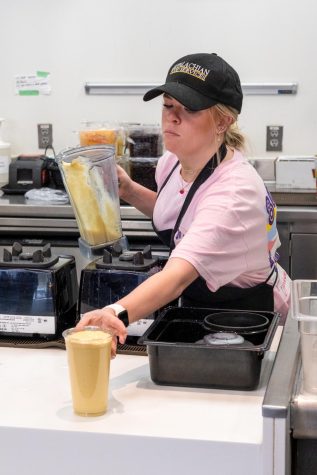 No matter what the day entails, the constant whirling of a blender is always present humming underneath the hustle and bustle of the union. Students are constantly zipping through the union for class, a meeting or to catch up with a friend, making Blended a perfect speedy stop for a quick energy-boosting smoothie.
Cascades reopened in the spring of 2022 after being closed briefly during COVID-19. The cafe quickly mixed its way into being a favorite student go-to by utilizing classic fruity and rich ingredients to create yogurt and juice-based smoothies ready to be devoured. The blends can be taken to the next level by adding protein, chia seeds and more for an extra nutritional enhancement to amp up the excitement. These components come together to create all kinds of wonderfully tasty, convenient and healthy smoothies.
Freshman astronomy and physics major Derrick Carter has been blending up refreshing smoothies at Blended since the start of the school year. He said he enjoys working for the vibrant smoothie bar with its friendly managers and fellow employees. 
"It's just super chill and fun here," Carter said. "People should come by and try out new smoothies more often."
Carter shared that the Merry Mango and Vita-C Burst smoothies are some of the most popular signature smoothie choices on the menu. 
Whether looking for a midday pick-me-up, a protein-packed workout boost or even just a cold sweet treat, Blended is sure to satisfy with its convenient and nourishing smoothies.
Best Food Delivery: DoorDash
By Bella Lantz
Imagine wanting to eat off-campus, but not having a car or having a last-minute cram session and no time to grab food. Imagine needing to make an extra bit of cash, but not wanting to work full-time. Thankfully, DoorDash provides the solution to all of these issues. 
DoorDash was founded in the spring of 2013 but made public in 2020. DoorDash has now raked in a total of $3 billion in 2021 and continues to climb from there. DoorDash is well-known among college students who want food but do not have a car. It also caters to people who cannot drive or who do not have time in the day to go and pick up food. It is advertised that DoorDash is available in all 50 states around the U.S., along with over 7,000 cities and is incredibly well known, due to the constant ads seen on social media.
Jessica Hallman, a freshman psychology major, said she picked DoorDash over other food services because "some don't work up in this area."
Another appeal to DoorDash is the fact that there are normally always drivers to pick up food at any point in the day. All users have to do is download the app and order food. DoorDash takes care of getting the drivers to grab the food.
"DoorDash is easy and it's quick," Hallman said.
This is not the only thing DoorDash is known for. It also thrives by letting people become self-employed. There are no assigned hours to work and instead, students can work on their own timeline. DoorDash prides itself on being a business where you can work where you want and when you want.
"I like that I can work, like, on my own time, like I can make my own schedule, do it whenever I want and for as long as I want," said freshman Evan Stone.
DoorDash continues to make its application process easy, making more people want to apply. To apply, one is required to be 18, have a vehicle and do a background check with one's social security number and driver's license number.
"It was super easy. I just downloaded the app, made an account, I think I had to get approved, and that was it," Stone said.
Another aspect that keeps DoorDashers is the extra cash you get from DoorDashing. There is a base pay, but there is constantly more money involved with tips, promotions and bonuses.
Stone said whenever an area has a lot of order requests, there is usually a small bonus for each order he delivers.
DoorDash has created a loyal customer and employee base. They have many different options, responsible for 45% of food deliveries. All one needs to do is download the DoorDash app to see the amazing opportunities from becoming self-employed to getting food delivered to the door.
Best Bar: Lily's Snack Bar
By El Shedrick
From drinks, to tots, to drag shows, Lily's Snack Bar has something for everyone. The bar offers a positive atmosphere for both students and locals. Since its opening in 2019, Lily's has served a variety of foods and drinks.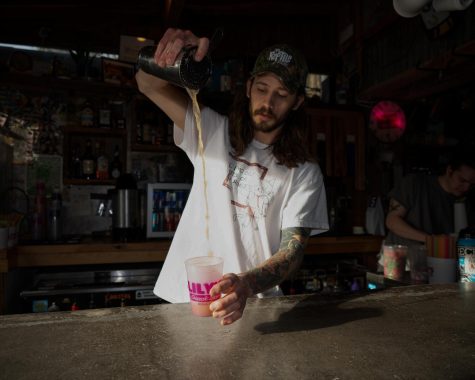 "Personally I love the drink, Smash It Up!," said bartender Trey Pressley. 
Smash It Up! is a cocktail with bourbon, mint and brown sugar. In addition to their drink menu, Lily's menu features many vegan, gluten free and vegetarian options for those with dietary restrictions. 
 The bar and sandwich shop describe themselves as "bringing the party in a safe environment," which many can agree with. 
Drag king Dorian Grindr, who performs at Lily's, said the bar will "take care of situations that will make their guests uncomfortable and they actually hold their staff to that standard as well." 
Pressley said he gets along with everyone, and that's what makes the work environment at Lily's something to be admired.
"The staff is incredible, I get along with everyone, so the work environment is good," Pressley said.
Lily's inclusive environment is something that draws many into the bar. They take the safety of their customers very seriously, which is shown through staff training and interactions with the drag community. 
"We have to complete OASIS training pretty frequently, and everyone on the staff cares about making it a safe place," Pressley said. 
Aside from offering a safe environment for queer people, they "host events for a diverse group of folks because they have their Latinx nights, which no other bar does. They are the only bar actually making an effort to hold a space for queer POC people and everyone else," Dorian Grindr said.
Lily's is also a venue for live entertainment while having a drink. The motivation for having consistent drag shows at Lily's came from the co-mothers of the Boone Barbies, Benadryl and Molly Pocket. Since the start of the Boone Barbies in April 2022, Lily's has continued to offer a space for people to perform in drag. 
"We knew we wanted drag to be more prevalent because you only see it once every so often, so we wanted to see it at least once a month," drag queen Molly Pocket said. 
The management of Lily's is also something to be admired. The owner of Lily's was the first person that Boone Barbies' leaders, Benadryl and Molly Pocket, ever sat down with to discuss putting on a drag show. 
"He is kind of just the definition of not being performative, like he puts in the work to get the drag shows, he donates his own money to charity, it's not performative, and that's the difference," Benadryl said. 
With delicious food, live entertainment and fantastic drinks, Lily's is certainly a go-to bar that has something to offer for anyone. Just like Boone's drag life, Lily's is here to stay.
Best Local Brewery: Appalachian Mountain Brewery
By Hollie Moore
Celebrating its 10th anniversary this year, Appalachian Mountain Brewery reclaimed its Best of Boone title from Booneshine. The brewery had its last win as the Best of Boone: Best Local Brewery in 2020.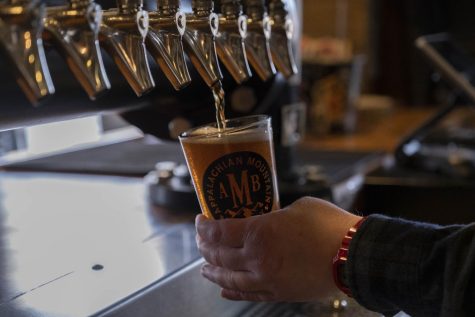 It all began when Nathan Kelischek called Chris Zieber on the phone one day and explained his plan, asking for some help to open the brewery. Zieber, a recent UNC-Chapel Hill graduate, didn't have a plan yet and agreed. The rest is history. 
Zieber said one of his favorite parts of the job, something that never gets old, is getting the "oh my god, that's amazing," when introducing a customer to a new drink. He said they offer an assortment of beverages including ciders, seltzers and wines.
"We're about to launch a non-alcoholic mocktail program … we want to make sure that everyone is welcome, and I think we do a really good job," Zieber said.
Co-founders Kelischek, an App State alum, and Zieber intend to open a second location for the brewery in May in Mills River, right outside of Asheville. Zieber said the location will feel a lot like AMB but "a little bit more refined."
The two have worked to draw students to the Boone location through live music and events, something their new stage will play a role in. AMB held a Flannel Fest March 4 and to have the AMBlock Party on May 27.
The brewery partnered with Bojangles to release its first hard tea in the Boone location on March 12, releasing it across the state on March 13. Both organizations are rooted in North Carolina.
When asked what Zieber thinks makes the brewery "the best of Boone," he credited the quality of the craft beer and ciders offered each day. 
 "I think we always have a focus on quality service and fun, and I think those are like two of the big tenants here," Zieber said. "We have almost 30 beers on tap and ciders on tap right now, and, you know, it's just such a wide range. They rotate frequently and that's a big draw for a lot of people as well."
Best Food Truck: El Tacorriendo
By Amena Matcheswala
College students and their never-ending search for good, affordable eats is a tale as old as time. App State students are no exception, and their solution is a familiar favorite nestled between Blues Brews and a collection of living spaces. 
Those on foot can't help but stop at the well-loved El Tacorriendo, tempted by the scent of spiced taco meat and the sound of Latin hits coming from the bright red food truck on King Street.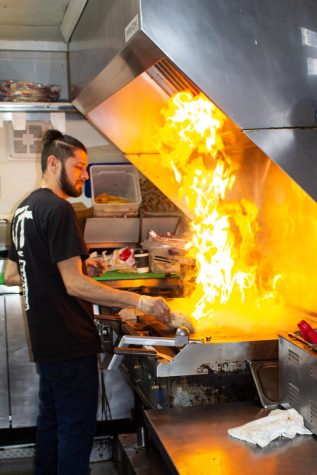 "The smell from the street is absolutely wonderful," said freshman environmental science major Laken Harvey. "The community here is great, sometimes they have games out for everybody and they have bands out here, it's really good and everyone's super nice."
El Tacorriendo, co-owned by husband-and-wife duo Alex Leon and Ashley Leon, is a family production serving classic Mexican staples to foot traffic and providing a fun, family-like environment for their mostly college student employees. The truck, which opened in 2016 and started coming to Boone in 2017, boasts a previous Best of Boone win, among other awards, for its homestyle authentic Mexican food. 
Among their crowd-pleasers is their collection of ACP wraps. ACP stands for arroz con pollo, which means chicken and rice. These wraps were a customer invention that soon became what the truck is known for.
"We had so many customers that were ordering what we have as the ACPlus wrap now, which is the basic ACP wrap with the chicken, rice, the grilled onions and the melted queso, and then adding chorizo into it. So that's a regular menu staple now and that's kind of how all of those wraps got started," Ashley Leon said. 
The customer creations have now led to what they call a "secret menu," which are unique menu items that can only be found on their Instagram or, for long-time customers, if you know exactly what to ask for. Among these are a crunchwrap, a Dorito-filled favorite, and the ACMountaineer wrap. 
"All of our food is made to order. Whenever somebody comes in and they want something made custom, special — 'Leave this off, add this on' — as long as we've got it in the truck, we'll put it together for you," Ashley Leon said. 
While the couple lives in Lenoir, where the food truck occasionally parks, Alex Leon spends nearly every day in Boone, where foot traffic gives them a strong customer base. Alex Leon, from Guadalajara, Mexico, learned to cook from his family, where he was the youngest of 11 kids. Having worked in the restaurant business for most of his life, from bussing tables in his younger years to being a cook, the couple decided to open a food truck when Alex Leon's brother, an Asheville native, sold his truck to them. 
In the future, they hope to move to a brick-and-mortar location and add staples such as margaritas, aguas frescas and horchata to their iconic menu.
Best Takeout: Come Back Shack
By Jade Ogle
After a long day of classes, making dinner can be too much work — time for takeout. Conveniently located in the center of Boone is Come Back Shack and with the click of a button it can be right at your door.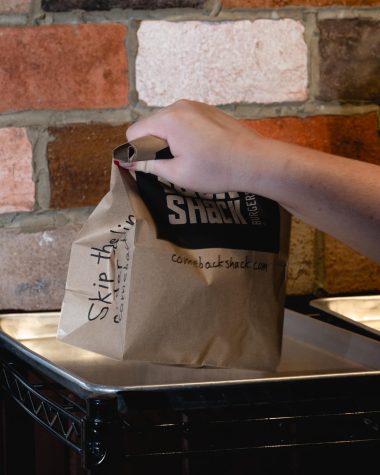 The restaurant is known for its burgers but the menu doesn't stop there. They have chicken, salads, shakes and vegan options. The family-owned and operated restaurant prides itself on serving fresh food and advertises no freezers to emphasize that fact. Come Back Shack is popular with students, parents and locals alike.
This is the second year in a row Come Back Shack has won Best Takeout for Best of Boone along with other categories in previous years. 
"I'd say as a team we get food out quickly and it tastes great. It's hot and fresh," said Brooklynn Bass, Come Back Shack manager. "As an individual, I make sure my team has what they need to do that."
Bass said she also accredited Come Back Shack's ever-expanding menu and styles to the restaurant's success.
"We introduce new ideas to the menu all the time to keep things interesting," she said.
Hailey Snyder, a senior communication major, dined at Come Back Shack with fellow App State student Nissy Gatland, a senior dance studies major, and her mother Susie Gatland. Snyder said the food "doesn't feel like takeout."
"It kind of feels more like restaurant food and they're more creative than, like, typical fast food," Snyder said. "And even if you try something new, it's gonna be good because all their basics are really good."
Susie Gatland said she visits Come Back Shack "every time I'm in town."
On top of the food, Snyder also appreciated Come Back Shack's service.
"I think they're really consistent. It's never, like, hit or miss if it's good or not," she said.
Come Back Shack employee and junior graphic communication major Caleb Sizemore said he focuses on "making sure that every customer interaction is a positive one, whether it be locals who are from Boone and come into the Shack all the time, or whether it's new customers who come in."
From a creative menu to positive customer service, Come Back Shack has it all and has been deemed a winner in another year of Best of Boone. Experience all they have to offer next time you order takeout.
"Thank you for allowing us to be in this and all that good stuff. I'm really excited that we won," Bass said.
Best Grocery Store: Publix
By Ella Wilson
Publix, the large store on Blowing Rock Road, is filled with plenty of culinary options that are sure to make any shopper's mouth water. The store has plenty of walking room for customers to push buggies through the isles on the way to find ingredients for their next savory dinner.
Publix was first opened as a grocery store in Winter Haven, Florida, in 1930. After decades of growth and expansion, Publix Super Market at Three Creeks opened its doors to the residents of Boone back in 2017. Publix is open every day from 7 a.m.-9 p.m.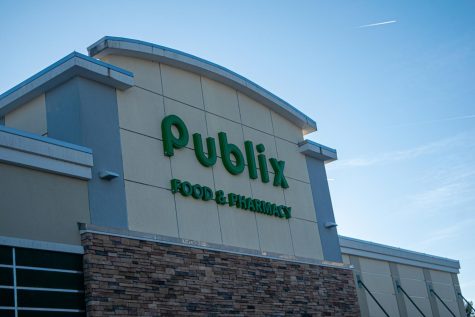 Publix provides weekly ads for their customers that offer deals on name-brand and Publix-brand items. Some of these deals include discounts on the many ready-to-eat food options available at the store's deli and hot bar. Publix also has some BOGO deals in store as a way for shoppers to save on their must have items kept around the house. Many students flock to Publix solely for the sub sandwiches made in the deli section. 
"It's pretty much a ritual at this point that me and my roommates go get 'Pub Subs' for dinner on Tuesdays when we go grocery shopping. We don't get subs from anywhere else," said sophomore recreation management major Sophie Soller. 
Publix services also include event catering for any scenario, according to Publix. Whether it be a family dinner or an office party they have an abundance of food platters to choose from, ranging from charcuterie boards to chicken wings. These aspects, along with others such as their bakery filled with fresh pastries and an in-store pharmacy that prides itself on "care for the whole family," makes Publix a grocery store that serves its community well.