Big shoes to fill
The tight end position has played a large role in the history of Appalachian football. From Steve Wilkes to Barrett Burns, the position has always been a fan favorite. To be an App State tight end, or a tight end in general, one has to have the skills to block, catch and set the tone with toughness.
"Big shoes to fill" is how senior Levi Duffield explained how it felt coming into this season, knowing he and his position group would have to perform to continue the tradition of playing tight end at App.
This year is no different for the Apps. Led by Duffield and redshirt sophomore Collin Reed, the position group brings the same mentality. They are always looking to improve their game all around.
"I had a great receiving game, but the blocking wasn't all there," Reed said.
Reed was a little tough on himself and humble even though the Mountaineers ran for a season high 274 yards and tore up the Savannah defense.
"A few mistakes, not really missed assignments but giving up a little penetration," Reed said. "I got the job done, but it's not just let's get the job done, it's let's dominate."
Reed and Duffield were able to light up the Savannah secondary, scoring touchdowns from 58 and 68 yards, two of the longest from tight ends in App State history. "Duff" as his team calls him, scored the 58-yarder setting the longest from a TE since Ben Jorden in 2008, only to be broken a few plays later by Reed, scoring from 68 yards out on a nice throw from senior quarterback Taylor Lamb.
Duffield scored a touchdown against Savannah State and Wake Forest, and Reed had a career high two touchdowns against Savannah State.
"I knew he was gonna score on that long one," Duffield said. "I told him I was gonna meet him in the endzone when they called the play. I had to wait on him and I couldn't run on the field otherwise it would have been a penalty."
With only four tight ends on scholarship, the smallest position group on the team, the group has been forced to learn from each other, looking up to Duffield as their leader and some former guys that have helped the group figure things out.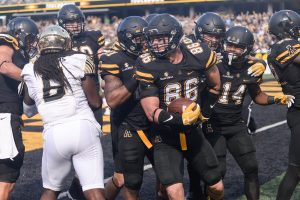 "There was no trash talk, we're all buddies," Duffield said with a smile.
When asked how Duff has been able to teach him, Reed said, "Ah, Duff. Really we work together. I learned a lot from Barrett, and Duff has taught me a lot too but really it's learning Duff, knowing where he's gonna be. We build a lot of chemistry in practice, knowing where each of us are going to be."
Burns was one of the leading receivers on last years team who is finding his path in the NFL this year after a short stint with the Baltimore Ravens.
Duffield attributes his learning to Burns, following his path last season before taking over the group this season.
"Coming in two years ago I had never played tight end in my life," Duffield said. "I learned a lot from [Barrett] and I've just passed it on to these guys."
Even their coach, offensive coordinator Frank Ponce, can see the culture shifting for the offense and the tight ends specifically. He noted their selflessness as a team.
"Our guys have been great in terms of understanding the system," Ponce said. "They have to understand the big picture. They do a great job in the run game and in pass protection."
The passing game has seen a spike in production in 2017 with Lamb already having career games, and the tight ends have played a large role in this spike. With their ability to catch the ball and run, the group has become a legitimate threat that the defense will focus on week in and week out.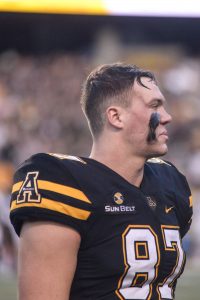 These guys are not just competing together on the field. When they're off the field they're hanging out, doing things regular college students do and with such a close knit group they stick together.
The rest of the tight end groups include senior Bill Cecil, who just received a scholarship this summer, sophomore Devin Papenheim and freshman Zeke Brandle. 
"We're the only position group with only five guys," Duffield said. "Even the quarterbacks have more than us now. We're always hanging out, sitting on the bus together and I know a lot about these guys. Friends for life."
This unit has become one of tightest on the team and learn about one another every day on and off the field.
All sharing a common goal of a Sun Belt Championship and getting to a bowl game, they simply want the fan base to continue to cheer them on and to see what they have in store for the rest of the year.
Story By: Aman Hyrams, Intern Sports Reporter
Photos By: Stephanie Lee, Intern Staff Photographer