Black Student Association creates space for black artists
For the second year, an event hosted by the Black Student Association created a space for talented black students to share their own artwork.
Black Arts was held Nov. 1 in Whitewater Café and featured various forms of art, including spoken word, vocal performances and visual art. Senior graphic design major Adam Lucas said that this is unlike the information heavy events BSA has hosted in the past.
Getting more in tune with Appalachian State's black community was an important objective in this event, Lucas said. He said Black Arts is a great and a safe way, for the black community to connect with each other.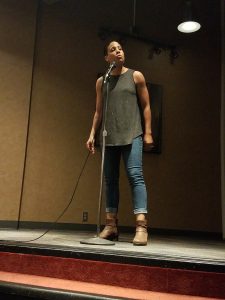 "We [BSA] are aware that we have some very talented artist, and we felt like a more creative social event would create a platform for expressing that," Lucas said.
Freshman Leeann Smith said that black students are eager to share their talent with the world, so it is important that they get the opportunity to do so. Smith said in high school she had many opportunities to showcase her work, but not since she has been at Appalachian State.
"Art has always been something that means a lot to me," Smith said
Smith said that though she uses art to relieve stress, the best part of being an artist is being able to make things that resonate with other people.
"I work hard at what I do and I want others to see it and be inspired by it," Smith said
Freshman industrial design major Sam Hines said he was grateful for an opportunity to contribute to the black arts scene at Appalachian State.
"I love art and I love everything about being black," Hines said.
Hines performed an acapella rendition of Lauryn Hill's song "Ex-Factor."
"I just heard myself in the song and wanted to let those feelings out," Hines said "Where better to do that than a room full of black people."
Hines said on a campus without a big black population, representation is important and having a space where black people and their art can be the center of attention is great.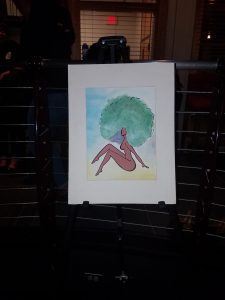 "We don't have enough representation of Black artists." Samantha Reinier, junior social work major, said.
Reinier was one of three spoken word acts to take the stage at the festival.
"I feel like I don't get nearly enough exposure to spoken word, but when I do I enjoy it," Lucas said
Reinier shared a poem she wrote called "Black Enough," which told the story of someone whose blackness is consistently invalidated because their experiences do not align with what others may think defines what it means to be black.
"Being biracial at a predominately white institute, I always get told that I'm not black enough," Hines said.
Sophomore theater arts major Roy Dale Cox also performed a song at the festival. Cox said performing last year was so much fun and he wanted to be able to contribute again this year. Cox sang India Arie's "Ready for Love," and chose this song because when he thinks about Arie, he thinks about what black art means to him.
"A lot of times when people think of black artist they think Beyoncé," Cox said
"They don't think of great singer-songwriters like India Arie. There's something to be said about the way that she contributed to Black culture and performing her song is my way of recognizing that." Cox said.
Following Cox and a short intermission was a performance from Appalachian State's Gospel Choir, directed by DaVaughn Miller. Students who were affiliated with BSA in Miller's choir told him about it.
Miller agreed to perform with the choir and said they prayed about what to sing.
"'Better Is One Day' is upbeat and tends to get the audience engaged," Miller said
The choir performed this song, and after the lively reaction it got from the audience, returned to the stage to deliver another.
Miller said events like this are critical to the African American collegiate experience and Black Arts Festival provides an opportunity for black students to express themselves and support one another.  
Story by: Makaelah Walters, A&E Reporter
Photos by: Makaelah Walters, A&E Reporter