The fifth annual Boone in Blossom, and ninth biannual community benefit festival, will be held Thursday through Saturday at the High Country Fairgrounds. The festival will showcase local and regional bands, and yoga and art workshops. Weekend admission to the festival is $30 which includes camping, parking and admittance. Attendees also have the option of donating 15 nonperishable food items in exchange for half of the ticket price. Day passes can be purchased for $15 for Thursday and $20 for Friday, according to www.gatiproductions.com.
Boone in Blossom– sister festival to Harvest Boone in the fall– is a spring festival hosted by Gati Productions. Gati Productions co-founder and festival organizer Jeremiah Brown said he expects 700 to 1000 attending this year, in comparison to last year's 500 to 600.
"I feel like it's only growing," Brown said.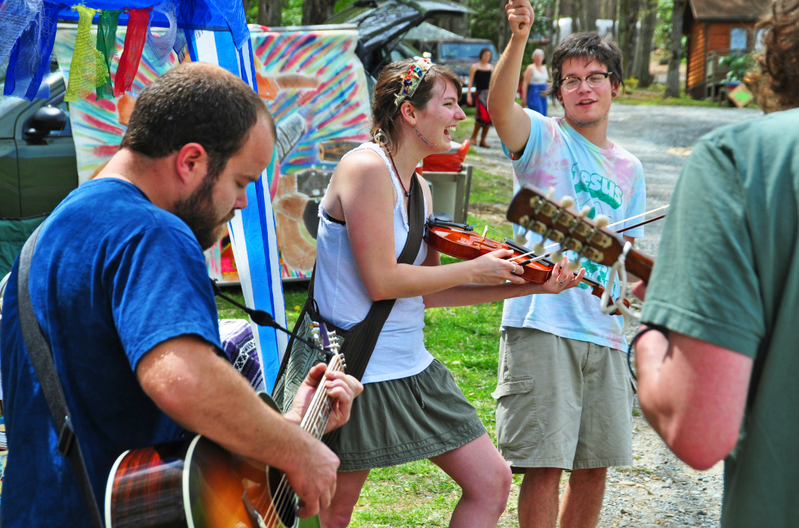 Boone in Blossom began as a festival for a yoga teacher training assignment through Karma Krew, a yoga-based nonprofit organization. It has since raised over eight tons of food for the Hunger and Health Coalition and generated over 250 community service hours.
Dogs are allowed at Boone in Blossom this year–a change from years past–but there is a $20 fee and they must be leashed at all times. The festival is for all ages and is free for children 15 and under.
"I feel like for the kids that aren't old enough to go to the bar yet, this is the perfect opportunity for them to go and see all the best bands in the area that play a venue that's easily debated as more fun than a bar," Brown said. "This isn't just a hippie festival, this is something that they could really go out with their friends and have a good time."
Event organizer Kaitlin Iverson calls Boone in Blossom "the best kept secret in the state."
The event is drug-free and underage drinking is strictly prohibited.
The festival offers 30 mostly regional bands across three days, including Aligning Minds, Dr. Bacon, Fireside Collective, Free The Optimus, Melissa Reaves, Nomadic, The Nude Party and New York-based Mister F.
Brown said he is excited that front-of-house sound engineer Sean Grogan will offer professional sound running. The audio from each band will be mixed and recorded professionally, and bands will have the option to purchase a recording of their set after the festival.
Interactive workshops included in the ticket fee include all-ages Brazilian Jiu Jitsu, daytime and midnight  guided meditations, how to use plants as medicine, acro-yoga, African drumming, hoop jam, vocal toning and a cypher workshop. A mead-making workshop will require participants to be of legal drinking age before participating.
Vending space is free for all merchants, while three vendors will be providing food, one with vegan options. A free food kitchen will provide breakfast, and potentially late night meals for patrons, after food vendors close to avoid competition.
"There's just something about the connectivity , I guess," Brown said. "That's my favorite part."
For more information about the festival, visit gatiproductions.com or find the event on Facebook.
Story: Jackson Helms, Senior Videographer
Photo: Courtesy of Gati Productions