Homecoming is a time-honored tradition for college campuses across the country. At Appalachian State University, homecoming is an especially important time, as App State and Boone as a whole celebrate community and the literal act of "coming home." Each year on homecoming weekend, alumni return to App State to meet with old friends and make new ones while reliving school traditions.
"It's nice to see that alumni do come back for homecoming," Executive Director of Alumni Affairs Patrick Setzer said. "It's important to come back home and see campus."
Kicking off on Oct. 2, homecoming week was a non-stop party that began with a grill out on Monday and concluded with a close but successful game against the New Mexico State Aggies, which the Mountaineers won 45-31.
On Sept. 20, well before the official start of homecoming, students served the wider community by participating in the 11th annual Appalachian Homecoming Blood Drive.
For 10 consecutive years, Appalachian State has collected more donated blood in a single day than any other organization in the country. For those who could not donate, many volunteered in the Convocation Center with the process. This year, students and faculty donated a total of 1,139 pints of blood to those in need.
On Monday night, the community celebrated the beginning of homecoming week with a kick-off party on Duck Pond Field.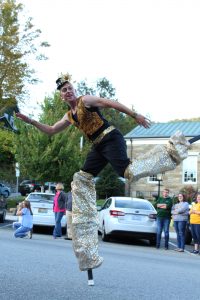 Students gathered for free hot dogs and hamburgers and collected App State swag given out at the event, including foam fingers, stickers and cups. The event also had a DJ and inflatables to add to the festivities.
The homecoming kick-off also held the third annual Nearly Naked Mile. Participants in the race were asked to donate a coat or two other articles of clothing to the Hospitality House in place of a participation fee. The runners stripped down to bathing suit coverage before running a one-mile loop around campus, shedding light on the homeless population in our community who often do not have warm winter clothes.
"The Nearly Naked Mile, which is sponsored by the Ambassadors and SGA, was a way to coordinate some philanthropy activities for homecoming," Dustin Evatt, advisor to the APPS Spirit and Tradition council, said. "They raised 700 items of clothing to go to the Hospitality House."
Tuesday night, students huddled together on blankets and towels for a Movie on the Mall, where "Ferris Bueller's Day Off" played on a giant projector screen on Sanford Mall.
On Wednesday, Appalachian State welcomed comedian Chris D'Elia to perform at the homecoming comedy show. After winning a stand-up competition held by APPS, junior journalism major Ben Lynch opened for D'Elia with a five-minute set of his own.
Thursday night gave way to a longtime favorite of homecoming week, the Lip Sync competition. The 2017 Lip Sync finals, held in Schaefer Auditorium, marked the event's 19th occurrence in App State history.
Frazer Cornette and Abbey Conklin, senior Lip Sync chairs of Kappa Delta, were proud to represent Greek life and the App State community as this year's winners along with Sigma Nu.
"It brings everyone together," Conklin said.
The Lip Sync event has brought crowds from various student groups since its start on Duck Pond Field. Tireless work from the Appalachian Popular Programming Society and the Residence Hall Association, among others, was fundamental in the efforts that make this event possible each year.
"Lip Sync has gotten bigger and bigger each year. This year was probably the biggest it's ever been," Jake Hofmann, a junior political science major, said. Hofmann is the president of the Residence Hall Association and two-time emcee of the event.
After a week of buildup, homecoming weekend began, starting with a parade through campus and down King Street Friday night. The parade featured music from the Marching Mountaineers and floats from dozens of organizations on campus and in the community.
Residence halls, sororities and fraternities, academic departments and campus clubs and organizations, including WASU Radio, the Black Student Association and Appalachian Ambassadors, created floats and displays for the parade.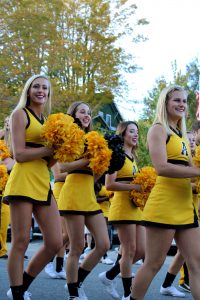 Representatives from around the community took part in the festivities as well. The mayor of Boone and town council representatives made appearances, as well as businesses and off-campus organizations, such as a dance school which led a tap performance in the middle of the parade.
As the parade concluded, participants and visitors gathered on Howard Street for APPtoberfest and a homecoming street festival, a new addition to the yearly celebrations.
People enjoyed a DJ and live music from Blue Country, a local country band. Food trucks such as Doggin' It and Capt. Jim's Seafood Truck parked along the block to sell street food, and Appalachia Cookie Company and Essie & Olive Popsicles sold treats as well.
Brew Candle Company sold candles based on craft beers and Wine to Water sold gourmet chocolate bars to benefit clean water initiatives. The High Country Breast Cancer Foundation held a raffle for a pink duffle bag stuffed with App State swag. Each business connected visitors to the local economy and nonprofit initiatives founded in our community.
When people were not eating and listening to music, the festival also offered a photo booth, hula hooping lessons from a performer who donned glittering stilts in the parade and face-painting in the "Kids' Zone" nearby.
Meanwhile, alumni mingled and sipped in the APPtoberfest Alumni Beer Garden. The garden-goers were given commemorative cups and stickers before browsing the variety of entirely local beers. Appalachian Mountain Brewery, Booneshine Brewing Company and Lost Province Brewing Company sold $3 beers from trucks and booths while alumni gathered around tables and paired their drinks with complimentary chips.
The night concluded with a bonfire and fireworks on Duck Pond Field, where visitors drank free cider and hot chocolate as they watched the display.
After a long night of spending time with old friends and new, alumni woke up early the next morning for an alumni homecoming breakfast before getting ready for the game with tailgating. Alumni Tailgate Headquarters sold barbecue and offered old yearbooks for alumni to peruse and reminisce.
Finally, homecoming came to a close as students and alumni flocked to the Kidd Brewer Stadium for a football game against the New Mexico State Aggies. The game was a close one, with the Mountaineers and Aggies going back and forth for the lead before the Mountaineers finally won the match 45-31.
But for some, it was not the touchdowns that created the suspense. For the candidates of the homecoming court, the anticipation was entirely in the reveal of this year's Top of the Rock. After tedious applications and interviews, eight students became the Homecoming Court, each candidates to win the title of Top of the Rock.
Each candidate represented a different organization on campus, from Appalachian Ambassadors to Club Council. Additionally, the candidates were chosen because they uphold core values of academic success, campus involvement and civic engagement.
Though each student was honored, it was Alan Lee, senior political science major and sustainable development major, that was crowned this year's Top of the Rock. Lee is the student body vice president of the Student Government Association.
Chancellor Sheri Everts awarded Lee the title, gifting him with a sash and crown during the halftime show.
"It still hasn't set in yet," Lee said, surrounded by friends hugging and congratulating him. "It's surreal. I'm blessed."
At the end of a long week of festivities, alumni returned home and students went back to their residence halls and apartments to get ready for class the following Monday. Homecoming ended, but it did so with a bang, and the same partygoers will no doubt be back next year to celebrate community and tradition in another App State homecoming.
Story By: Ashley Goodman, Associate A&E Editor, and Caroline Comer, Intern A&E Reporter
Photos By: Mickey Hutchings and Hayley Canal, Staff Photographers